3 Reasons to try the TIGI Bed Head Fully Loaded Shampoo and Conditioning Jelly
Fine-haired ladies and girls who suffer from limp, lifeless locks: listen up! There's a new volumising range on the block from TIGI that you're not gonna want to miss. Already a firm favourite with our team here at All Things Hair, this "miracle" range aims to help women with super fine tresses achieve thicker-feeling and more voluminous-looking locks to match the big, bold hairstyles they long to create! Our favourite products from the collection? The TIGI Bed Head Fully Loaded Massive Volume Shampoo (250ml, £12.95*) and TIGI Bed Head Fully Loaded Volumising Conditioning Jelly (200ml, £14.95*), of course!
Want to know why we love them so much? Scroll down and find out!
3 Reasons we love TIGI Bed Head Fully Loaded Shampoo and Conditioning Jelly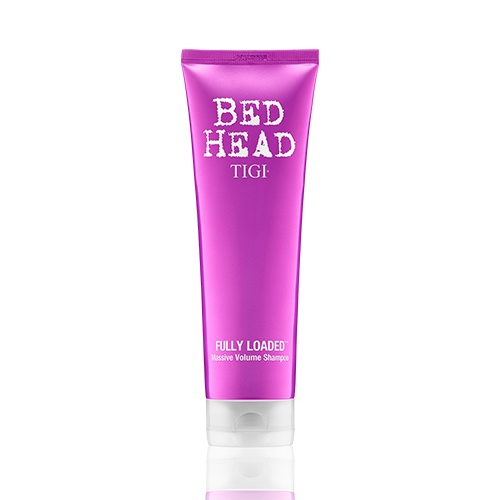 1. It'll help give your hair massive volume
Okay, we know it sounds like we're exaggerating, but trust us: if you're looking to create more volume in your tresses, the TIGI Bed Head Fully Loaded Massive Volume Shampoo and Volumising Conditioning Jelly will help you get big hair. This is because it's packed with innovative volume technology that will not only make your hair look more voluminous, but feel thicker, too!
The TIGI Bed Head Fully Loaded range also includes the TIGI Bed Head Fully Loaded Big Head Volume Boosting Foam (£16.95*) and TIGI Bed Head Fully Loaded Full Of It Volume Finishing Spray (£14.50*). The boosting foam helps to prepare your hair for long-lasting, texturised styles, while also providing fibre-on-fibre friction, for thicker-looking tresses. Meanwhile, the finishing spray acts as the final step in the styling process with its firm, yet flexible hold.
My clients always want to recreate the volume they receive in salon, and it can be very difficult to achieve without the right products. The Fully Loaded range by Bed Head answers clients' needs in a shampoo and conditioner, and allows them to accentuate the results with the superstar styling products. At-home volumising really could not be any simpler. – Phil Downing, UK Creative and Education Director.

2. It's the foundation for creating big, bold hair
Trying to create sky-high volume and tresses with lots of body? Well, we feel it's our duty to inform you that it's as much about your 'foundation' as it is your choice of styling product. And the great thing about the TIGI Bed Head Fully Loaded Shampoo and the TIGI Bed Head Fully Loaded Conditioning Jelly is that while these products will help you achieve new (hair) heights, they won't compromise on cleansing your scalp or moisturising your locks. Which is great news for all you fine-haired ladies out there!
3. It's packed with innovative technology
Remember what we said earlier about the TIGI Bed Head Fully Loaded Range being packed with an innovative technology? Great, so here's the science behind it all: the shampoo is filled with Uploader™ technology, which gives your tresses 'volume memory' when it's blow-dried. This means that all the body and volume created while you blow-dry your hair is 'remembered' throughout the day. So, by simply pushing your hair up, you can refresh and instantly rebuild the shape of your 'do.
While the Volumizing Conditioning Jelly is packed with a fibre thickening technology. This works by swelling the actual fibres of the hair, making them temporarily thicker. So don't worry if when you apply the conditioner, it feels as though it's completely disappeared – that's supposed to happen and it means it's working! Genius, right?
Want to keep your hair up and #MakeItMassive? Click to read our Hairstyles for Thin Hair page to get more hair volumising tips and tricks!
*RRPs are Unilever suggested retail prices only, it is at the discretion of the individual retailers to set the actual price.
Note that TIGI products are only available to buy in selected salons. Find your nearest stockist. 
Prev Article
Next Article
Article
The products you need for glossy hair + Tips on how to use them!
Lustrous hair, here you come!
See article