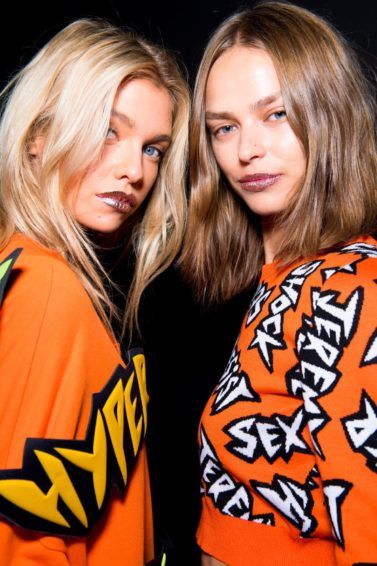 4 thickening shampoo products for fine hair that really work
When you see these thickening shampoo products, you'll want them.
Thick, luscious locks have always been thought of as a sign of beauty and glamour – just look at any supermodel for proof. And judging by the Victoria's Secret girls, this trend for massive, blown-out manes isn't budging. But don't panic if you're not naturally blessed with gravity-defying strands, as a thickening shampoo could be all you need!
Perhaps you have a lot of hair but your individual strands are fine? Or maybe you're starting to notice your hair thinning out as you get older? Whatever the root of your hair concerns (sorry), read on to learn all about the plus points of using a shampoo to thicken hair and get acquainted with some of our faves.
Best thickening shampoo: 4 top picks you'll love
1. TRESemmé Collagen+ Fullness Shampoo
Collagen is everywhere! And, you probably know how beneficial it is for your skin, but did you know that it can also work wonders for your hair, too? Just try the TRESemmé Collagen+ Fullness Shampoo and you'll understand exactly what we mean!
Infused with collagen, this thickening shampoo works to plump each strand and instantly helps hair look and feel thicker. It also contains Micellar Technology, which gently cleanses without stripping it. Sign us up!
2. Dove Advanced Hair Series Volume Amplified Shampoo
Your love for hair thickening shampoos that contain collagen doesn't have to come to an end… With a blend of botanic oils, collagen and Oxyfusion technology, you can get the volume and body you crave with the Dove Advanced Hair Series Volume Amplified Shampoo.
This lightweight formula won't weigh your hair down at all, instead giving you the illusion of thicker strands full of bounce. Just don't forget to follow up with the Dove Advanced Hair Series Volume Amplified Conditioner, will you?
3. TONI&GUY Volume Addiction Shampoo
Do you avoid washing your hair too much as you're worried it'll make your hair flatter? This can backfire, as product build-up and excess oils can weigh your hair down just as much, so regular cleansing is important.
To get around this issue, the gentle TONI&GUY Volume Addiction Shampoo cleanses the hair effectively, so that you don't have any product build up or oils holding you down. It also adds a weightless bounce from the root for an allover lifted look and also helps to strengthen the hair fibres to prevent future fallout through breakage.
For the best results, partner this shampoo with the TONI&GUY Volume Addiction Conditioner.
4. TIGI Bed Head Fully Loaded Massive Volume Shampoo
Looking for the best hair thickening shampoo that you can actually see making a visible difference? The TIGI Bed Head Fully Loaded Massive Volume Shampoo promises just that. How, we hear you ask? It's all thanks to the special Uploader™ technology, which is basically memory foam for your hair.
Clever volume memory means that even if pesky gravity does cause your style to drop, or you sleep on your hair overnight and it deflates, a quick refresh with your fingers will bring it back to its former glory.
All that, and it smells like sweet berries? We're stockpiling this one, just in case.
Prev Article
Next Article
Article
What's REALLY in your shampoo? Experts explain key shampoo ingredients and what they do
Want to know more about your shampoo ingredients? Then be prepared to be amazed ...
See article