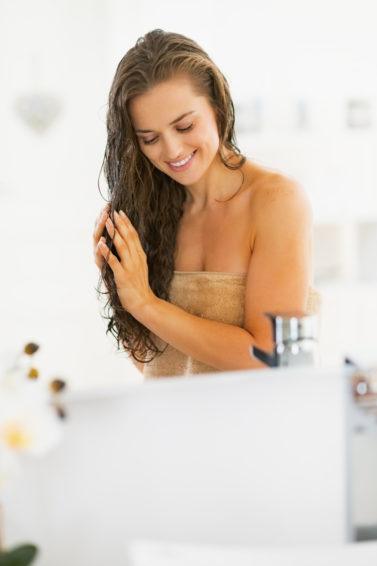 5 Reasons you should be using a leave-in hair conditioner
Your hair will thank you for it.
Okay, we'll be the first to admit it: with such an overwhelming selection of hair care products on the market, it can be hard to figure out which ones actually have genuine benefits for your hair. Yet through the masses of bottles, there's one that we at All Things Hair HQ think is an absolute must-have in your routine: a good leave-in hair conditioner.
While some people may see it as an unnecessary extra step, in our experience, it actually plays a massive role in the condition of your hair, helping to tackle an array of hair woes, from dryness to flyaways! Now, if you're still on the fence, just keep reading and let us convince you…
5 Benefits of using a leave-in hair conditioner
1) Moisturises the hair
If your hair is especially dry and your usual conditioner doesn't seem to be helping, try using a leave-in conditioner. Not only can it give your strands the extra moisture boost they need, but they won't weigh your hair down like some wash-out masks and conditioners. Why? Well, leave-in hair conditioners tend to be much lighter in formulation, making them perfect for those of you with fine tresses!
Editor's tip: We suggest trying the TRESemmé Botanique Hydrating Mist, which contains nourishing coconut milk and aloe vera, so it has the added bonus of smelling divine.
2) Damage repair
Do you suffer with brittle hair and split ends? Did you know that some leave-in conditioners actually contain proteins which can help to sooth damaged locks? Well, they do! Take for example the TIGI S-Factor Papaya Leave-In Moisture Spray, which contains keratin amino acids that are small enough to penetrate the hair shaft, helping to strengthen your strands.
3) Helps with frizz & flyaways
If you have black or curly hair, you're more prone to frizz because of the unique shape and structure of your hair type. However, using a leave-in conditioner can help with this and give your locks a nourishing treat!
These nifty products really do go a long way in reducing frizz, by keeping hair hydrated between washes. But if you feel like your locks need a boost while you're on the go, fret not, because you can also pop a leave-in conditioner into your handbag and run it through dry locks when you see fit!
4) Detangles
If you find your hair becomes knotty after washing, using a leave-in hair conditioner will help to smooth your locks, enabling you to detangle your mane that much easier! This means that combing through your hair won't be as much of a chore and won't cause as many breakages.
If you suffer with knotty locks, try the TRESemmé Oleo Radiance Bi-Phase Conditioning Mist, as it's great for making tangled hair more manageable. Plus, it contains a blend of nourishing argan and almond oils, to leave your hair feeling super soft – always a plus!
5) Preps the hair
If you can't stay away from your heated styling tools, rest assured that you can condition and protect your strands from becoming dry! How? Well, leave-in hair conditioners act as great primers for using tools, such as hair dryers or straighteners. All it takes, is to smooth a small amount of the Toni & Guy Leave-In Conditioner through damp, towel-dried hair, and it'll leave it more manageable and easier to style. Phew!
Is your hair looking less than its best? Then for more ways to get your strands in tip-top condition, head on over to our Dry and Damaged page, where you'll find all sorts of useful advice on topics like how to care for heat damaged hair.
Prev Article
Next Article
Gallery
Golden blonde hair hues and how to wear them: Our edit of the top shades to try
Your golden hair is about to go from blah to ta-da!
See article
Attempt to assign property "alt" on null