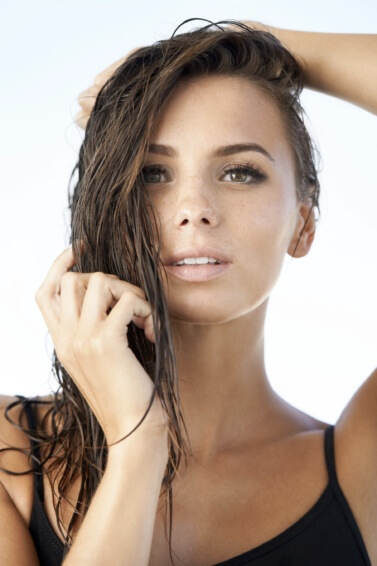 How to use a hair mask: A comprehensive guide
Treat your hair - the right way.
Is your hair in need of some serious TLC? An easy way to help your mane get back to its former glory is by using deep conditioning treatments regularly – and by this we mean hair masks, of course. But just what is the right way to use a hair mask, you ask? Read our comprehensive guide on how to use a hair mask, below.
Our guide on how to use a hair mask
First, pick the right hair mask for your needs
This may sound obvious, but not all hair masks were created equal. So before you start applying just any hair mask your tresses, make sure you've picked the right one for your hair type and needs.
A good place to start is by considering your hair type and picking a hair mask that is specifically designed for curly, fine, coloured, dry or damaged hair. This will help ensure you get the most out of your hair treatment, and is particularly important if you have coloured or bleached hair, because as fast as it can absorb moisture (thanks to the hair shaft being more porous), it also quickly loses it too.
If you have curly hair, we recommend the Dove Advanced Hair Series Quench Absolute Intense Replenishment Mask (£6.99*) as it's specifically designed for wavy and curly tresses, while the Dove Advanced Hair Series Oxygen & Moisture Soufflé Treatment (£6.99*) is great for fine, flat hair, as it will condition and treat it without weighing it down. If you have extremely damaged hair, however, Toni&Guy Cleanse & Nourish Reconstruction Mask's (£6.49*) deep conditioning formula will penetrate deep into the hair fibre, providing intense nourishment to enhance softness and shine.
Start with clean, wet hair
If you want to get the most out of your hair treatment, then it makes sense to start with a good foundation – which in this case is in the form of clean, wet hair. This is because your hair cuticles are raised when wet, making it easier for the hair mask to penetrate into and nourish your hair. Just remember to remove any access water after washing your hair as you don't want it to be sopping wet, and be careful in handling your damp locks, as the hair shaft is more susceptible to damage when it's wet, too.
How much you apply is dependent on your hair type
Now you've washed your mane and laid the perfect foundation for your mask, it's time to finally apply it your hair. The important thing to remember is that the amount of product you need is completely dependent on your hair length and type. So if you have thicker or longer hair, you may need to use more of the mask, but if you have fine or thin tresses, only a sparing amount should suffice as too much product could end up weighing it down.
Leave your hair mask on for the allotted amount of time
No matter how tempted you are to leave your hair mask on for as long as you can, it's important that you only leave it on for the allotted amount of time specified in the instructions on the pack. Leaving it on for too long doesn't mean your hair will get more nourishment, as once the surface of the hair shaft has been occupied by the product, there's no more room for it to penetrate into the hair. So don't forget to read the instructions carefully!
And finally, don't forget to rinse it out
This may seem like another seemingly obvious point, but don't forget to thoroughly wash your hair mask out. If you're looking for extra nourishment or moisture after you've rinsed off your hair mask, then apply a leave-in conditioner (like the TRESemmé Botanique Nourish & Replenish Hydrating Mist (£5.50*) – it's a great way to give your hair an extra surge in moisture.
So, now that you know how to use a hair mask, there are no more excuses not to treat your locks to a bit of TLC from time to time.
*RRPs are Unilever suggested retail prices only, it is at the discretion of the individual retailers to set the actual price.
Prev Article
Next Article
Article
The Best DIY Banana Hair Mask Recipe For Dry Hair
A no-waste solution to using up those brown bananas sitting in your fruit bowl.
See article