The best hair brushes for all your styling needs
Did you know that there is an ideal brush for every hair type and style?
With such a huge range of hair brushes out there, how do we know we're using the right one for our needs? Now, as you all know, not all hair brushes were created equal, which is why we thought we'd show you that it all depends on the type and length of your locks, as well as the hairstyles you're trying to create.
Of course, each kind of hair brush has its own key features and benefits, so let's take a look at them and find out which ones are perfect for your styling requirements and what's actually worth investing in.
Hair brushes: Your ultimate guide
Bristle brush
This type of brush can be divided into 3 main categories: synthetic, natural and mixed bristle brush. So what exactly are the differences?
Synthetic bristle brush: Great for ultra thick hair, brushes with synthetic bristles (usually made from nylon, which makes them a little stiffer) don't create as much staticity as those with natural ones, so they're perfect for detangling and taming flyaways.
Natural bristle brush: As you've probably already guessed, natural bristle brushes are made of natural materials (often boar bristles). Soft and gentle, the advantage of a natural bristle brush lies in the fact that it can help to distribute the your hair's natural oils. This means it can help keep your locks looking healthy and feeling soft, while also promoting a natural shine, which is why it's ideal for ladies with ultra fine hair.
Mixed bristle brush: Mixed bristle brushes brings together the best qualities of a synthetic and natural brush to give you shiny, healthy-looking hair. This brush (many of which also boast detangling powers) will work well on pretty much all hair types so regardless of your hair texture, you should definitely have one in your tool kit!
Round brush
If you're all about blow outs, then a round brush is an absolute must. This type of brush features bristles placed around a round base, making it look and work like a roller – ideal for creating curls and volume as you dry your hair. Just remember: the smaller the brush, the tighter the curls!
Paddle brush
A paddle brush is perfect for styling mid-length to long hair as it can detangle without generating any staticity. While it won't help you achieve a lot of volume, thanks to its smooth design, it can help to flatten frizz and inject bucket loads of shine.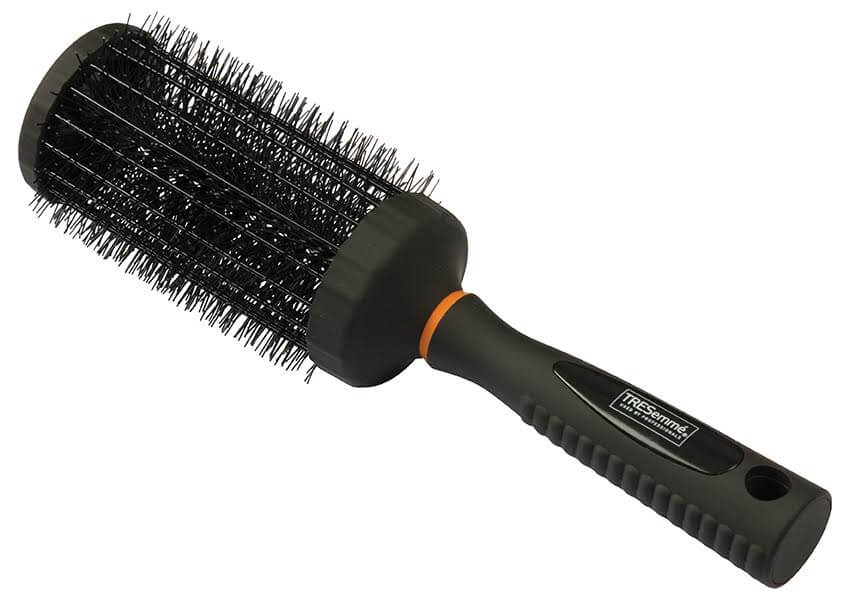 Vented brush
This brush should be used for blow-drying your hair as its vented design can help reduce the damaging effects of high heat. The best part is: by allowing the heat coming from your hair dryer to reach your tresses from every angle, it should, theoretically, help cut the time you need to spend blasting your mane. So whether you frequently blow-dry your hair, or are suffering from heat-damaged locks, a vented brush makes for an ideal option.
Teasing brush
If you're a girl who loves volume and texture, then you should really invest in a good teasing brush. Designed to give your hair extra body, teasing hair brushes can help to create a backcombed effect without causing too much damage to your locks.
Prev Article
Next Article
Article
Lily Collins wows on the red carpet with bright red hair
And here's how to get her sassy new look!
See article