Top 3: Non-chalky dry shampoo for dark hair
White residue? What white residue? 
Off glamping at a music festival? Going straight from a long day at the office to after-hours cocktails? We've all been caught short of time (and water) to wash our hair, which is probably why so many time-poor women love dry shampoo and its miracle grease-absorbing properties. But while using dry shampoo is fine for you lucky blonde-haired ladies out there, dry shampoo for dark hair is often seen as a big no-no.
Dry shampoo may be a lifesaving hair essential for many women, but it's dual reputation for leaving a dusty, white residue makes it a hair demon for others. That said, there is some good news! We're here to tell you that you can use dry shampoo for dark hair (without looking like you've got a serious case of dandruff). Want to know which non-chalky dry shampoos made our favourites list? Read on below to find out.
Editor's picks: Dry shampoo for dark hair
Toni&Guy Casual Matt Texture Dry Shampoo (£7.49*)
The Toni&Guy Casual Matt Texture Dry Shampoo is great if you want to discreetly refresh your dark hair. Why? Because it provides casual texture and a matte finish – so no one will spot that you've just sprayed your tresses with dry shampoo!
Remember to shake the can vigorously before you begin spritzing this product. Lift sections of your hair and spray your roots, holding the can approximately 8-12 inches away and spray in short, controlled bursts. After roughly a minute, gently massage the product into your hair and follow by brushing and styling as usual. Easy!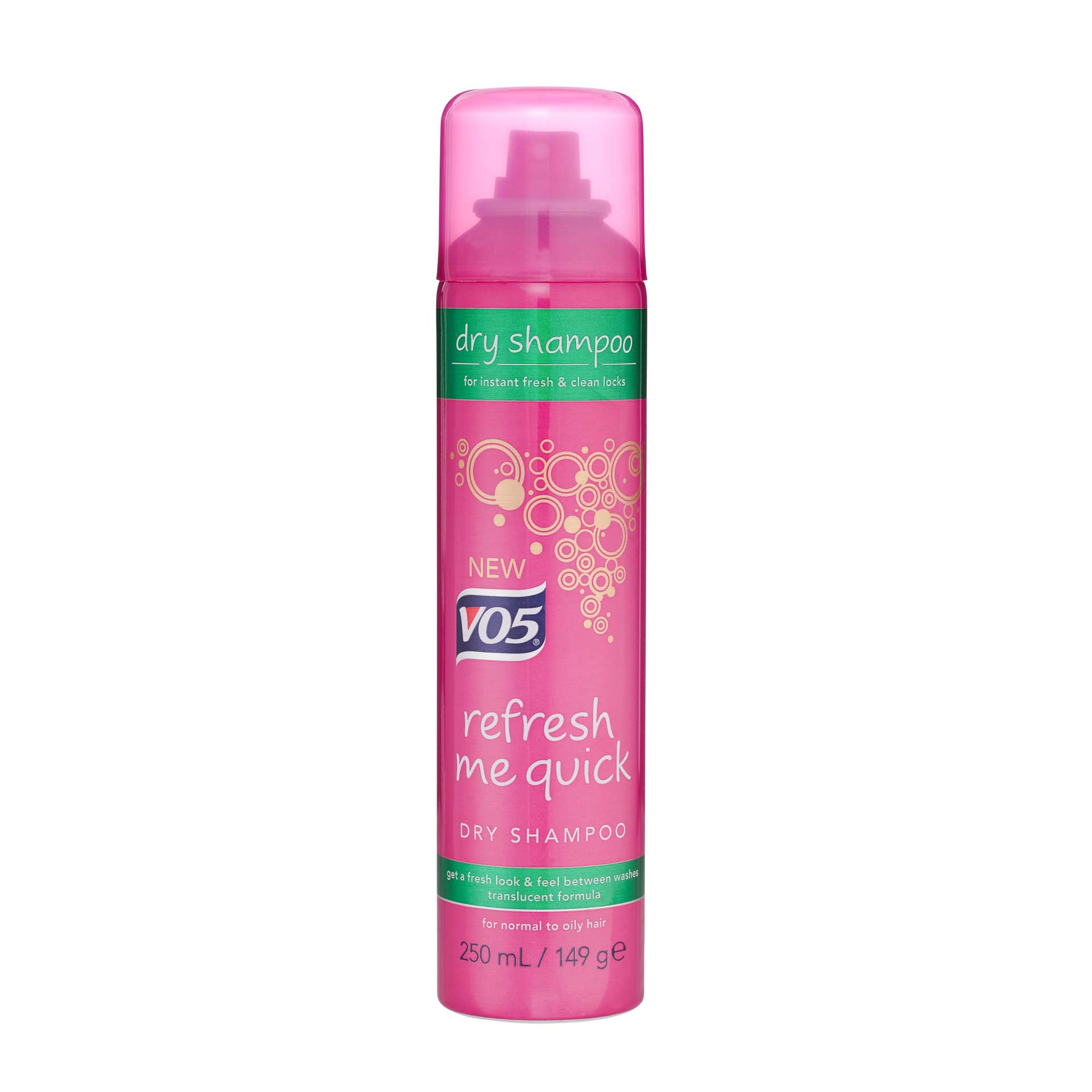 VO5 Refresh Me Quick Dry Shampoo (£2.99*)
Had a long day and need a quick refresh post-work/pre-party? Then the VO5 Refresh Me Quick Dry Shampoo – formulated with green tea extracts – is perfect for breathing new life into dull, tired hair.
Also rocking a fringe? Well, anyone with bangs will tell you that they have a tendency to get rather oily! In fact, it's most likely that you won't need to spray dry shampoo all over your hair – sometimes the easiest way to reinvigorate your hairstyle is to just spray your bangs!
Editor's tip: Use your dry shampoo sparingly – just spray it underneath your fringe to stop it from sticking to/absorbing the oil on your forehead. Now, that's what we call smart spraying!
TRESemmé Instant Refresh Volumising Dry Shampoo (£3.99*)
The TRESemmé Instant Refresh collection has three different dry shampoos in its range (all of which leave practically no white residue), but we especially love the TRESemmé Instant Refresh Volumising Dry Shampoo for its (yep, you guessed it) volumising qualities! It's also great if you have dark or thin hair that easily becomes lank and greasy in between washes.
This dry shampoo for dark hair is perfect for absorbing excess oil and impurities, as well as helping to eliminate odour. The weightless, fine mist works well in dark-coloured tresses because it leaves minimal visible residue – which is great news for everyone – especially if you're a beautiful brunette or are a rich-coloured redhead.
So, don't get caught out with chalky white residue in your hair ever again! Now, which dry shampoo for dark hair will you be trying first?
*RRPs are Unilever suggested retail prices only, it is at the discretion of the individual retailers to set the actual prices.
Prev Article
Next Article
Video
Everything You Ever Wanted to Know About Dry Shampoo (But Were Too Afraid to Ask!)
We're about to give you a lesson in all things dry shampoo!
See article