Hair Heroes: Celebrity Colourist Helps Us Give Back to a Community Volunteer
We paired up with royal hairstylist Daniel Galvin Jr MBE to give one volunteer a Christmas hair makeover to remember.
Like everyone, here at All Things Hair we've been moved by the selflessness and compassion that so many frontline and key workers have shown during the Covid-19 pandemic. Which is why we wanted to show our appreciation for those that have gone above and beyond this year to help others, like Gemma Outten, a director of Ealing Community Aid. Hit play on the video above to see what happened when we surprised Gemma with a makeover, or keep reading to find out more about her story.
ATH X Daniel Galvin Jr: Giving Back to a Key Worker
Pre-pandemic, mother-of-three Gemma worked as a community music teacher, conducting singing classes and choirs for those with physical and mental health issues. When lockdown came into force in March, Gemma was in the process of setting up her own charity with the aim of bringing music to those unable to access it, such as those living in refuges and prisons. However, once she realised that she would no longer able to carry out her usual work, she turned her attention to other meaningful deeds.
"When I wasn't able to sing, I knew that it was going to be natural for me to use that time to do whatever I could to help", she explains. Of course, Gemma admits, "there were moments when I thought 'why are you doing this? Why aren't you just being selfish or using the time to be creative?'" But knowing how isolated and vulnerable some people in her area would be, she signed up as a volunteer for Ealing Community Aid, a mutual aid group, where she now works full time as a director. "Mutual aid is the idea that if someone needs looking after, you look after them, it's a really basic idea" Gemma explains, "but if I look after you and you look after me, everyone is looked after."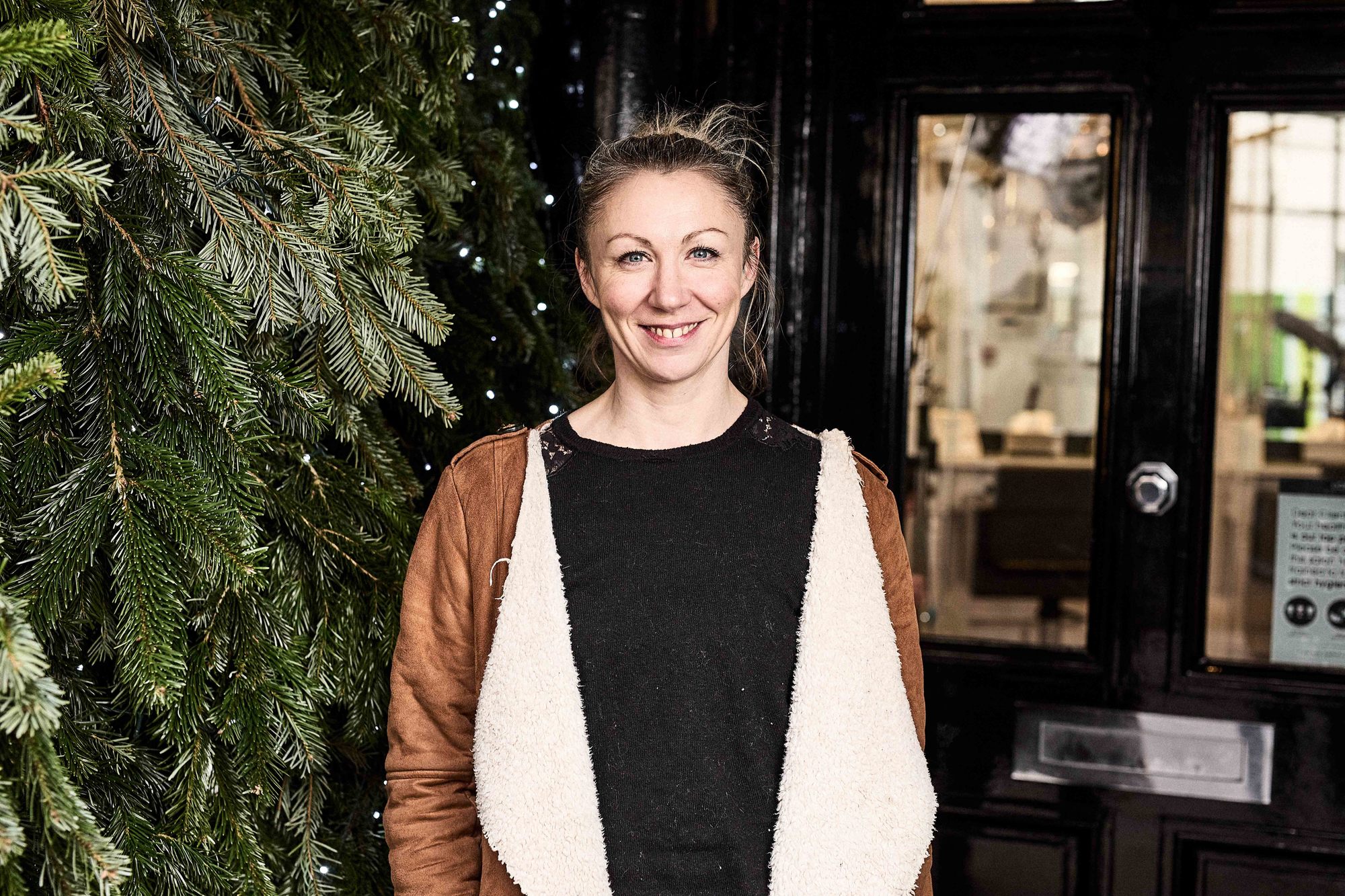 In this modern-day, social media has the power to do great good in the world. And never was this more important than during the pandemic to enable us to stay connected with our friends, family, and community. This is exactly how Gemma and her fellow volunteers were able to have such an impact.
They quickly set up Facebook and WhatsApp groups to help coordinate their efforts more effectively (within the confines of social distancing, of course), which allowed them to get help to those who have needed it. Whether it's delivering food shopping, collecting prescriptions or even just befriending those who have been most isolated throughout this time, Gemma and Co. are able to make a real difference.
After spending so much of her time this year dedicated to helping others, when we heard Gemma's story we knew that we wanted to give something back, especially with Christmas just around the corner. So, we enlisted the help of renowned celebrity colourist (and the royals' go-to hairstylist, no less), Daniel Galvin Jr MBE, to give Gemma a hair makeover to remember.
It's the first time I've ever moved one of the royals' appointments.


Daniel Galvin Jr MBE
As a long-time ambassador for The Prince's Trust, (a charity founded by the Prince of Wales to help underprivileged young people to find opportunities) Daniel's charity work is something that he takes very seriously. "When ATH approached me on this collaboration it was something very close to my heart and for somebody who's contributed so much to society and to the community as Gemma has, I thought this girl truly deserves to be Galvin-ised!".
With such a busy schedule and high-profile set of clientele, pinning down Daniel proved to be a Christmas miracle in itself. "Actually, it's the first time I've ever moved one of the royals' appointments because I had this opportunity with Gemma." Daniel explains, "so I called up this member of the royal family and explained Gemma's story to them and this member of the royal family said that they would happily move their appointment."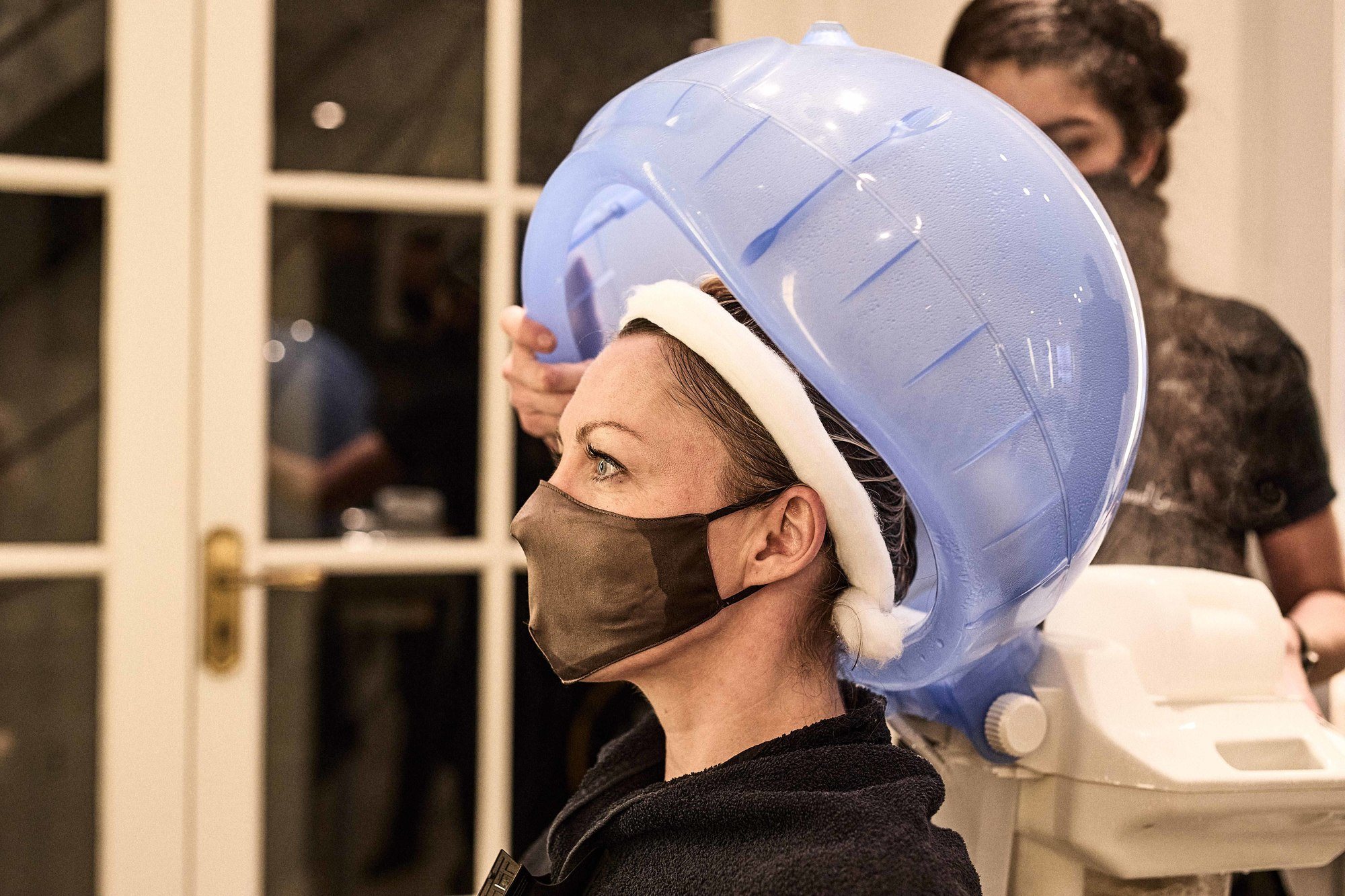 After a consultation and thorough review of Gemma's hair, Daniel decided he was going to pull out all the stops. That means a complete style makeover, including a new colour.
But before Daniel got to work brightening Gemma's look with a fresh colour, she was treated to a nourishing treatment to help moisturise and strengthen her lockdown-weary strands. "After washing Gemma's hair with the TRESemmé Colour Shineplex Shampoo and Conditioner, we used the TRESemmé Biotin + Repair 7 Intensive Mask treatment, which we put under a steamer, to rehydrate the hair and make the hair shine like glass", says Daniel.
Daniel's at-home treatment hack: Can't get to the salon? For an at-home steaming treatment, apply the TRESemmé Biotin + Repair 7 Intensive Mask and wrap your hair in a hot towel and you'll get a similar salon professional steamer effect. The heat from the towel will help the nutrients in your treatment to penetrate into your hair shaft to hydrate and protect against damage.
Hair treated and revived, it was onto the colouring…
Explaining the vision behind Gemma's new colour, Daniel's aim was to give her a look that was going to be lower maintenance to fit in with her busy lifestyle. Funnily enough, it was actually lockdown that inspired Daniel to come up with the new colouring method, which he calls 'progressive colour'.
According to Daniel, progressive colour is about "taking away block colour and giving it more contrast and movement by weaving the natural colour through the mid-lengths and ends of the hair to stop it looking solid." Continuing, he explains, "I used lowlights in her roots area, nice golden sunkissed lights, which is the kind of colour that her hair would've gone naturally when she was a child in the sunshine. We kept it lighter around her face and a darker reverse colour, similar to her natural mousy shade, to break up those solid ends."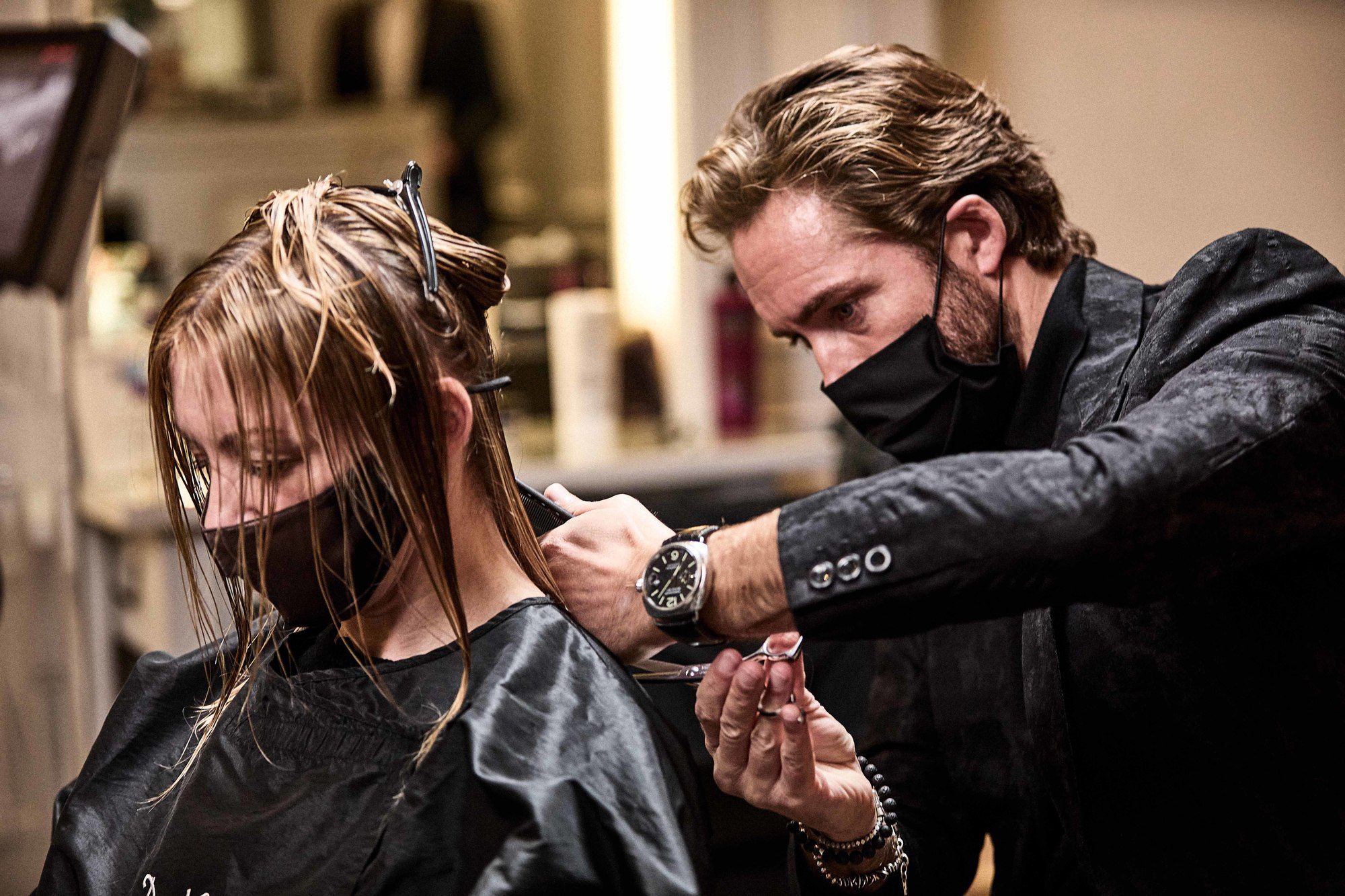 Next up, it was over to the cutting station, where Daniel's trusted head stylist, James Brunt, was prepped to give Gemma a cut that would compliment and enhance her new colour. "It's really important to have that teamwork if you're doing a makeover like this", Daniel says, "James took a good 4 inches off her hair and gave her a softer fringe and blunt layers, to bring out the colour to make it look even stronger."
Gemma then had her hair styled into a glamorous, curly blow dry before having her make-up done by a professional make-up artist. Hair, make-up and a new outfit later, it was time for the big reveal. "I promised Gemma she'd be feeling a billion dollars and I think it reflected all over her lovely face when she left the salon. She had the red carpet treatment." Daniel says.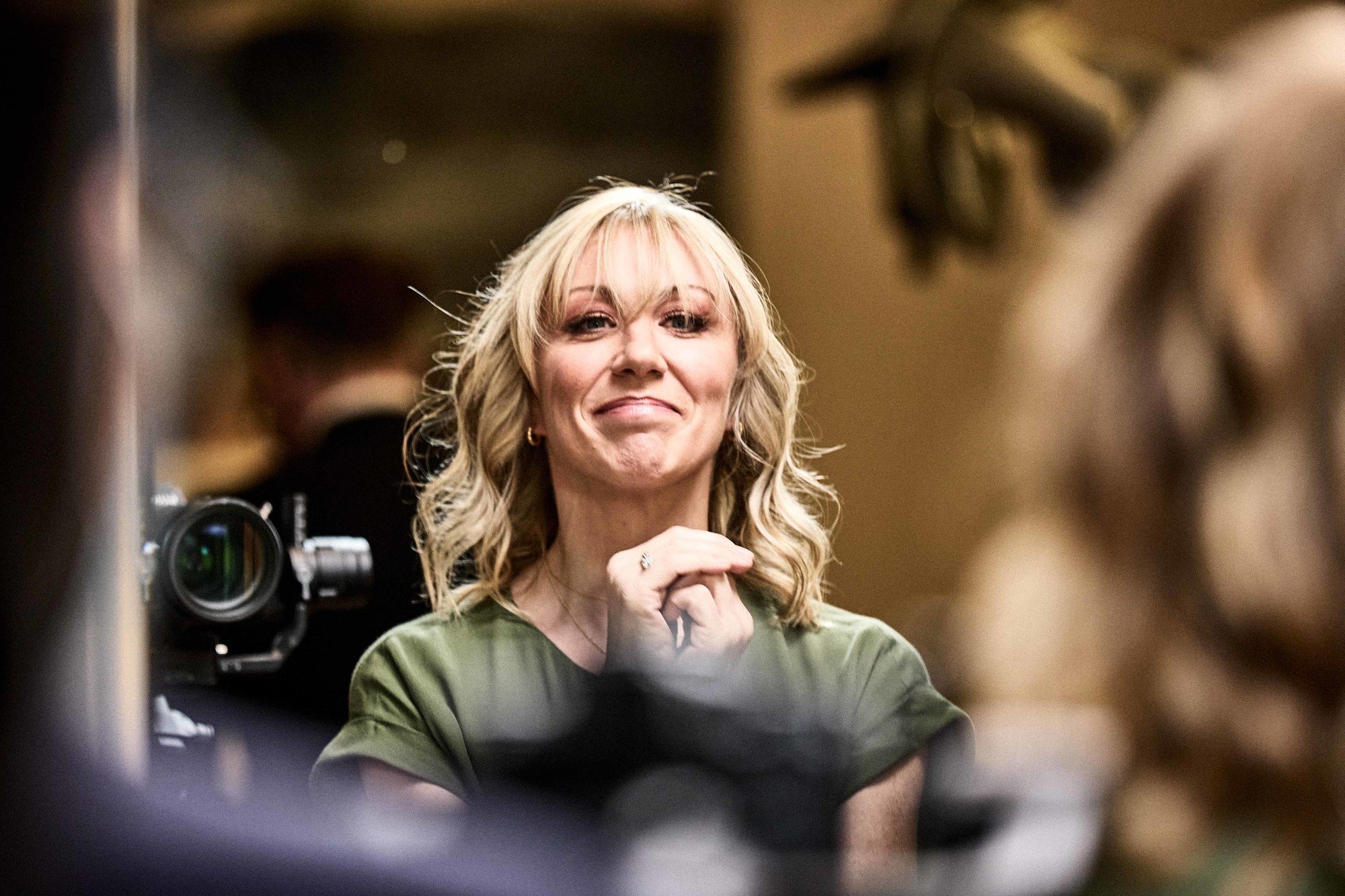 Reflecting on the experience, Gemma told us "It was a real joy to be nominated for the pamper session and I was very chuffed to be selected. It was really lovely to have people make me feel like a bit of a celebrity after such a challenging and draining few months. It was a lovely change to be the one being looked after."
We're so glad that we were able to treat Gemma to a much-deserved pamper session. We'd like to extend our thanks to Daniel and his team for helping us to give something back, and to all of the incredible key workers for their efforts throughout this year.
Prev Article
Next Article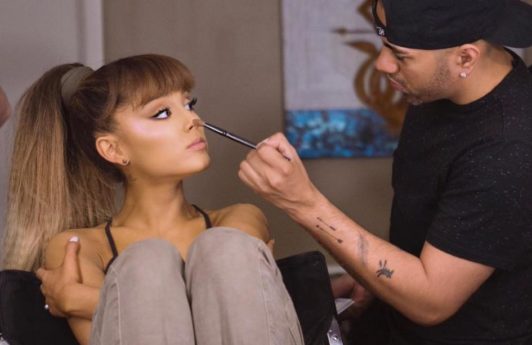 Article
Ariana Grande has crimped her ponytail and it's so '90s!
Ariana Grande has upgraded her ponytail.
See article