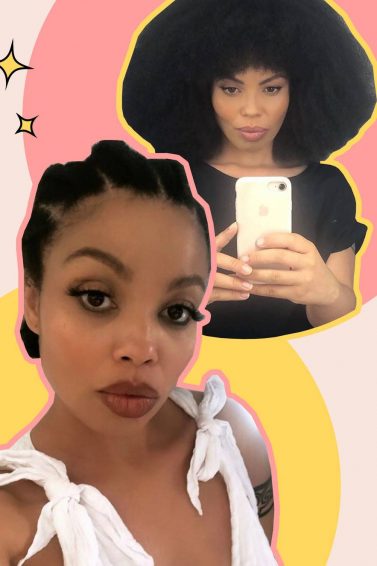 Emma Dabiri: Ending Hair Discrimination One Page at a Time
Hair discrimination is still discrimination. And it's time to end it.
If there's one thing at ATH that we appreciate, it's hair. We know, shocking. But the reason we love hair so much is because not only is it beautiful, versatile, and fun to experiment with, but also because it is intrinsically linked to who we are as individuals.
However, some of us take our hair for granted, that it's just the thing on the top of our heads that needs to be washed and styled and occasionally cut to maintain it. But would so many of us take it for granted if it was subject to scrutiny, told it isn't 'acceptable' and dismissed from the workplace or classroom because of it? Likely not. Yet this is something that people with natural hair have had to deal with for centuries and still to this day they are placed on a different pedestal of beauty standards than the rest of us.
Hair discrimination is just one side of the inequality coin that POC face daily and it comes in many forms. Some are smaller, passing comments that may seem harmless on the surface – for more insight, read up on The Do's and Don'ts of Talking About Black Hair – while some cut deeper and have more lasting impacts. Both need to stop.
We spoke with Emma Dabiri, an Irish-Nigerian author, academic, and broadcaster whose debut book Don't Touch My Hair, put a spotlight on hair discrimination in this country. We get down to discussing black history, the important role hairstyles have played over the years, and why she is so passionate to have Afro Hair Discrimination included in the UK Equality Act.
More Than Just Hair: Bring Equality for Afro Hair
On the surface, hair is often thought of as a superficial thing that is nothing more than a vanity. But this couldn't be further from the truth. Aside from being a rather lucrative business, hair has important connections to history and identity, especially for those with natural hair. And it is on this charge of superficiality that Dabiri wants to refute. "Our hair has been used to categorise us and define us in so many ways, and the ways in which we have contested that and responded to that gives us a fascinating insight into so many aspects of black history, black life, but also the relationship between black and white."
This is what Don't Touch My Hair aims to do, give insight to the many facets of black hair. Throughout her extensive research, Dabiri found that the achievements of many African scholars and people had been forgotten or simply ignored.
One of the more unusual insights from the book is about mathematical hairstyles – yes you read that correctly. "One of the most fascinating things for me when researching my book was the chapter on maths, maps, and encoding, where I looked at these mathematical traditions that are indigenous to the African continent, systems of binary counting that are the bedrock of modern computing, that's not really a story we hear about Africa." This counting system was expressed through braiding patterns, and even took another step further when, later down the line, enslaved Africans used braiding patterns in hair as maps to communicate with each other in order to escape slavery. And if that isn't considered ingenious, we really don't know what is!
While her book arouses many thoughts around the history of black hair and the important issues faced today, it's just the tip of why Dabiri is such an inspiring person to talk to on the subject of afro hair.
Before writing her book, she had laid the foundations of her career through academia, studying African Studies at the School of Oriental and African Studies and becoming published in academic journals. From there she began working as a broadcaster and journalist, contributing her expertise to many major publications and radio shows. All of this makes her an authority on the subject of black history. Which is why, in a time when we're challenged with scrutinising our legal, political, and internalised views, she is a fountain of knowledge to learn from.
Speaking on the matter of cultural appropriation, she tries to break it down into simpler terms; that if life was on a level playing field for all (same opportunities, resources, tools) then we would be able to wear whatever hairstyle we wanted without causing offence or upset. However, as Dabiri rightly notes, cultures typically are not on a level playing field.
"For over 400 years Africa has been the gift that keeps on giving. Africa and her descendants and her resources, be they physical, material, cultural, are extracted for the benefit of others, while the people for whom all this originates from are demonised, criminalised, and dismissed." Say Dabiri, who went on to explain that while this exploitation has happened, and POC have been discriminated against, excluded, or not given the opportunity in the first place because of their hair or hairstyles, yet when someone white does the same thing, they are celebrated and often credited for inventing it, stating "that's where the emotion about cultural appropriation comes from. That's the broader context that needs to be included when talking about it."
And since the 2010 Equality Act in the UK protects the racial characteristics of skin, but not hair, this is one area that Dabiri feels passionately should be given a commitment to be protected in the same way. This would bring an end to children and young people being excluded from schools, lessons, and sent home – similarly for adults in the workplace – all because of the way their hair grows out of their heads.
I couldn't reconcile my politics with what I was doing to my hair and it was time to stop chemically straightening it, but I was scared.


Emma Dabiri
But before being an author and academic, she is first a person with her own experiences of discrimination and having to navigate her own path to accepting her natural hair. "My hair story has been a journey to say the least. It is far from over; it is ongoing and evolving. Still now at this stage with my hair I discover things, new things, different things that my hair can do and achieve; different styles, different methods of looking after it."
Like many women with natural hair, Dabiri used to chemically straighten her hair and all throughout her earlier years this was the only look she wanted. It wasn't until 8 years ago, when she was pregnant with her eldest son, that she decided that the chemicals had to go. And while this was the moment she actually began her natural hair journey, it wasn't the first time she had considered it. So why not before? "I was scared to if I'm honest" she says, "I really did want it, but I couldn't reconcile my politics with what I was doing to my hair and it was time to stop chemically straightening it, but I was scared."
This fear stemmed from not just the external racial discrimination that she could easily face for wearing her hair natural, but also from the biases within the black community itself.
According to Dabiri there is a hierarchy with types of natural hair; looser, more defined curls being at the 'accepted' end of the spectrum, whereas tightly coiled hair (that Dabiri has) is the most stigmatised. Luckily, she has now been able to come to terms with this, saying "I absolutely love my hair now and am constantly inspired by all that it's capable of achieving. I can have any type of curl imaginable, from doing twist outs to doing braid outs, of course extensions and different braiding styles, bantu knots, wigs – you can just have any transformation."
Editor's tip: Whatever natural hairstyle you might want to try next, ensure that you start with a good base and keep your strands hydrated. We suggest trying the TRESemmé Botanique Nourish and Replenish Shampoo and Conditioner, which is infused with coconut oil and aloe vera, as well as being free of parabens, dyes, and silicones! Follow up with the TRESemmé Botanique Nourish and Replenish Mask for an extra boost of TLC. 
Although Dabiri has made leaps in her personal and professional life to curb discrimination of natural hair, we know that not everyone will feel as open or able to take this step. For anyone who's unsure of this, or like Dabiri is feeling scared about making the change to natural hair, that is ok. "We've been conditioned for centuries, from way before we were born, that there's something wrong with our hair. And these messages are communicated from all around and reinforced in so many different ways so it can be very hard.
"We're seeing the beauty and normalising black hair textures. So there's so much inspiration to take from all the black women and men, all of the black people you see rocking their natural hair." Says Dabiri, whose parting words try to bring some comfort, "When I started to see all I could do with it, the relationship began to shift. When I saw the different ways people were responding to me, the different energies, but it wasn't immediate. So take it easy on yourself."
We want to thank Emma for taking the time to talk with us about her book, her own experiences of discrimination and about black history. If you want to get involved to help end hair discrimination, you can sign and share the petition currently on change.org to get afro hair included in the UK Equality Act.
Prev Article
Next Article
Tutorial
ATH reveals why using flexi rods on natural hair is the easiest way to create curl definition
Bouncy curls without heated styling tools? Yes, please! This is how to use flexi rods on natural hair... 
See article