Food for healthy hair: 9 things to eat for strong locks
Wondering what the best food for healthy hair is? Spoiler alert: there's more than one!
We all know the importance of eating a balanced diet. But, did you also know that the right nutrient-packed foods can work wonders for your hair, too?
Now, before we tell you which ones to include in your diet, we do have to give you some hard facts (as most of you probably want to know what foods make your hair grow faster!)… Eating food for hair growth doesn't increase its length. However, eating food for healthy hair can make your strands look and feel healthier, helping you retain its length.
Intrigued? Here's a list of the delicious foods that'll seriously take your hair game to the next level.
Food for healthy hair: 9 foods your hair will love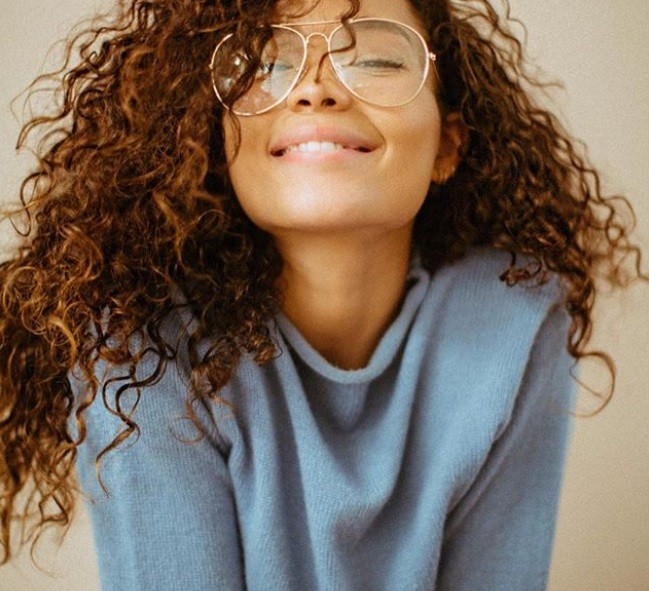 1. Salmon
Most forms of fish and shellfish are dense with hair nutrients, and salmon is no exception. This food is loaded with protein, and since your strands are made out of it, a diet rich in protein will eventually pave the way to more luscious-looking locks.
Salmon also contains Vitamin D, but its high content of Omega-3 is what really trumps. Omega-3 can help to enhance your hair's texture, prevent dryness and brittleness. If you don't eat fish or meat, make sure to include a variety of different protein sources – like tofu, Greek yoghurt, almonds, chickpeas and lentils – into your diet to provide you with the nutrients you need. Credit: @ashley_moore_
Editor's tip: Using a protein hair treatment in your hair routine, like the Nexxus Nutritive Serum, is another great way you can get your tresses to a better place.
This powerful serum helps to replenish lost proteins, leaving you with stronger and more manageable strands.
2. Leafy Greens
Dark, leafy greens like spinach, kale and broccoli are a must in order to help promote hair health.
These super foods are excellent sources of Vitamins A and C, both of which your body needs to produce sebum and collagen (sebum is an oily substance that acts like a natural conditioner for your scalp!). Vitamin C is an antioxidant that helps build collagen, which is another type of protein that helps to strengthen hair and fortify it against breakage.
3. Beans
You can't talk about food for healthy hair without mentioning beans! They're another food good for hair as they contain a bounty of nutrients (protein, iron, zinc and biotin!).
Iron, in particular, is vital to hair growth, as it helps red blood cells carry oxygen to your hair. And, if your hair follicles and roots receive all the nutrients they need, your hair will eventually start to look a lot healthier.
4. Nuts
What food is good for hair on-the-go? Nuts, of course! Nuts are high in protein and zinc, which are great for promoting stronger and shinier-looking hair, so do try and include walnuts, almonds, pecans and pistachios into your diet.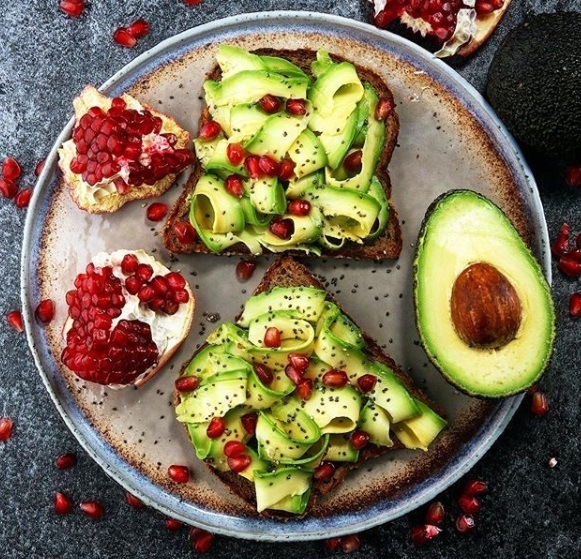 5. Avocados
Due to their high concentration of essential fatty acids and Vitamin E, avocados are still one of the best foods for healthy hair. Eating them can really benefit your strands and improve their texture, increase their softness and shine.
So, if it's gloss and gleam you're after, start incorporating this tried-and-tested super food into your diet now.Credit: @foodie.beasts
Editor's tip: Your love for avocados doesn't have to end here! The Dove Nourishing Secrets Strengthening Ritual Shampoo and Conditioner is enriched with avocado and calendula extracts, which are both know for their nourishing and anti-breakage properties.
This duo works to cleanse and fortify strands from root to tip, so you really can't go wrong with making it your next buy!
6. Guavas
When your hair is deprived of its needed dose of Vitamin C, it can become dry, damaged and prone to breakage. The good news is, guavas are a tasty tropical fruit that are loaded with this hair nutrient.
If you're having trouble tracking down guavas, try papayas, mangoes, berries and strawberries, instead. Incorporating them into your diet will help keep your locks strong, healthy and also protect them against future damage.
7. Oysters
Whether or not they're at the top of the list of your favourite foods, it's worth knowing that oysters are another food that is good for hair. They contain zinc, an antioxidant that helps keep the oil glands on the scalp healthy. Not a fan of oysters? Try cereals and whole grains, instead.
8. Sweet Potatoes
Sweet potatoes contain beta-Carotene (Vitamin A), which means that as well as helping to keep your scalp in tip-top condition, this tasty root veg can help protect against dry, dull hair, too. Perhaps that side order of sweet potatoes fries is a good idea, after all!
9. Eggs
If you've been searching for what to eat to make your hair grow, you may have noticed that biotin is a word that crops regularly (along with the promotion of biotin supplements). Well, now you know you can't speed up your hair growth rate, instead of overloading on miracle-claiming supplements, try incorporating high-biotin foods like eggs into your diet, instead, to promote all-round healthier hair.
Editor's tip: Want to become a true biotin devotee? Try the TRESemmé Biotin + Repair 7 Intensive Mask! This moisturising hair mask works to strengthen and nourish each strand of hair, helping repair and protect your tresses against future damage.
Prev Article
Next Article
Article
The Do's and Dont's of Detangling Natural Hair at Home
Make detangling an essential part of your routine.
See article