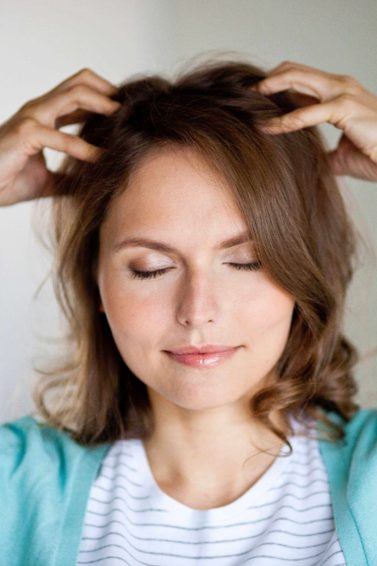 5 Dry Scalp Treatment Tips To Help Fix Dryness Fast
Dealing with major scalp dryness? These dry scalp treatment tips might just be the answer...
Scratching your head a little more often than usual? Wondering why your scalp feels extremely dry and tight? Not to be confused with dandruff, the causes of a dry, flaky scalp can range from over-washing, product build-up, changes in weather and internal health problems (i.e, dehydration or poor diet). However, with the right dry scalp treatment, you can get your scalp back to feeling its best again.
We've put together the best dry scalp treatment tips and products you can try right now to treat your this scalp issue.
1. Wash less and when you do, use the right shampoo
Guilty of washing your hair every day? If so, the best dry scalp remedy for you is simple: wash less. Washing your hair and scalp too often can remove the moisturising natural oils your hair produces, leaving you with a dry, tight and flaky scalp.
If you worry about grease, you can work around this issue by co-washing or switching up your regular shampoo for a nourishing one.
Editor's tip: The dry scalp treatment product we recommend for over-washing? The Dove Daily Moisture Shampoo, of course! This shampoo contains a Pro-Moisture complex that smoothes and progressively nourishes your hair and scalp, helping it feel healthier wash after wash.
If you've got fine hair, you'll be happy to know this shampoo also has a lighter counterpart: Dove Daily Moisture Light Shampoo.
2. Try a hot oil treatment
Another dry scalp remedy you can try to boost your hair's hydration levels? A hot oil treatment. Oil generally works as a moisture sealant, but when it's warmed, all the enriching ingredients infuse into your hair and scalp easier.
Applying hair-loving oils to your scalp will do a great job of soothing, lubricating and conditioning it, leaving it feeling super nourished. So, it's no wonder we recommend you try an oil treatment for dry scalp weekly!
Editor's tip: The cult classic VO5 Nourishing Coconut Hot Oil is perfect for combating scalp dryness, helping soothe irritation and has a lovely coconut fragrance, so don't miss out on trying it out, will you?
3. Detox your strands
Dry shampoo, hairspray, heat styling — we do a whole lot to our hair to get it to look the way we want. Over time, the products we use build-up and cling to our hair to and can cause a dry, itchy scalp. If this sounds all too familiar, the best itchy scalp treatment for you is a detox shampoo.
Editor's tip: Treat an itchy, dry scalp with the Love Beauty And Planet Delightful Detox Shampoo. This revitalising rosemary infused shampoo helps get rid of product build-up, leaving your hair feeling detoxed and refreshed.
4. Drink more water and eat right
If you want to know how to treat dry scalp, you should think about what you eat and drink. Keeping your body hydrated is essential to your hair, so make sure you're drinking enough water.
What's on your plate also counts, too. Now, we're not saying that changing your diet will instantly help you get rid of dry scalp, but you should stock up on the right foods to help keep it hydrated.
5. Seek professional advice
If you've tried all these dry scalp treatment tips and haven't seen an improvement in your scalp health, we suggest you seek professional advice to get to the root of it.
Prev Article
Next Article
Article
Dandruff decoded: Find out the truth about dandruff in our handy guide
Dandruff: Nip the common hair woe in the bud with our full guide.
See article