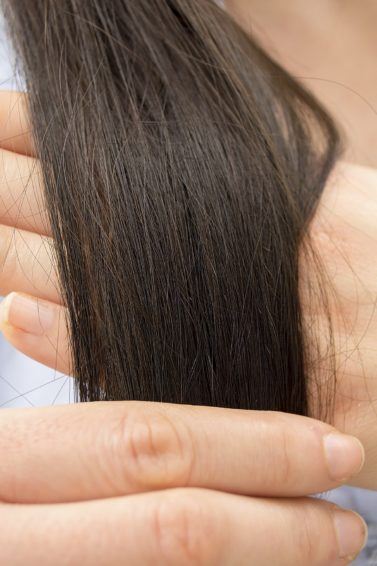 Split end treatment: Fact or fiction?
Finally, get the answers you've been looking for.
Looking for a split end treatment for your hair? Then it's no surprise that you've found yourself here, because we've put together a useful little guide to help you along your hair quest, and to finally separate fact from fiction.
So, if you've always wanted to know if there was a way to restore your hair to its former glory, or find out the real truth behind products that claim to 'repair' your tresses, you're definitely in luck! Just scroll down to find out everything you need know about split end treatments, now.
Split end treatment 101
Is there such a thing as a split end treatment for your hair?
Okay, we feel it's our duty to tell you the truth: there is no such thing as a miracle split end treatment for your hair. We know, we were just as bummed as you were to discover the truth… But the sooner we accept the facts, the more proactive we can be about the actual problem. The sad reality is, once your tresses have split, there is no real way to mend, heal or repair the damage. Eek!
So, if there's no such thing as a repair, what about split end treatment hair products?
Like we said earlier, there's no such thing a split end treatment, but it's more than likely that you've seen products that claim to turn back the hands of (hair) time and restore your locks to their former glory! Most of these hair products that make such claims are probably leave-in conditioners. What these products actually do to help, is reduce the damaged look and feel of your split ends, by smoothing and 'sealing' the ends of your tresses.
How does smoothing and sealing the ends of your hair help?
These leave-in conditioners can help by making your tresses feel super smooth to the touch and by providing slip/lubrication, which will help to limit further split ends and hair breakages from occurring. They can also help 'hide' split ends by smoothing or sealing the frayed hair ends together – all great news if you can't get an emergency appointment with your stylist!
Okay, so, what 'split end treatment' can I use as an interim measure?
We would always suggest getting your split ends trimmed to completely remove the problem and stop the damage from travelling further up the hair shaft. But we also know that sometimes, things don't go according to plan – especially with our busy modern lives! So, as an interim measure, why not try using the TIGI Catwalk Hairista Split End Protector? The formula features silicone-alternative conditioners, which condition the hair and helps prevent flyways, giving a smooth and even finish. Hooray!
Do your tresses still need a little extra TLC? Well, don't panic, because we're here to solve all your hair problems. Our Dry and Damaged Hair page is just bursting with expert tips and tricks to get make your hair look and feel healthy again!
Prev Article
Next Article
Article
Can a shampoo and conditioner really repair damaged hair?
What you need to know about the relaunched TONI&GUY Damage Repair range.
See article