13 Tried-And-Tested Techniques for Getting Rid of Frizz
Don't let frizzy hair ruin your confidence!
Frizz can happen to anyone. Whether your hair is straight, wavy or curly, you'll no doubt have had some experiences dealing with frizzy hair. Frizz occurs when your hair is dry and damaged, exposed to environmental elements (yes, we're talking about humidity!), or it can just be something you're hair is naturally prone to.
While there is nothing wrong with frizz or flyways, it annoyingly can get in the way of a good hair day, which is why it's so important you learn how to get rid of frizzy hair.
No matter your hair type, read on to discover how to tame frizzy hair and keep your hair looking super sleek and shiny.
1. Use the Right Shampoo and Conditioner
If you want to learn how to tame frizzy hair, you need to use the appropriate shampoo and conditioner duo. Starting from the beginning of your hair care routine, we suggest using a specifically formulated wash and care routine for frizz-prone tresses.
Editor's tip: Formulated with Elastin Protein and Argan Oil, the Nexxus Frizz Defy Shampoo and Conditioner duo helps to protect hair against humidity and frizz, while also helping to detangle hair, making it more manageable and easier to style.
2. Try a Hot Oil Treatment
As we mentioned, frizz is mainly caused by lack of moisture in your hair, so the aim of the game is to nourish hair enough to stop it from getting to that stage. The quickest way you get can get rid of frizzy hair? By using a hot oil treatment, like the VO5 Nourishing Coconut Hot Oil.
This pre-shampoo oil treatment will help smooth the cuticle, softening hair and making it more manageable and frizz-free.
3. Use a T-Shirt to Dry Your Hair
We know that it sounds rather unconventional, but this is a hack that the All Things Hair editors have picked up along their hair journeys.
Want to know how trading in your towel for a cotton T-shirt can help you ward off frizz? Well, cotton tees have a smooth texture, which means they still absorb moisture, but also cause less frizz-incurring friction, making it easier for you to style your hair.
Better yet, when drying your hair, don't be tempted to rub: instead, simply pat your tee over wet hair and gently squeeze to absorb moisture and minimise damage. Try it out when you next wash your hair!
4. Treat Yourself to a Hair Mask
The periodic use of hair masks and oil treatments can help to smooth hair. The intensive conditioning properties of a hair mask, and the nourishing benefits of hair oils, can help to hydrate and moisturise your tresses, making your hair feel less dry.
Editor's tip: Try the TRESemmé Biotin + Repair 7 Intensive Mask 1-2 times per week following TRESemmé Biotin + Repair 7 Shampoo to protect, strengthen and nourish your hair for healthy-looking, moisturised locks that are ready for styling!
5. Try an Overnight Hair Treatment
If you've got natural curls, you'll need to double up on moisturising your hair, as it is more prone to frizz. To manage this, apply an overnight treatment like the VO5 Overnight Curl Cream, so you can wake up to beautiful, frizz-free coils every day.
6. Sleep With a Silk Scarf
Wondering how this will help you battle frizz? Like we mentioned before, cotton is great at absorbing moisture, but this also means that our cotton pillowcases can zap the moisture out of our tresses while we're catching our Zs, which can contribute to dry, frizzy hair issues.
So, to counter this, try wrapping your tresses with a silk scarf before going to sleep, or invest in a silk pillowcase. Silk will help limit friction and won't absorb your hair's precious moisture.
7. Invest In a Good Hair Serum
Using a hair serum sounds simple, right? But you'd be surprised how many people don't use them. These silicone-based hair products are a great way of protectively coating your hair and guarding it against frizz-inducing humidity while giving it a healthy-looking gloss.
Editor's tip: Try the VO5 Heat Protect Serum for smooth, glossy hair and best of all, this little gem helps protect hair against damage caused by heat-styling tools!
8. Buy a New Brush
What kind of hairbrush are you currently using? You might want to re-evaluate this everyday styling tool if you want to learn how to tame frizz. If you have a synthetic bristle brush, you want to upgrade to a natural brush, like boar bristles.
Surprisingly, natural bristles have many hair benefits: not only are they gentle, but they can also help to massage the scalp and evenly distribute your hair's natural oils, which indirectly helps to reduce frizz by coating your hair with sebum. Smart, right?
9. Always Use Heat Protectant
Excessive use of heat can play havoc with hair, especially if you want smooth, sleek strands. Don't worry: for our this tip on how to tame frizzy hair, we're not suggesting that you completely give up heated styling tools. But the best way to protect your mane from the damaging effects of excessive heat is to use a heat protectant and reassess your hair straighteners.
Ensure that you spritz your mane with some TRESemmé Biotin + Repair 7 Primer Spray before straightening or curling your hair, and you'll soon be on your way to a happy, healthier-looking mane!
10. Consider a Haircut
While all hair types can be prone to frizz, coarser, thicker hair types seem to get the brunt of it. If you have thick hair, get your stylist to thin it out a little to make it more manageable.
11. Try a Flyaway Wand
Want to tame frizzy hair on-the-go? Then you'll need to get your hands on this handbag essential: VO5 Flyaway Touch-Up Wand. It's like your favourite mascara but for your hair instead. This compact hair serum will tame frizz, static, and reduce the appearance of split ends, leaving your strands looking more polished.
12. Touch Up with Hairspray
To get rid of frizz fast, try using a flexible hold hairspray like the VO5 Flexible Hold Hairspray. Spray it onto a brush before sweeping it over your frizz and flyaways.
You can also use this method to brush through frizzy curls or a big blow out, it'll banish frizz straight away and ensure your look is finessed.
13. Consult Our Infographic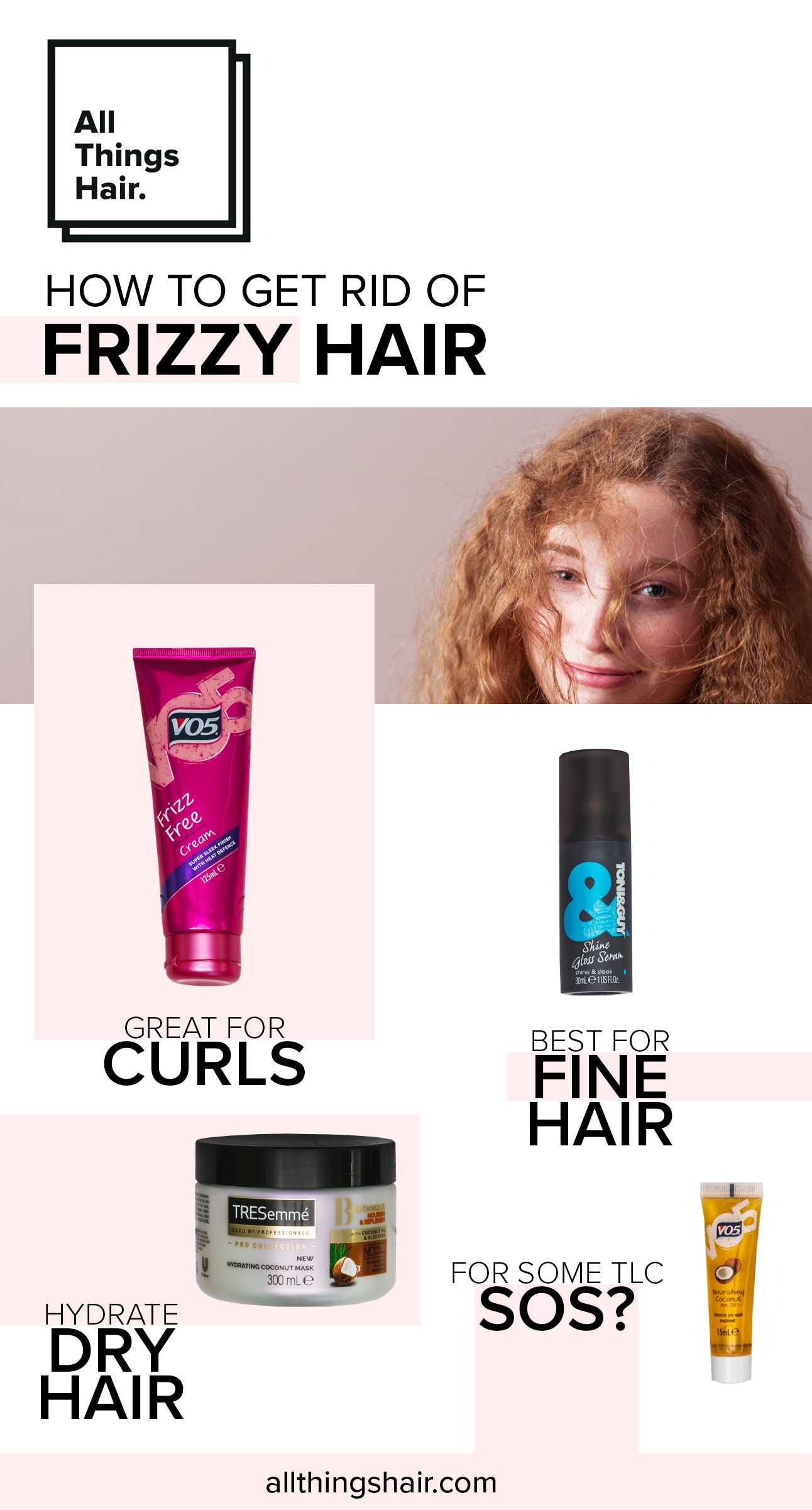 Frizz is something that can affect all hair types. If you want to know how to get rid of frizzy hair and find out which frizzy hair products you should be using for your hair concern, just consult our infographic.
Great for curls: Try the VO5 Frizz Free Cream
Best for fine hair: Try the TONI&GUY Shine Gloss Serum
Hydrate dry hair: Try the TRESemmé Botanique Nourish & Replenish Mask
For SOS hair moments: Try the VO5 Nourishing Coconut Hot Oil
Prev Article
Next Article
Article
Can a shampoo and conditioner really repair damaged hair?
What you need to know about the relaunched TONI&GUY Damage Repair range.
See article