How to stop hair breakage: Practical tips to improve your hair's condition
It's time for a little TLC...
ave you noticed more hair falling out when you brush it, or that some strands seem to be completely snapping off? Before you start to panic, it's important to know that a little shedding is normal. It's only when hair is put under severe stress and suffers extreme breakage that it becomes a problem. So, if you want to know how to stop hair breakage, look no further.
We know it's worrying to find your precious locks in poor condition, but you don't have to be confined to a lifelong struggle of bad hair. The good news is, adopting a few good habits into your everyday routine can help to restore dry and damaged locks to their former glory! Think it sounds too good to be true? Then keep scrolling to discover them for yourself…
How to stop hair breakage: Practical steps you can take
Avoid brushing your hair when wet
Did you know that wet hair is much weaker and more susceptible to damage? If your hair becomes tangled after washing, either wait for it to dry before attempting to tackle the knots, or work through it gently with a wide-toothed comb.
Stop using hair extensions
If you're a slave to your extensions, it might be time to consider a conscious uncoupling! Whether you use clip-ins, micro-rings, or keratin bond variations, the weight of the extensions causes strain by pulling on your scalp. This can can lead to hair thinning and even bald spots (eek!), so it's important to take breaks between getting extensions, to allow the hair follicles to recover.
Use hair masks regularly
When your regular hair conditioner isn't cutting it, it's time to up the ante. We recommend using an intensive hair mask treatment (like the Dove Rescue Crème Mask) 2-3 times a week. This one contains a Red Algae+Keratin NutriComplex to strengthen weakened locks and leave your hair silky smooth.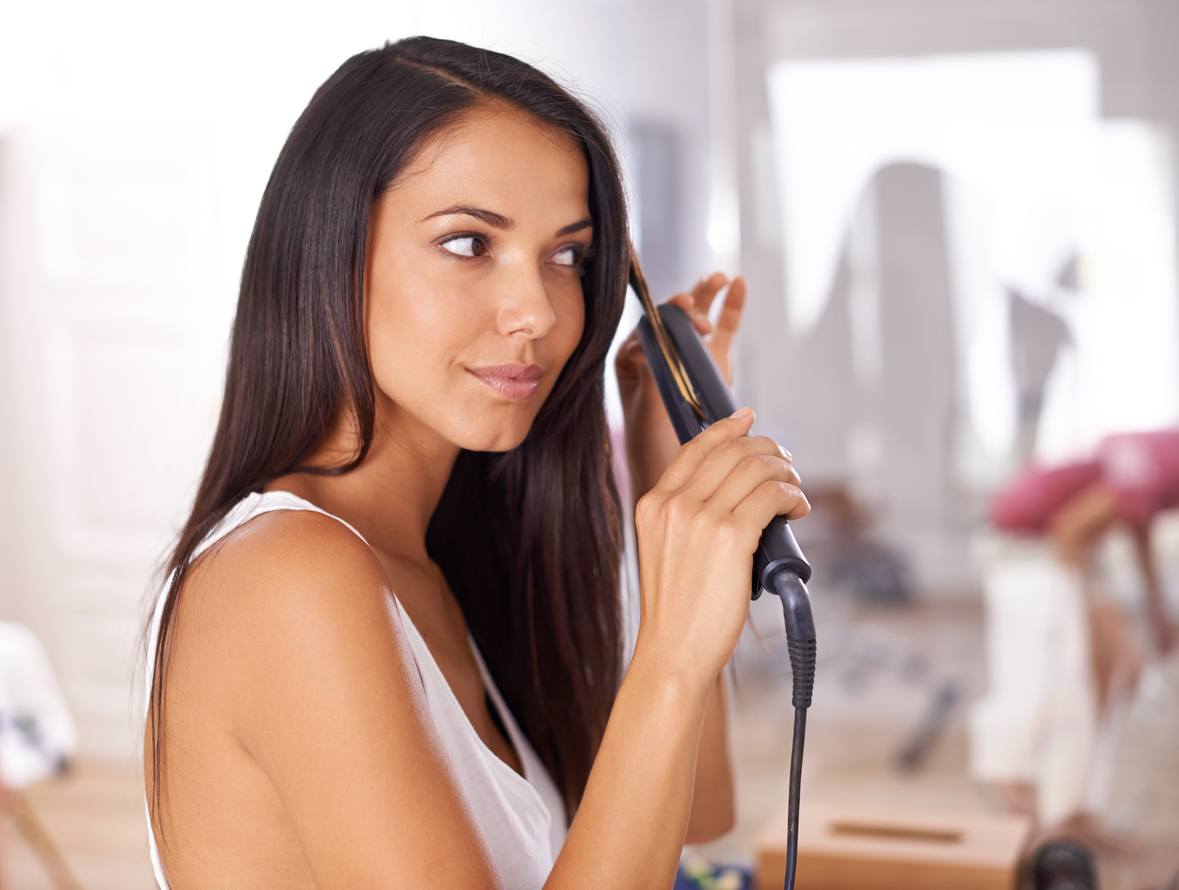 Limit how often you use heat
Do you use a straightener or a curling wand numerous times a week? This can be a major contributor to split ends, so try limiting how often you use them. When you're using styling tools, make sure you're using a low heat setting and always spray your hair with a heat protectant, like the VO5 Heat Protectant Spray, before styling.
Editor's tip: Absolutely devoted to your curly hairstyle? Then why not try one of our overnight heatless curling methods? You'll wake up with perfect hair and you won't have to get up as early – yes please!
Don't tie your hair too tightly
Traction alopecia is a condition common among dancers who wear painfully tight ballerina buns every day. The constant tension leaves strands brittle and over time can lead to hair loss. Wearing your mane in tight ponytails or cornrow braids has the same effect, so remember to allow time for your hair to be relaxed and free-flowing.
Sleep on a silk pillowcase
We know this seems like a bit of an odd one, but hear us out. Most pillowcases are made from cotton, an absorbent material which strips your hair of moisture overnight, thus leading to that dreaded morning frizz! Silk, on the other hand, is a much smoother fabric, so there won't be as much friction between your strands and the pillow. Less friction = less breakage!
Now that you've learnt how to stop hair breakage, don't forget to check out our Hair Care page! With expert advice from our editors on topics like how to wash your hair the right way, you'll be well on your way to beautiful, healthy-looking locks.
Prev Article
Next Article
Article
Dry scalp 101: What you need to know about this condition and how to treat it
Dry scalp? We reveal the possible causes...
See article