8 Helpful hacks to prevent static hair
Because hat hair is never a good look...
Static hair has to be one of the most annoying hair traits to have. Yet while many of us suffer from static strands, few of us know what causes it – so, let us give you a quick lesson. Static hair occurs when negatively charged electrons leave the hair, thus creating an imbalance in the strands. What this does, is causes the hairs to repel each other and stick up, leaving us with crazy mane!
Now, unfortunately this hair issue is particularly bad in the colder months, thanks to the combination of central heating and dry air. So, if static hair has got you reaching for your bobble hat this winter, read on to discover our top tried and tested hacks for beating the frizz.
Our top tips for banishing static
Tip 1: Use a hydrating shampoo and conditioner
Let's start with the basics. Dry hair is far more prone to becoming static, so it's important that you use specially targeted moisturising products. Try switch up your regular shampoo and conditioner for something richer, like the TRESemmé Luxurious Moisture Shampoo and Conditioner, to make sure your hair is getting the hydration it needs.
Tip 2: Try to avoid washing your hair daily
While it's tempting for many of us to wash our hair everyday, over washing can strip the hair of its natural oils. Obviously, too much grease isn't ideal either, but allowing an extra day or 2 between washes for the sebum to replenish can really help to reduce flyaway strands. Who knew, eh?
Tip 3: Brush hairspray through your hair after styling
Most of us tend to only reach for the hairspray when we're trying to set a particular style, but it's actually a really useful product for preventing static. Whether you've got poker-straight strands or ultra coily locks, try spritzing your brush or comb with some hairspray, before pulling it through your mane – and just like that, it will help to keep static hair at bay!
Editor's tip: We particularly love the TRESemmé Perfectly (un)Done Ultra Brushable Hairspray, as it doesn't leave the hair feeling stiff and crispy.
Tip 4: Opt for a comb instead of a brush
Where possible, try to use a wide-toothed comb instead of a brush, as they're less likely to cause friction. Of course, if your hair is especially tangled, you can use a brush to get out the worst of the knots, before switching to a comb for the rest of your head.
Tip 5: Use an oil
The ends of our strands are usually the driest, so using a nourishing hair oil (such as the Toni&Guy Radiating Tropical Oil), will keep your ends hydrated and frizz-free. Now, if you've got fine or greasy hair, we suggest sticking to the mid-lengths and ends, whereas if you have thick and/or coarse hair, you can work it all the way from root to tip, for a little extra control.
Tip 6: Use a t-shirt instead of a towel
Did you know, that drying your hair with a towel could be causing unnecessary static? The rubbing motion of the towel on your strands creates friction, increasing the chances of breakage and frizz (eek!).
But all is not lost, because you can simply switch up your drying method, and use a cotton t-shirt instead – this will reduce the amount of friction caused, while also helping to soak up the moisture!
Tip 7: Invest in an ionic hairdryer
Ideally, hair should be left to air dry naturally, as blow-drying too often can dehydrate your strands. While we appreciate you may be short on time in the mornings, if you feel you absolutely must blowdry your mane, we recommend replacing your usual hairdryer for an ionic one. Specially designed to neutralise the electrons in the hair, it will combat those pesky static strands!
Tip 8: Try the dryer sheets trick
Okay, hear us out on this one! Dryer sheets (yes, the ones you put in the tumble dryer to stop your clothes coming out statically charged), have also been known to work wonders on the hair. Obviously, carrying them around with you throughout the day isn't going to be convenient, but if you're desperate and you've got some to hand, try running one down the lengths of your hair to smooth your strands in a flash!
Now that you've got the static hair problem under control, why not give some of our favourite winter hairstyles a go? With everything from chic twisted updos to beautiful box braids, something is bound to take your fancy!
Prev Article
Next Article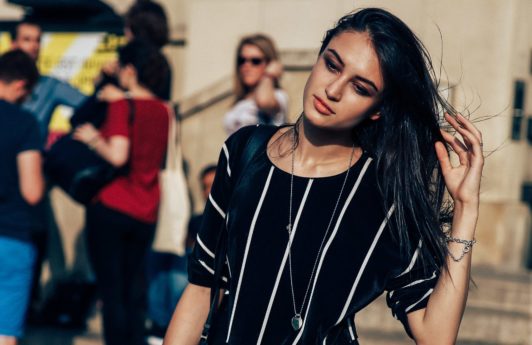 Article
Our tell-all guide to hair serum: What it is, who can benefit & how to use it
Get those locks looking shiny and new with a hair serum.
See article