8 Causes of dry hair and how to avoid them
Prone to dry hair and tired of not being able to do anything about it? You may think you have to suck it up and suffer with drab-looking locks, but that's certainly not the case! What you might not know, is that there a few everyday factors that could be causing your less-than-luscious locks, and leading them down the path of bad hair days.
Now, don't fret, because it's not all doom and gloom. Below, we've come up with 8 things you need to know about dry hair, its causes, and how you can avoid them, so that you can get your mane back in tip-top condition! 
The causes of dry hair
1. Climate
With tresses constantly exposed to a slew of elements – from rain, wind, heat, and humidity – your strands takes a daily battering, which can result in hair that's dry and brittle. The solution? Protect your hair against the weather by covering it up with your favourite scarf, hat, or hooded jacket in colder months.
On the flip-side, however, you will also need to keep your mane protected from the sun's UV rays during the summer, using an SPF spray for hair. And, if there's anything we've learned about living in Britain, it's that you must always equip yourself with an umbrella: hair is at its weakest when wet.
2. Swimming
Does your morning routine involve a few lengths at your local pool? Then be aware that the chlorine in the water can strip your hair of its natural oils, leaving strands more prone to splitting and damage. But don't panic: there are several prevention methods to help limit dry and damaged hair due to chlorine.
First off, always take a shower before you get in the pool: hair is porous and absorbs less when wet, meaning fewer chlorine chemicals will enter the hair shaft. Also, never skip a rinse after your swimming session, either, and wash chlorine from your hair thoroughly with a cleansing shampoo. You could also try using the VO5 Give Me Moisture Hot Oils, as these hard-working oils help to remove up to 70% of chlorine from the hair!
3. Chemical treatments
Though hair straightening or relaxing treatments can work well to make hair look more luscious, they actually undermine the strength and integrity of your hair's natural structure, leaving it feeling dehydrated and dry (eek!). The best way to avoid the damaging effects of chemical treatments, is to limit the amount you have and try spreading them out over a period of time.
4. Dyeing your hair
This one shouldn't come as a surprise. Just like chemical treatments, over dyeing you hair can be damaging, having a detrimental effect on the look and feel of your strands. Of course, there's nothing wrong with wanting to get a dye-job done (we love switching up our hair colour!), but consider less harsh methods of achieving your desired hue, such as ammonia-free and plant-based dyes.
Editor's tip: If you have dyed tresses, try including a conditioning treatment into your hair care routine. We love the TRESemmé Platinum Strength Deep Conditioning Treatment, as it will help repair and reinforce your strands, protecting them against future damage.  
5. The wrong shampoo
We know, with so many products available, it can be hard to make a choice, but make sure you take the time to read the labels and pick the right products for your hair type and concerns. It is also advised that you avoid using strong clarifying shampoos too often, and instead, opt for a product that's 'moisturising' or 'hydrating', to help combat dry hair.
6. Over-washing
While having the right shampoo is key to a healthy-looking mane, over-washing can also lead to dry and damaged hair. Washing your mane too frequently strips the scalp and strands of their natural oils needed to keep them hydrated, leaving hair prone to breakage (sigh!).
Now, we know it can be hard to skip a day of not washing your tresses, but trust us, it can do your hair a world of good! But if you're worried about your strands getting greasy, simply spritz them with the Toni&Guy Glamour Sky High Volume Dry Shampoo, to keep it looking fresh in between washes.
7. Over-styling with heat
From blow-drying and straightening, to using curling tongs, all these tools have one thing in common: heat. If used incorrectly every day, heating appliances can cause dryness and damage to hair. We know: you need them to achieve a certain look, but just make sure you use them in moderation and never skip protection – a good heat protectant should be a staple in your hair care routine!
Editor's tip: If you're in the market for a new heat protectant, we suggest giving the TRESemmé Keratin Smooth Heat Protection Shine Spray a go, which will help safeguard your tresses, as well as add a luscious shine!
8. Poor hair care routine
Finally, don't underestimate the importance of a good, consistent hair care routine that targets dry hair. Use a hair mask or deep conditioning treatment once a week, and make regular trips to your local salon to keep tresses trimmed and feeling healthy. And remember: there is no one cause of dry hair, and unfortunately, no quick fixes – so be patient and take proper care of your mane!
Found these causes of dry hair enlightening? Great! Then if you have other hair woes you're concerned about, head on over to our Hair Care page, where we'll help you get your tresses in tip-top condition once again!
Prev Article
Next Article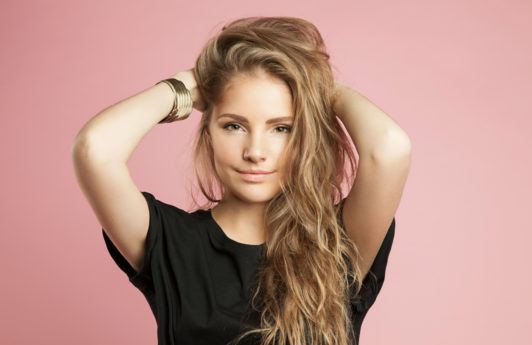 Article
How to stop hair breakage: Practical tips to improve your hair's condition
It's time for a little TLC...
See article