4 ways to rock the man bun hairstyle
Check out the different ways you can style your man bun and rock the look like a total star!
The bun hairstyle has always had that certain appeal, and it doesn't work its magic on just women—it's also a bangin' look on men. It has become quite a popular style for guys with long hair that it's earned its own nickname—the man bun.
Evoking a laid-back yet stylish vibe, the man bun works with all hair types: straight, curly (maybe somewhere in between), thick, thin, medium, long, or super long. There's also a variety of ways to style your bun, making it a versatile hairstyle that you can wear every day, whether on casual days/nights out or to more formal affairs.
Find inspiration from our gallery and discover different ways to wear your man bun.
4 ways to style your man bun
1. Man bun undercut fade
This one's really trendy, and if you want to make a statement, this bun is it. You'll need a little help from your barber to get the perfect fade though, so you'll have to add an extra step to nail this look. But don't worry, half your work is done after a quick trip to the barber shop. If you're going for a sleek and straight finish, you can blowdry your hair, brush to get rid of tangles and kinks, and add pomade or gel for shine and hold. Then put your hair up in a high ponytail, secure with an elastic, then loop the ends of your hair through it to create a bun.
Editor's tip: This hairstyle reveals a bit of your scalp, and the appearance of white flakes can easily kill this otherwise stylish look. To keep make sure you have a dandruff-free man bun, wash your hair with Clear Cool Sport Menthol Anti-Dandruff Shampoo for Men. It's formulated with Cooling Mint, which refreshes the scalp and hair for the ultimate cooling sensation. It also has Bio-Nutrium 10, which activates the scalp's natural protection layer helping it resist the root cause of dandruff.
2. Brushed back
This is a classic style that's all about a polished, put-together look. It features a simple bun positioned in the middle of the back of the head, with the top neatly brushed back.
3. Top knot
Get that cool (and modern) Japanese samurai vibe by wearing your man bun up high. To create the look, sweep your hair up into a high ponytail. The base should sit at the crown of your head or higher, then twist it into a bun.
4. Half-up bun
This look involves putting up half of the hair in a bun and letting the other half fall loose. It works for wavy, curly, and straight hair; you can place the bun on top, or choose to wear it a bit lower, parallel to your ears. The type of your hair and the positioning of the bun creates different effects, making it an interesting style to play around with.
Go rock your man bun, bun man!
Prev Article
Next Article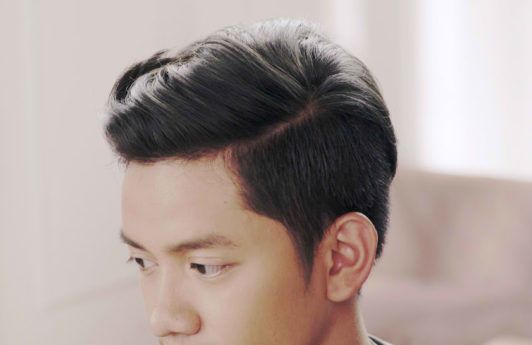 Tutorial
Do the Slicked Back Pompadour Fade Hairstyle with David Guison
DIY a slicked-back pompadour fade hairstyle for a polished, sophisticated look.
See article