See-Through Bangs: How to Style This Type of Fringe in 5 Easy Steps
Look chic and laidback with see-through bangs! Here's how to style your fringe this way.
See-through bangs are thin, wispy bangs that show a bit of your forehead. They are often worn a bit longer at the sides to give your fringe a layered shape. Unlike the full, blunt bangs, see-through bangs work at giving you a softer look because they are less dense. This type of fringe frames your face without covering your forehead entirely, allowing you to "see through" it. It also looks lighter and more laidback.
It is often seen these days on various Korean hairstyles. If you want to ride the K-Wave with your hair, getting see-through bangs is a great idea. Styling it is a total breeze, too. Here's how. 
How to Style See-Through Bangs
Editor's tip: To get hair that's easy to style, we recommend TRESemmé Keratin Smooth KERA10 Shampoo. It has KERA10 Protein Complex that can go up to 10 layers deep into your hair to nourish it. It gives your hair 10 salon benefits in one wash, and these include calming frizz, taming flyaways, making your hair soft, adding shine, and detangling your hair.
Complement your shampoo with TRESemmé Keratin Smooth KERA10 Serum Conditioner. Aside from giving your hair 10 salon benefits, this conditioner has oleo serum that nourishes and moisturizes your hair even more. 
Other Ways to Wear Your Bangs
1. Full, Blunt Bangs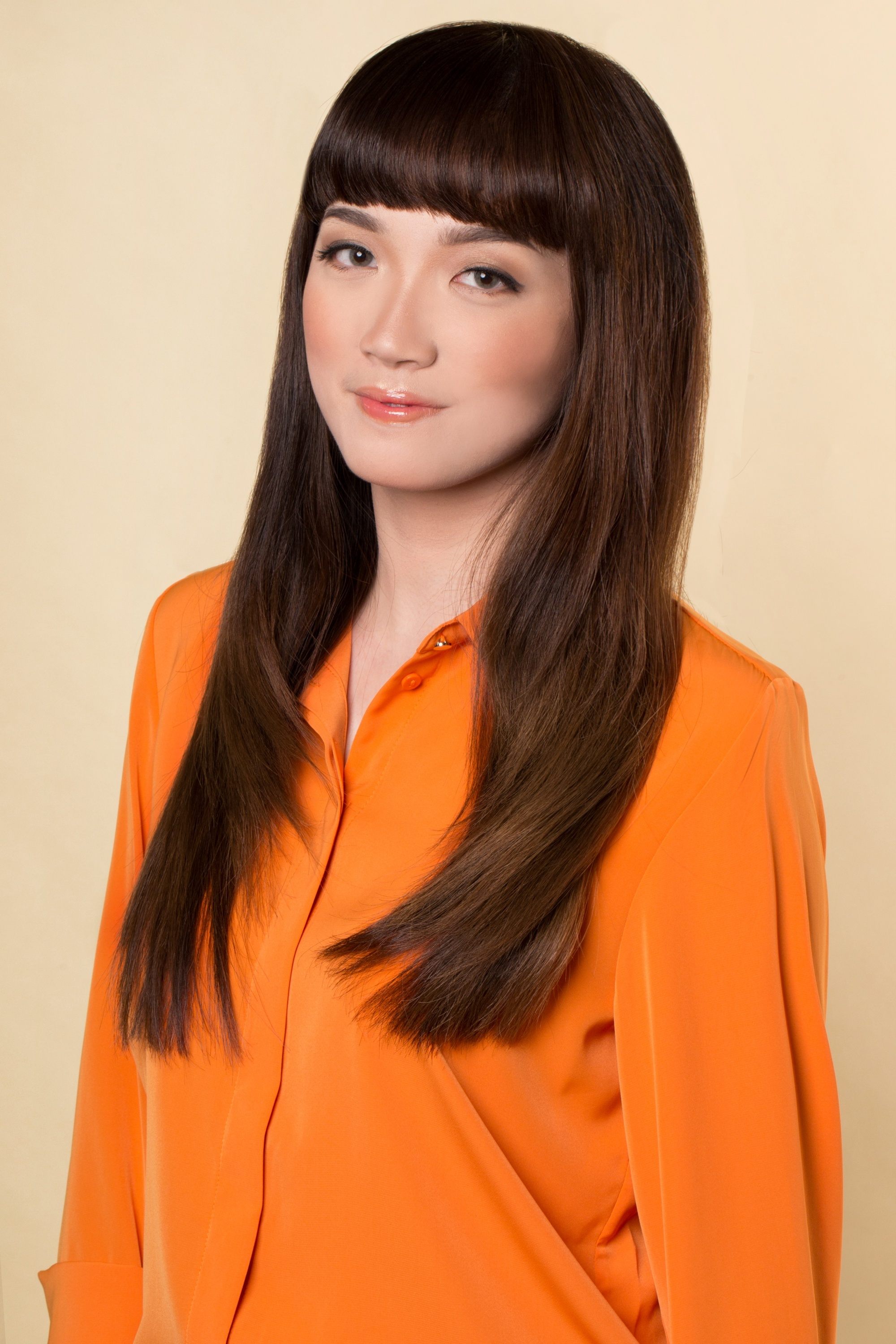 Exude a sophisticated vibe with pin-straight blunt bangs along with long hair. Maintaining blunt bangs takes a bit more effort, but don't worry, styling this type of fringe is easy. It's also worth the extra effort because this is a look you can wear from day to night.
2. Side Fringe
Got side bangs? Or are you trying to grow out your fringe? One way to style a growing fringe is to put it on the side and curl it. Then, complement your curly side fringe with big waves for a touch of Hollywood glam.
3. Wispy Bangs
If pin-straight blunt bangs seem too uptight or you, go for wispy bangs. It's similar to see-through bangs, but wispy bangs sport a somewhat unstyled look. Wispy bangs can save your look if you're having a bad hair day. With this type of fringe's casual and relaxed appearance, no one will notice if you have misbehaving strands.
4. Baby Bangs
This type of fringe is shorter than your regular full bangs. It falls above your eyebrows and gives you an edgy, high-fashion look. To nail this 'do, straighten your baby bangs with a flat iron to keep them straight and down.
Ready to get a fringe? If you're not sure if it's for you, it helps to know your face shape and the types of bangs that are flattering for it. Then, you can confidently rock your new 'do—whether you get a side fringe, full bangs, or see-through bangs.
Prev Article
Next Article
Tutorial
How to Curl Hair with a Blow Dryer at Home
Yup, you read that right. You can curl your hair using a blow dryer. Here's how.
See article