Create a Lace Braid Updo in 15 Minutes
You don't need to spend hours just to look chic and elegant. Try the lace braid updo and be party-ready in minutes! 
You Will Need
Morning weddings and daytime parties call for hairstyles that are elegant yet laidback and relaxed. For these occasions, it's best to do away with super sleek and tight updos and go for dainty-looking and creative braids and buns. One hairstyle that you can go for is the lace braid updo. Read on to learn how to create this hairstyle for the next party you're going to.
Steps to Create A Lace Braid Updo
Get the products you need for this look by using the following links:
Sunsilk Smooth and Manageable Shampoo
Sunsilk Smooth and Manageable Conditioner
TONI&GUY Finishing Shine Spray
More Bun Hairstyles to Try
Ready for more updos? Here are some must-try hairstyles.
1. Sleek low bun
Make a low bun look more romantic and feminine by putting it on the side. Then, spritz hairspray all over your hair when you're done creating your bun for a sleek and smooth finish.
2. Lazy bun
If you're worried about not being able to create a flawless hairstyle, we have good news for you. Go for a lazy bun. It's equal parts elegant and laidback. Plus, you don't have to make it perfect for it to be beautiful.
3. Half updo with bun
Don't want to pull all your hair up? Look stunning and elegant with a half updo with bun. Aside from daytime weddings, you can also wear this 'do at special brunches with your family or even in afternoon tea parties. It's a sweet and feminine look that will definitely make you a head turner.
Ready to create a lace braid updo? Prepare and everything you need and have a great time styling your hair. Make sure to bookmark this page so you can come back for more hair tutorials and trends.
Next read: If you love to reminisce and look back, or if you feel you're an old soul living in the wrong decade, check out these vintage hairstyles that still look elegant today. Try them out and make them timeless looks! 
You Will Need
Prev Article
Next Article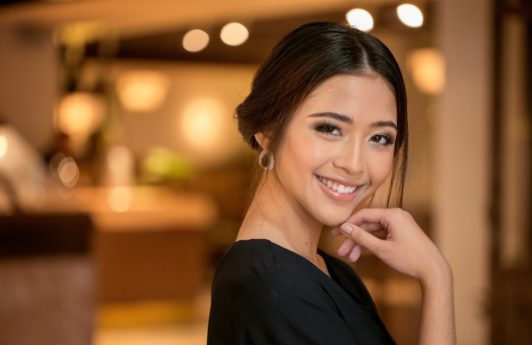 Tutorial
Make a Chignon for Short Hair in 7 Simple Steps
Wanna put your short hair in an elegant updo? Here's how to create a chignon for short hair.
See article