How to man bun: The beginner's guide to the popular men's hairstyle
Has this trendy hairstyle left you questioning 'how to man bun?'. Then you're in luck as we have all you need to know about the versatile hairstyle below. 
Whether you love it or hate it, there is no denying just how popular the man bun has become. Yet if you're new to world of male grooming and are questioning: how to man bun – then you've come to the right place.
So before you jump on board the trend, we suggest looking through our beginner's guide to discover what is a man bun, how to man bun, and why you need to give the style a try now!
The basics on how to man bun & all there is to know about the hairstyle
Man bun 101: The basics
It has been called a bro bun, a hipster bun and even a top knot, but understanding exactly what a man bun is will no longer be a struggle with our comprehensive guide.
First things first, if you can tie your hair into a ponytail, you can wear a man bun. So whether you have long hair or medium-length hair, you have the advantage of being one step closer to rocking a man bun hairstyle than your short hair counterparts.
While man bun hairstyles have most notably gained popularity in Hollywood, the hairstyle isn't solely reserved for the stars. A quick scroll through your social media and you will spot a good few man bun hairstyles on your favorite male influencer, each with their own unique spin.
The simple man bun tutorial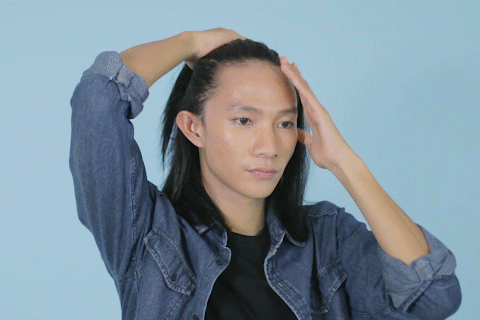 Step 1. Tame unruly strands for a neat finish by using a styling cream, like TONI&GUY Mattifying Putty for Men. Apply a small amount to the palms of your hands and rub together to warm the product, then simply pull your hands through your hair from root to tip.
Step 2. Using a comb (or your fingers for a more natural carefree finish), smooth your hair back and pull it into a ponytail (high or low, depending on your desired finish). Now secure using a hairband, threading the hair through the band and on your final thread create a small loop.
Step 3: Don't worry about any loose strands which may fall, as this all contributes to a casual finish.
Man bun inspirational looks
High bun
The most common man bun hairstyle is the humble high bun. Whether you choose a smart and smooth finish or take a more casual approach, you really can't go wrong with this universally stylish hairdo.
Low bun
The ideal long hairstyle for work, this catwalk-approved low man bun strikes the fine balance between smart and casual. So to seamlessly take your look from office hour to happy hour, make this low man bun your newest hair addition.
Half-up, half-down man bun
Fancy getting the best of both worlds with your style? Of course you do! With this half-up, half-down man bun (AKA the hun) you'll have a look that helps to tame your unruly strands but also shows of your longer lengths. Oh, and this 'do is also ideal for those with shorter hair who can't quite make a full bun! Talk about your win-win situations.
Editor's tip: Enhance your natural hair texture with the TONI&GUY Sea Salt Texturising Spray. Spray evenly from root to tip on damp or dry hair and scrunch it through with your hands for that lived-in, beachy look.
Man bun with undercut
When you need to give your man bun an individual touch, team your hairstyle with an edgy undercut finish. Not only do you get the benefit of keeping your long hair out of your face, but you also earn street style points for rocking an undercut — talk about your 2-in-1 trends! But that's not even the best thing about this undercut man bun: when the hair is let loose it can be your little secret — we won't tell if you don't.
Messy man bun
In a hurry and have no time to perfect your man bun? This messy bun hairstyle needs to be your next port of call. Simply roll out of bed, grab a hairband and loosely tie your hair into an undone bun, and you're all good to go. After all, there's no such thing as a messy bun that's too messy!