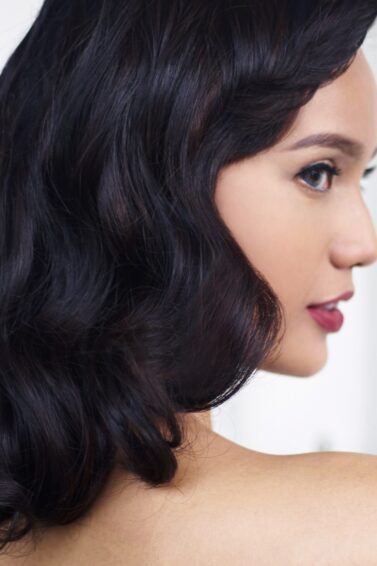 15 Best U-Cut Hair Ideas in 2022
Ever head of U-cut hair? As the name suggests, this haircut has tips that form the letter U. Some U-shaped haircuts may have curved tips that are subtle, making it look like a straight, one-length haircut at first glance. But whether the shape is subtle or more pronounced, u-shaped haircuts have tips that are shorter on the sides, gradually getting longer in the middle.
U-cut hair is often compared with the V-shaped haircut, but the latter has more pointed tips. V-shaped hair is angled, while u-cut hair is rounded. However, both consists of a bit of layering which helps add movement to your hair.
If you're curious about how to rock this haircut, check out the U-cut hair ideas that we've rounded up for you.
Gorgeous U-Cut Hair Pegs to Inspire You
1. Straight U-Cut Hair
It's simple but chic, and it lets you go about your daily activities in style. If you have wavy or curly hair and want to sport a straight 'do for the day, divide your hair into smaller sections and use a flat iron to straighten your hair one section at a time.
Editor's tip: Nail a sleek and straight hairstyle by keeping frizz at bay. After ironing your hair, apply TRESemmé Keratin Smooth Anti-Frizz Shine Serum. It has keratin and marula oil, giving your hair five benefits in one product. It calms frizz, adds shine, detangles knots, makes hair soft, and tames flyaways. This serum leaves your hair smooth and full of movement, as though it's professionally styled.
2. Long U-Cut Hair With Clips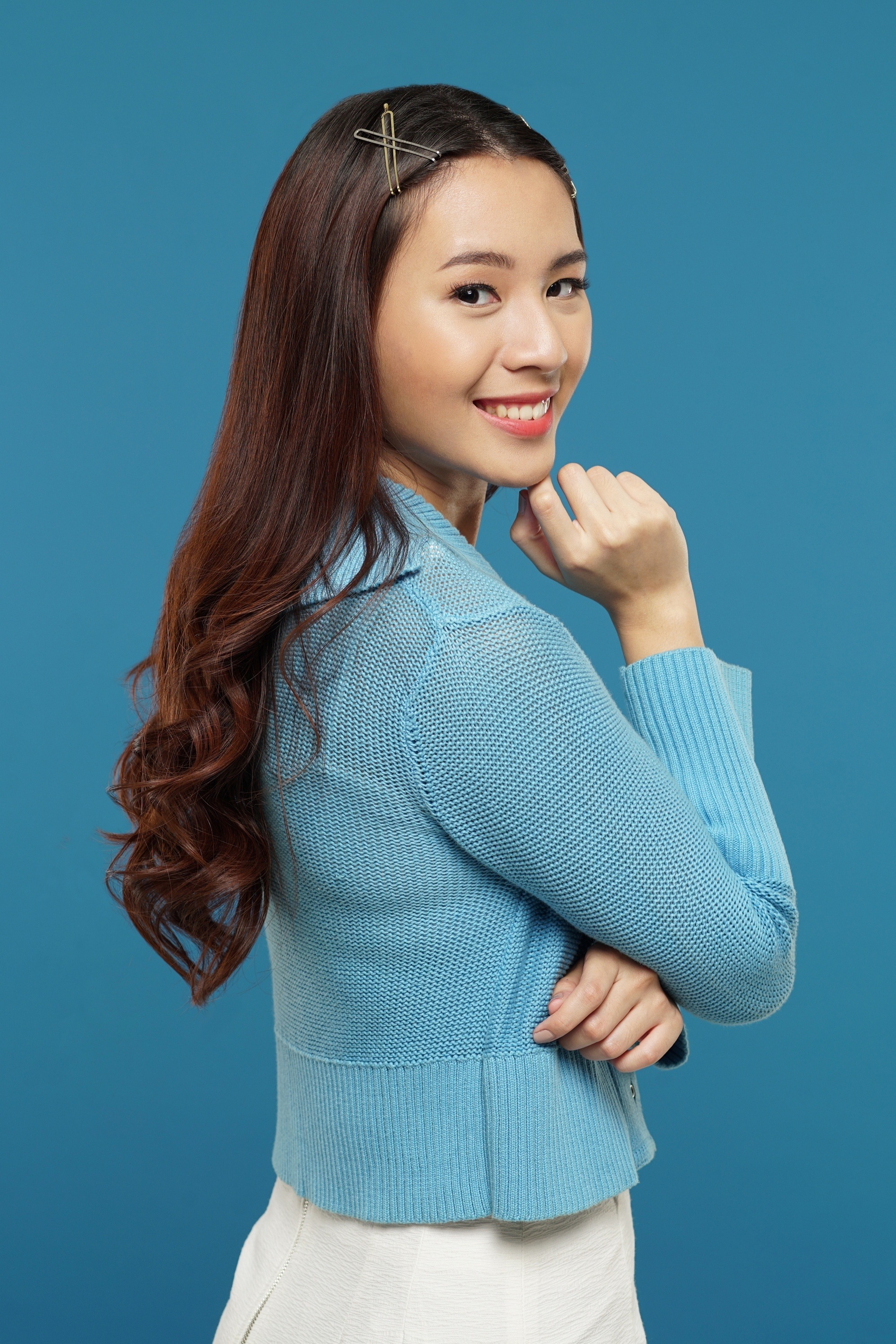 If you're in a hurry and you feel you don't have enough time to style your hair, just leave it down and accessorize it with hair clips. That's it! But if you have extra time, you can curl the tips of your hair to jazz up your 'do.
3. Tousled U-Cut Hair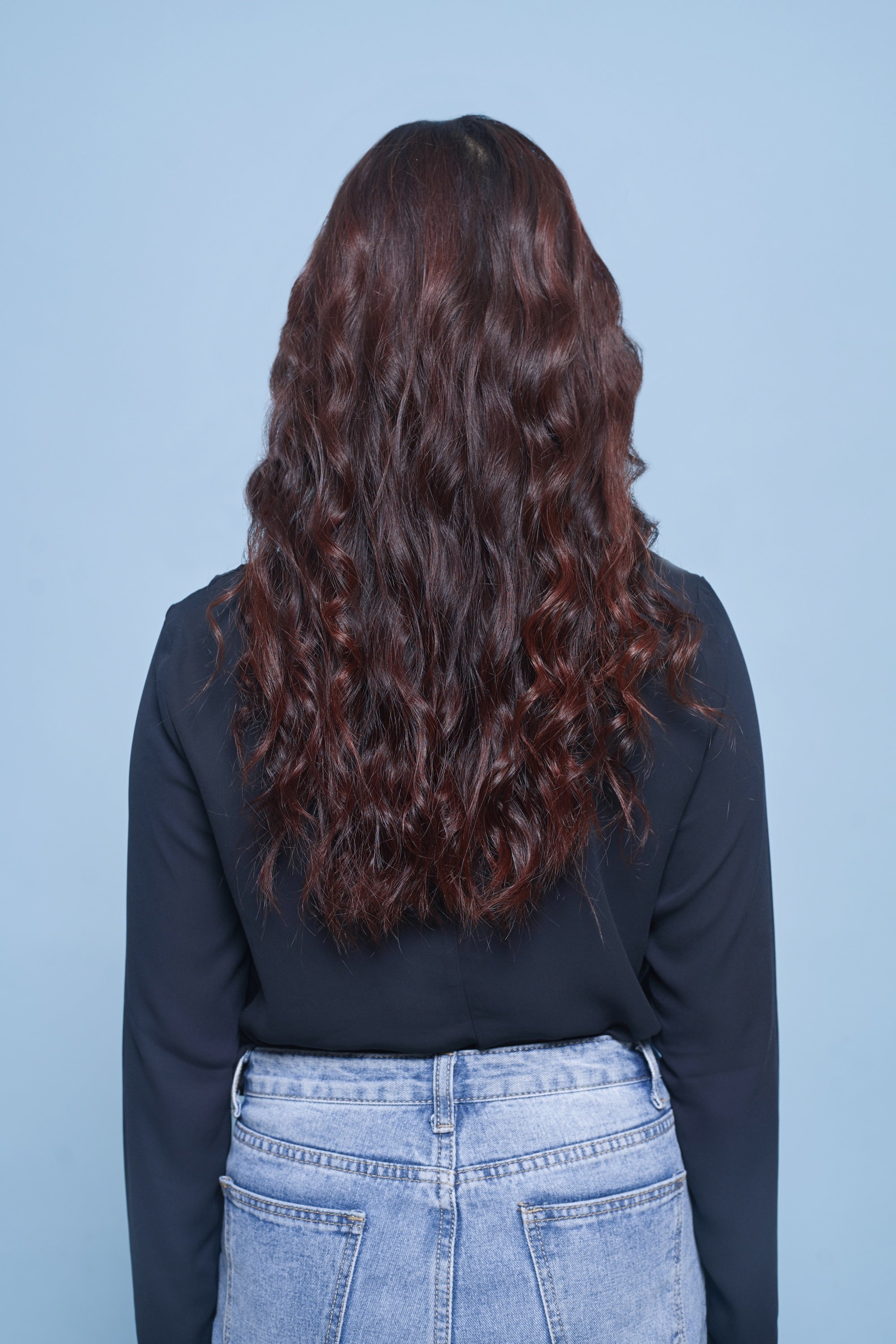 Got thin hair? Adding waves or curls can help add volume. You can curl your hair using a curling iron or even a blow dryer and a round brush, but if you want to cut down on using heat-styling tools, you can try this heatless hack: While your hair is still damp, take a small section of hair, twist it, form a little bun, and secure it with a bobby pin. Do this to the rest of your hair. Once your hair has air-dried, remove the pins, unravel the twists, finger-comb your hair, and voila! You've got waves!
Editor's tip: Did you know that frequent use of hair dryers and curling irons can make your hair brittle, leading to breakage? If you often use these heat-styling tools, we recommend using Cream Silk Triple Keratin Rescue Ultimate Hair Fall Defiance Ultra Conditioner. It has revolutionary fiber actives that penetrate up to a cellular level to strengthen your strands and prevent hair fall due to breakage. 
4. Shoulder-Length U-Cut Hair
This haircut shape makes shoulder-length hair look as if it's cascading down your back. The rounded tips give your hair some bounce.
5. Naturally Wavy Shoulder-Length Hair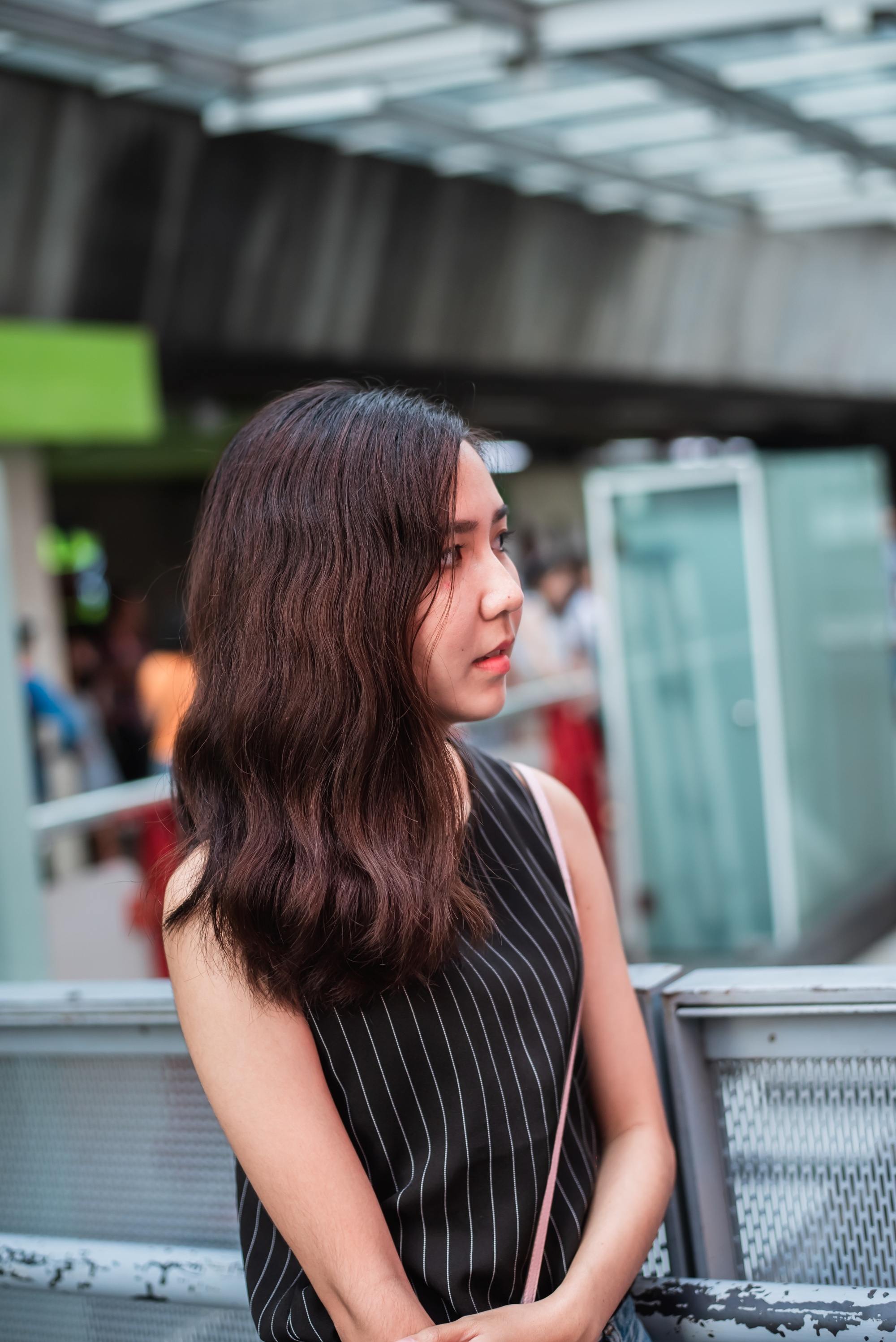 When you have natural waves or curls, u-shaped tips help distribute volume. This way, you don't end up with triangle hair or hair that's flat on top and heavy-looking at the tips.
Editor's tip: Wavy and curly hair types are more prone to dryness and frizz, so we recommend using a deeply moisturizing shampoo like Love Beauty & Planet Murumuru Butter & Rose Blooming Colour Shampoo. It has murumuru butter, which is known for its moisturizing properties, so this shampoo can help keep your waves and curls from drying out. And for fragrance, it has the scent of Bulgarian rose petals. 
6. Side Flip Curly Hair
Need to glam up for a party? Try this easy hairstyle for U-shaped curly hair. To create this 'do, part your hair deeply on one side and braid the side with less hair. Put the rest of your hair on the other side. Make the braid cross the bottom of your head (just above your nape) and secure the tips under your ear using bobby pins. Spritz hairspray all over your hair to make your hairstyle last.
7. Half-Up Fishtail Crown Braid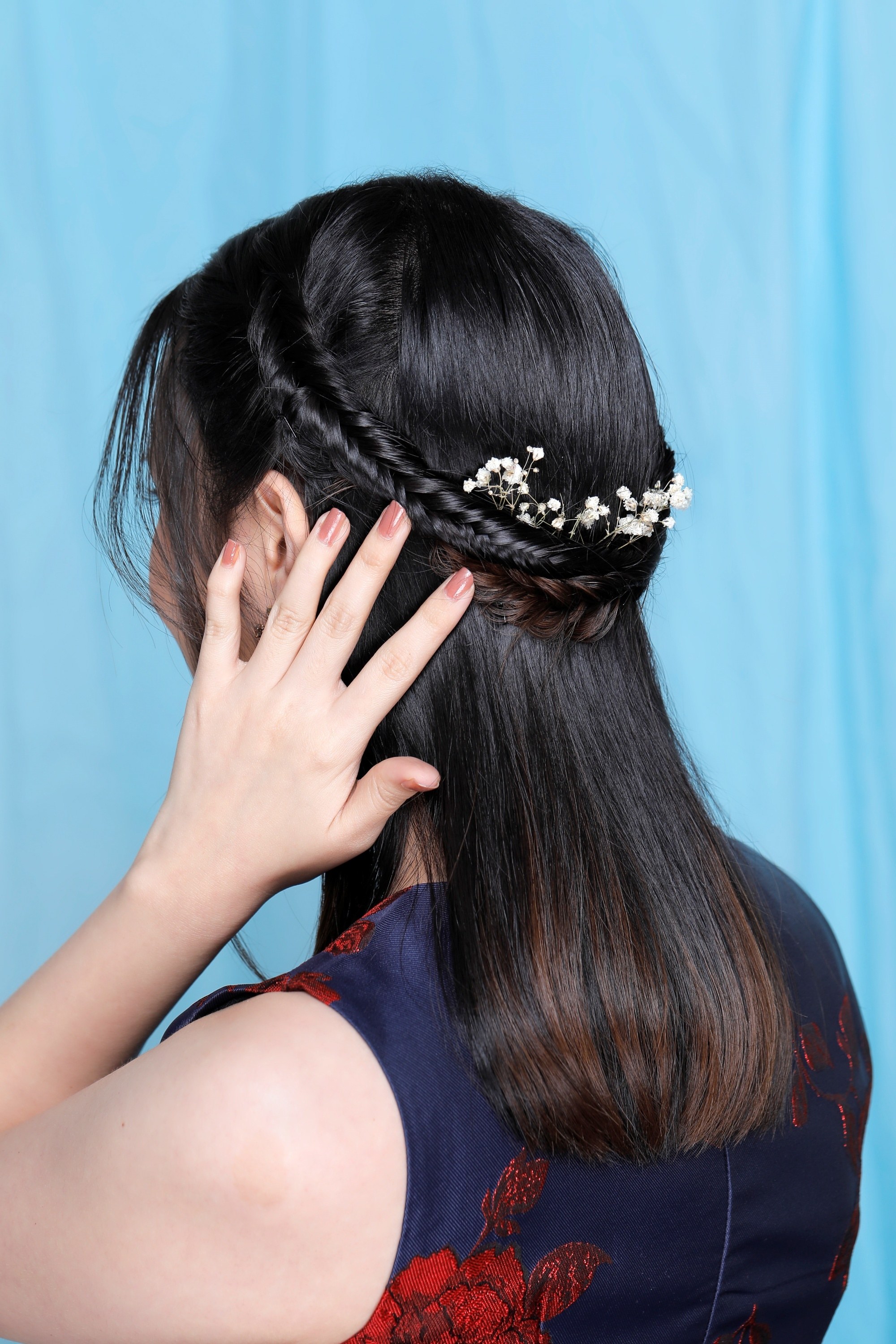 Even with a portion of your hair braided, you can still showcase your U-shaped tips with this hairstyle. Try this 'do if you're in the mood for something dainty and romantic.
8. Half Updo With Bun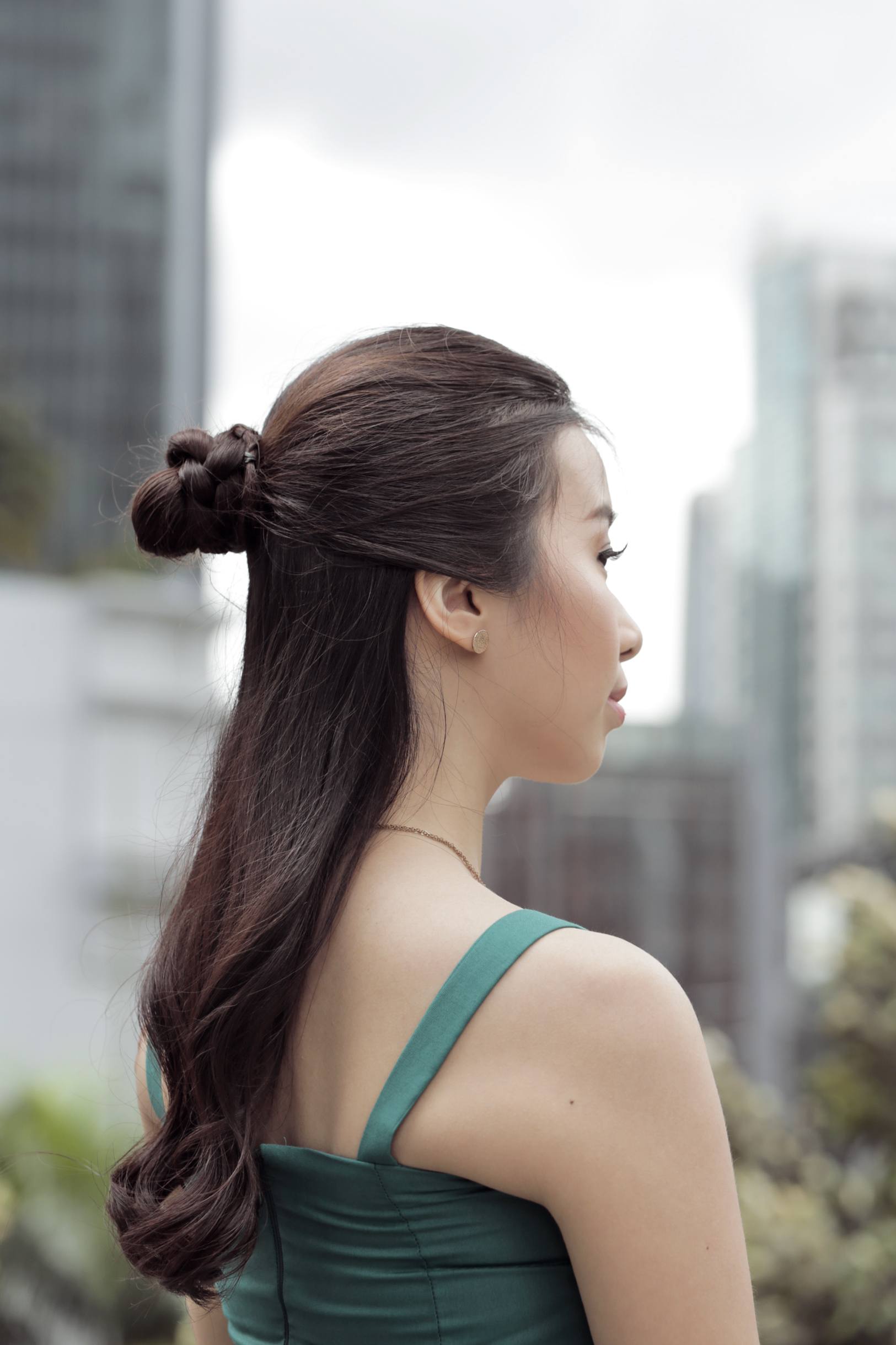 This is another half-up hairstyle that you can try on U-cut hair. To style your hair this way, divide your hair into top and bottom sections. Gather the top section and tie it into a ponytail, but don't pull all your hair through in order to form a bun. Braid the section of hair that you didn't go through your hair tie, secure the tips with an elastic, and wrap the braid around the base of your bun. Put it in place with bobby pins. Then, add waves to the tips of your untied hair using a curling iron for additional movement and volume.
9. Pin Curls on U-Cut Hair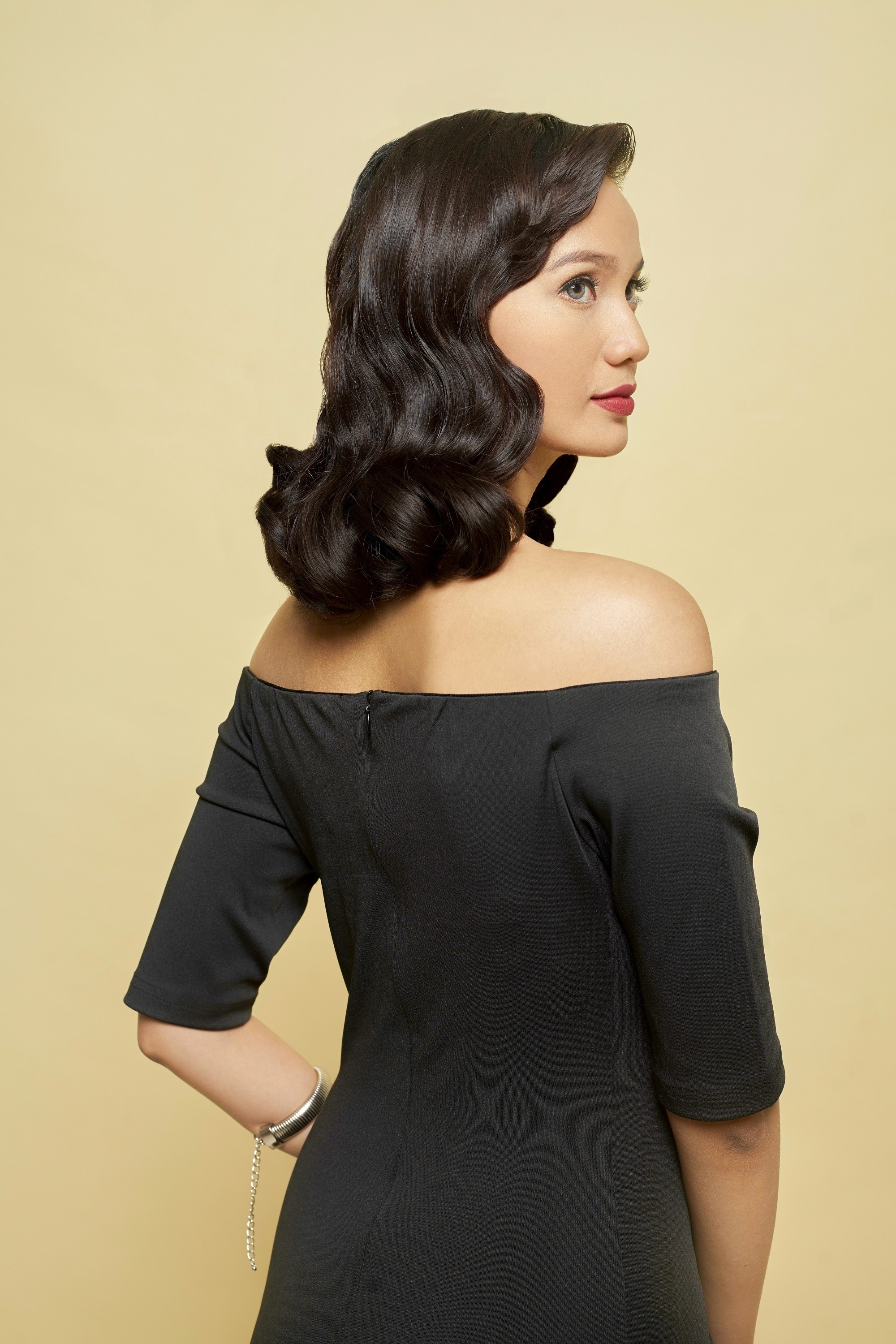 Give your look a vintage vibe with this hairstyle. It exudes old-world glam, perfect for themed parties.
10. U-Cut Hair With Chunky Highlights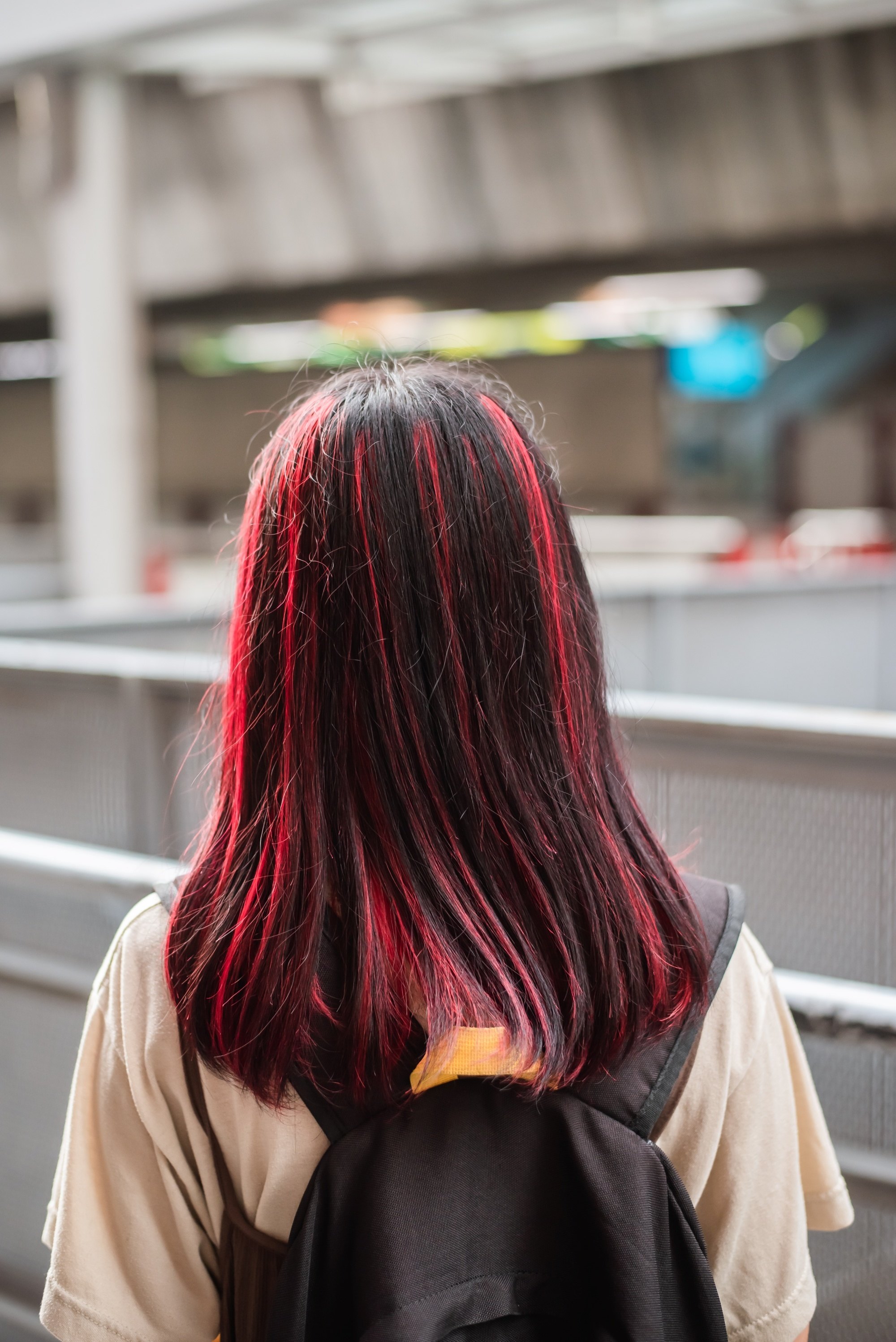 Red highlights add personality to your U-cut hair. But if you want something subtle, you can set bold colors aside and go for browns and blondes.
11. U-Cut Bob
Yes, this haircut shape works on short hair, too. The rounded tips add body to a bob haircut and make it look full and bouncy.
12. Braided Half Updo for Short Hair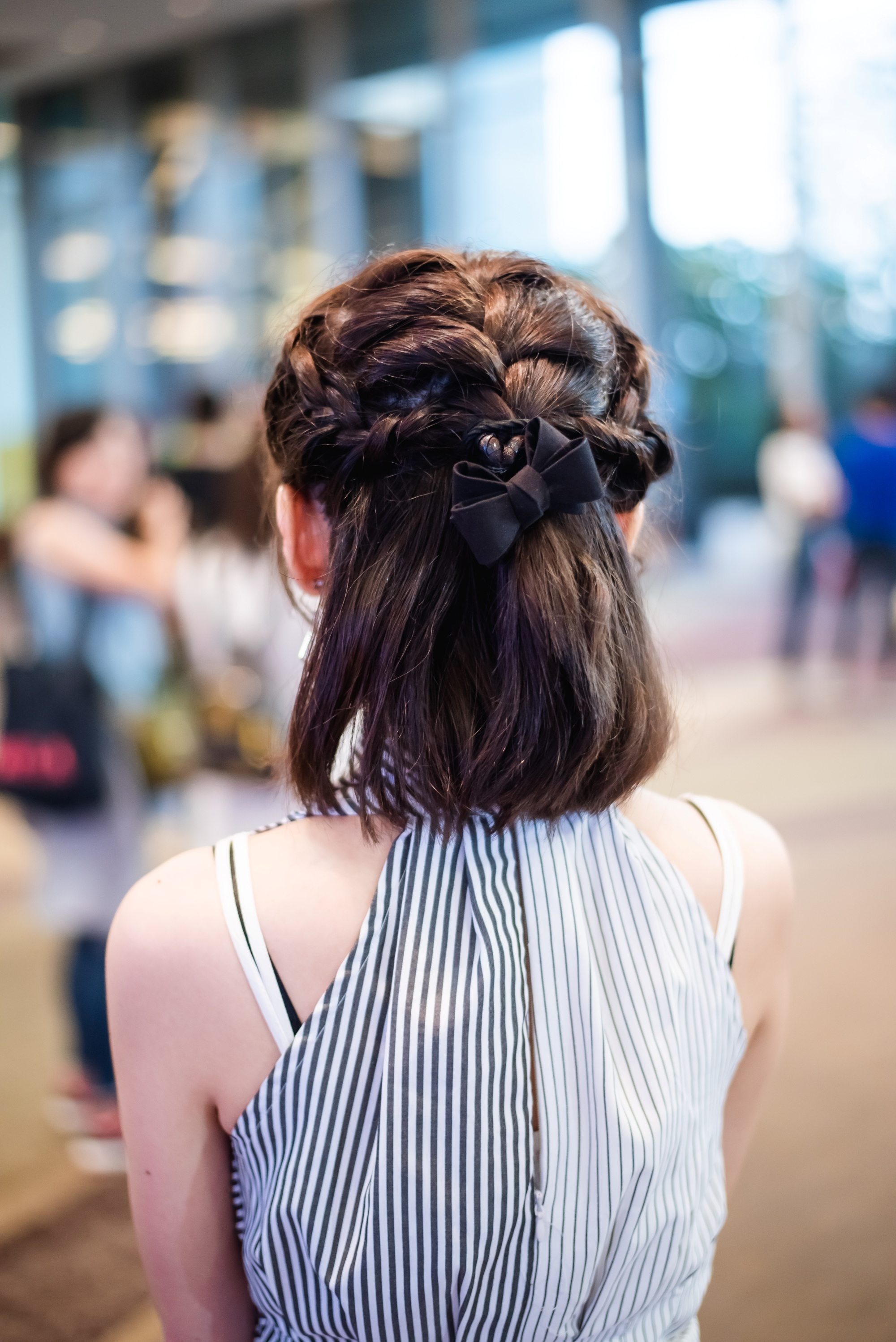 Love short hair braids? Create one for your U-shaped bob by getting a section from each side of your hair, near your temples, and braiding them towards the back of your head. You can tie an elastic at the ends of each braid first before tying them together. Then, add a ribbon or bow as an accessory.
13. Curly Bob With Bangs
U-shaped tips help give a short curly bob just the right thickness and bounce. The tips give your short haircut a good shape, and the curls look defined.
14. Side Ponytail
A straight and sleek side ponytail can keep strands off your face and neck while still allowing you to showcase your hair's U-shaped tips.
15. Wavy Hair in Half Ponytail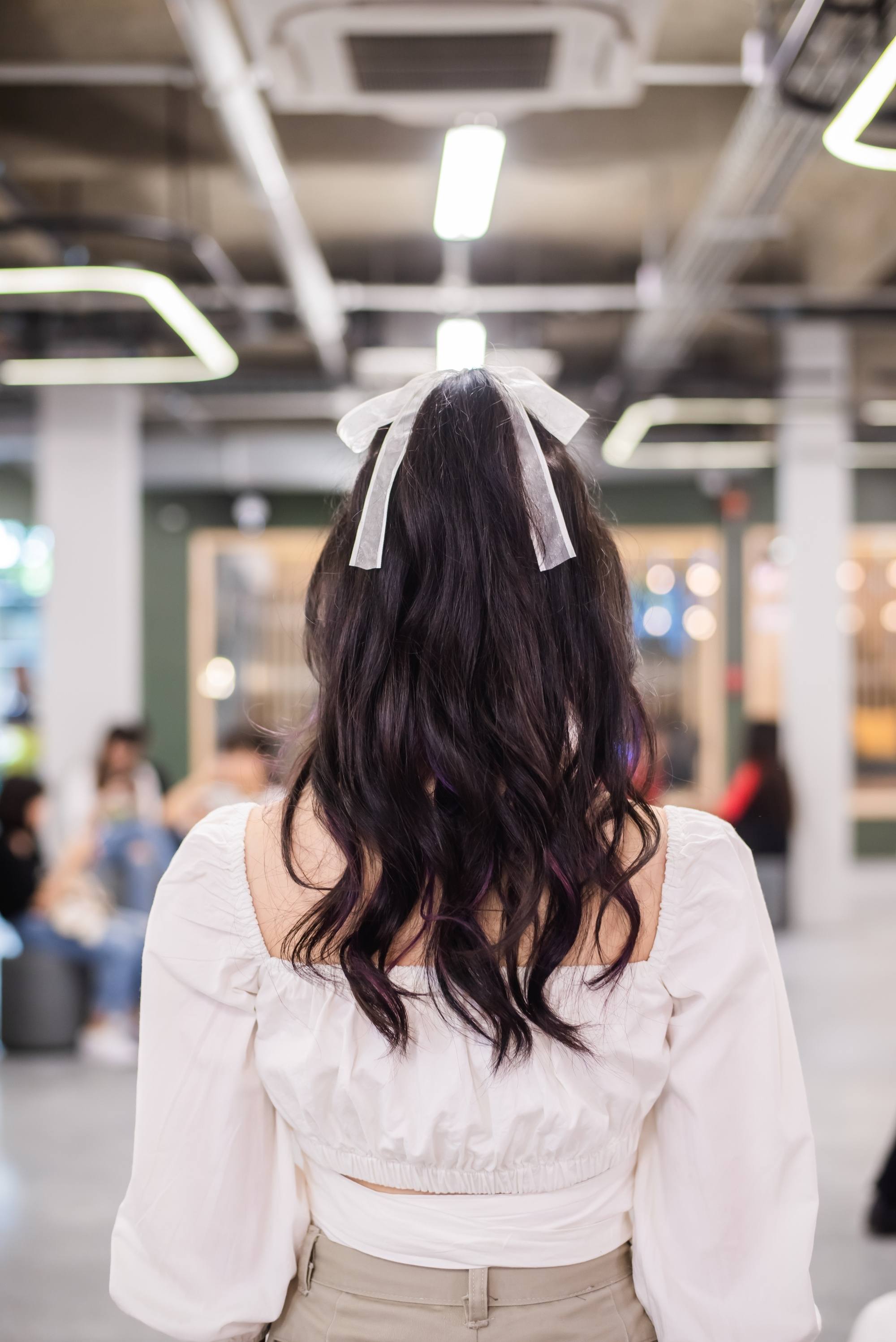 Elevate a simple half ponytail hairstyle by tying a ribbon around it and adding waves to the rest of your hair.
There you have it! With these looks, you can rock u-cut hair in style. Have fun!
Prev Article
Next Article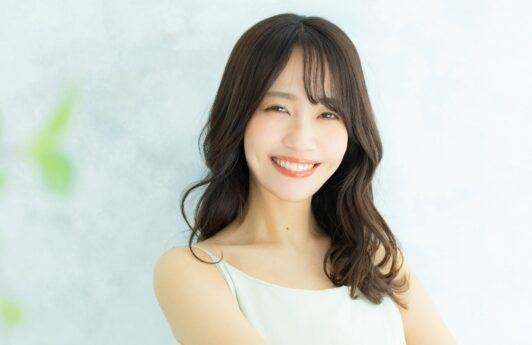 Article
Chic Ways to Rock Layered Haircuts With Bangs
Give your hair texture, movement, and lots of flair with these layered haircuts.
See article