Laureen Uy Up Close: Favorite Hair Products, Tips, and More!
Get to know Laureen Uy's hair care routine and beauty tips through this fun Q&A! 
With lots of inspiration found on the internet and social media, hairstyling has become easier. Simply type "hair" on Google, and you'll be greeted by tons of websites all offering various hair pegs and tips. Celebrities, famous personalities, and bloggers also share tons of inspo on their pages. Take blogger Laureen Uy, for example. Her fashion and travel posts are not just #Insta-worthy, but they also show her creativity and style through her different looks. We've sat down with Laureen Uy to talk about all things hair. Read on and get inspired!
Hair Talk with Laureen Uy
Can you walk us through your everyday hair care routine?
"First things first, I wash my hair. I use TRESemmé Blonde Brilliance Shampoo and Conditioner. I like it especially now with bleached hair, kasi it cancels out the brassy tones. It's a purple shampoo. And before I blow dry or iron my hair, I use TRESemmé Keratin Smooth Flat Iron Spray. It's basically to protect your hair from all the heat that's gonna happen after. Then once in a while, I do treatments."
Editor's tip: Switch to TRESemmé Pro-Color Blonde Brilliance Shampoo and TRESemmé Pro-Color Blonde Brilliance Conditioner to keep your blonde hair from turning brass or orange over time.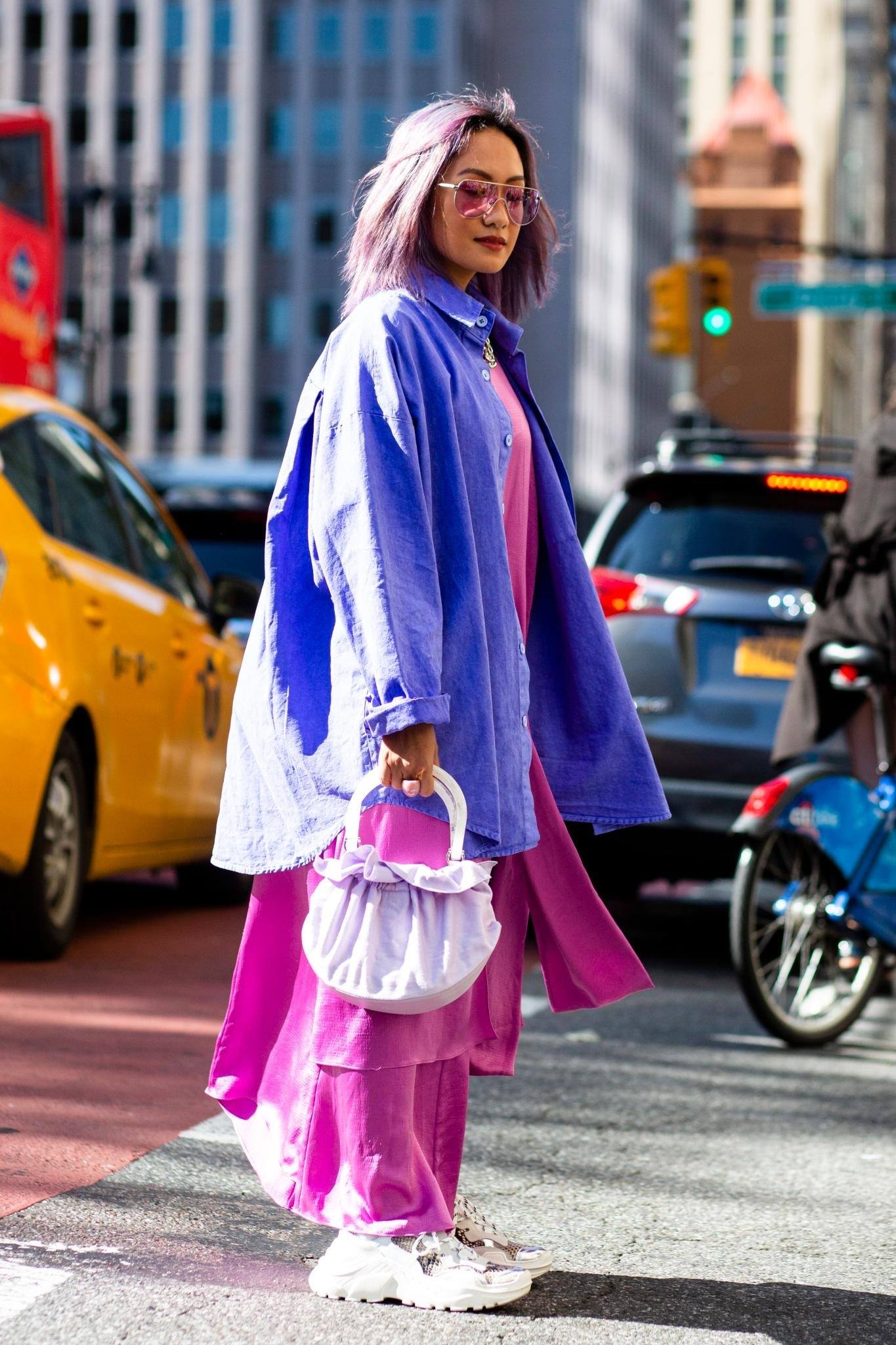 Among the hair colors you've tried, which one is your favorite?
"I think it really depends. On that moment, you really love your hair. And then the minute you change it, you're like, 'Wow, this is even better.' That's what I feel every time I try changing my hair. But maybe, one of my favorites would be blue green with straight [hair] and bangs. That's like, six years ago. And then recently, around two years ago, I did gray hair. So top two ko 'yun."
Wow, gray hair. Nice!
"It's so edgy! I think with just the right haircut, the makeup, and the feel, you'll really get the right look."
When we look at your dresser, what hairstyling products will we see there?
"I would like to keep [my hair] soft first, so if I don't have any event, I would just not put any products, or yung mga oil…mga ganun lang siguro. Treatments would be really good. But if I really were to use styling products, I would go with the TRESemmé Number 4 [TRESemmé Salon Finish Extra Hold Hairspray]."
"They have hairsprays with different textures. I use Number 4 kasi it's really such a strong hold, and doesn't leave your hair super stiff. It basically just creates a super nice finish to your look without it being super stiff like you can still retouch it and move it around."
How about your go-to hairstyle? Do you have a favorite?
"Blunt cut. I've had blunt hair for the longest time, so blunt cut is really nice kasi you don't need to put so much again after you shower. You just mess it around, scrunch it up, and it's good na. That's it."
If you're having a bad hair day, what do you do?
"I either do a half bun—a half top bun—or bucket hat."
What advice would you give Filipinas out there who would love to explore different hairstyles?
"I think if your heart tells you to do something with your hair, whether it be a cut or coloring or restyling, go for it. Even me, I'm so invested in my hair. I feel like if I wanna change it up, [I] just do it. It will grow back eventually. Just keep trying and trying until you find the one that's super good for you."
If there's one hair care tip you would advise Filipinas, what would it be?
"For bleached and lifted hair—mine was lifted four times—if you touch it, it's still really soft. In terms of color and softness, I'd really suggest the Blonde Brilliance Pro-Color Series Shampoo and Conditioner. It works wonders. Hindi talaga magiging brassy yung hair mo. And it also has jojoba oil so it really keeps your hair soft. It's color-saving, and it also keeps the softness there."
Editor's Tips and Picks to Steal Her Style
Now, it's time to take Laureen's advice to heart. Here's how you can incorporate the fashion and travel blogger's hair care routine into yours.
1. Always protect your hair from heat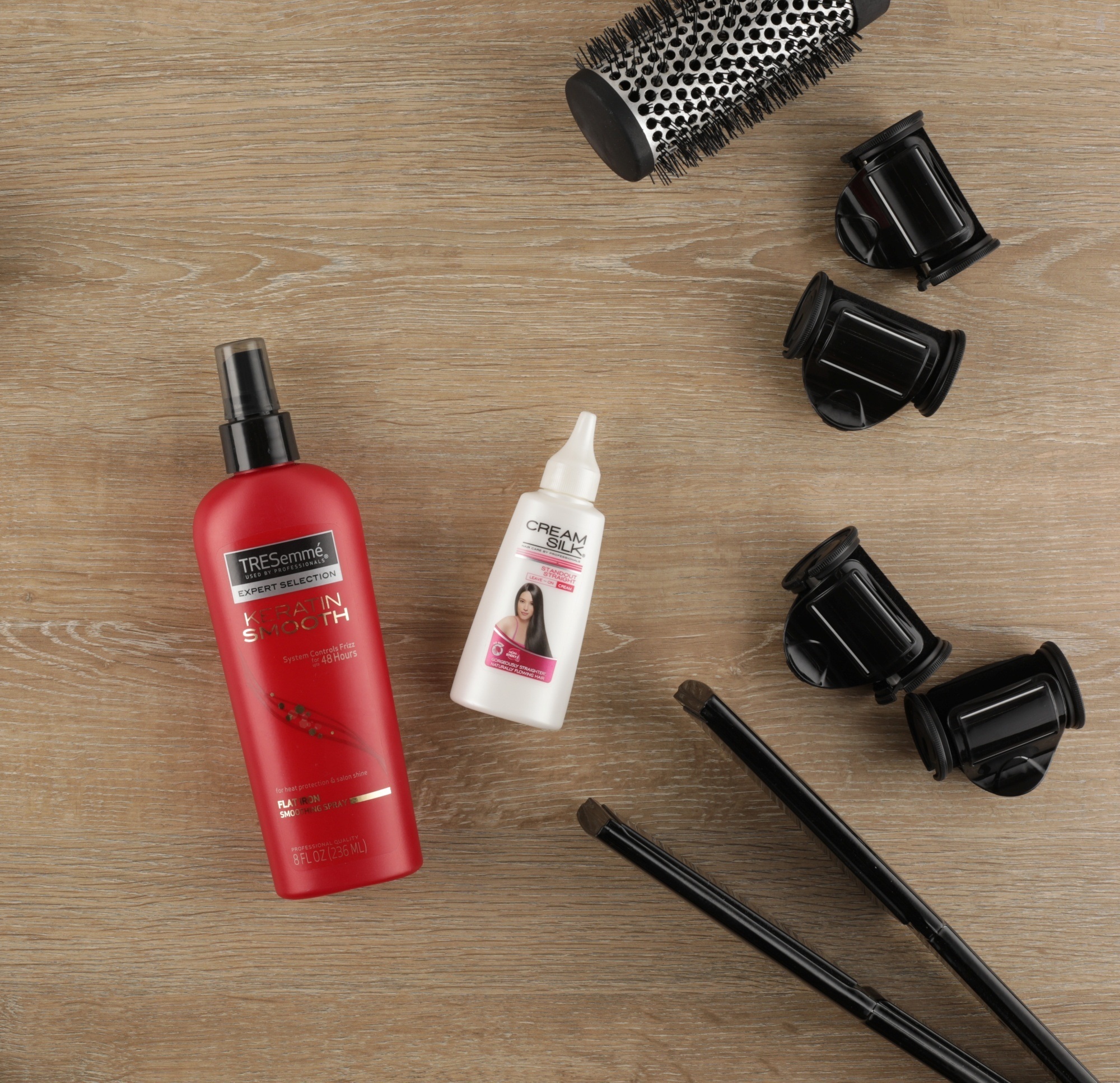 It's an additional step before you blowdry, curl, or iron your hair, but it is worth it. Otherwise, you'll end up with severely damaged hair that might take some time to repair.
Spritz TRESemmé Keratin Smooth Flat Iron Spray on your hair before you style it with heated tools. It works both as heat protection and an anti-frizz product, too! You can also apply Cream Silk Standout Straight Leave-On Cream on your hair for additional nourishment before styling.
2. Nourish your tresses
Hair serums are powerful additions to your beauty arsenal. With just a drop, hair serums can address a bunch of hair problems like dryness, dullness, and frizz. Just make sure you rub your palms first before applying the product on your hair from mid-length down to the tips.
Editor's tip: Have a bottle of TONI&GUY High Shine Serum Drops on your dresser so you can get sleek and shiny hair every day! 
3. Pamper your hair
Up your hair care routine by with hair treatments. Depending on your hair type, you can have these treatments either weekly, bi-weekly, or monthly. A basic keratin treatment can improve your hair's health while keeping it soft and well-moisturized.
Editor's tip: Keep your hair from getting dull and dry with TRESemmé Keratin Smooth Treatment Mask. It can even help your hair stay frizz-free for up to 48 hours! 
4. Use products designed for colored hair
Purple shampoos work wonders in maintaining blonde hair and ashy tones. But if you lean toward brown and red shades, go for a shampoo that can protect your colored hair from fading.
Editor's tip: The first-ever shampoo and conditioner in the world with anti-fade technology, TRESemmé Pro-Color Series Color Radiance Shampoo and TRESemmé Pro-Color Series Color Radiance Conditioner can help keep your colored hair vibrant for a longer time. These products also have jojoba oil that helps keep your hair moisturized and shiny. 
With these easy tips, you can have fab hair whatever its length, cut, or color. Just make sure you have the right products on hand, and you'll always have beautiful hair that's ready for any hairstyle and look you want.
Prev Article
Next Article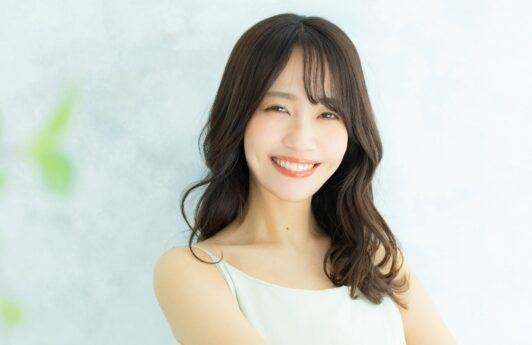 Article
Chic Ways to Rock Layered Haircuts With Bangs
Give your hair texture, movement, and lots of flair with these layered haircuts.
See article