Hairstyles for skaters: Chic but easy ways to look great in this sport
Pretty hairstyles don't just make you look good; they help make you feel more confident, too. Pick one of these hairstyles for skaters and discover what you can do in this sport.
Hopping on a skateboard and gliding on the street seem to make you forget about all your troubles. With a Filipina skater's recent victory at Asia's biggest sporting event, we bet more would become interested in this sport. As you ask around and research where you can learn how to skate like a pro, take a look at the many ways you can style your hair as you take up a new hobby. Of course, we want you to look great. Check out these trendy hairstyles for skaters and wow everyone with your skills and looks.
Try these chic and pretty hairstyles for skaters
1. Boxer braid
Looking pretty is the last thing you want to worry about when you're at a skating competition. It won't hurt, though, to choose a great hairstyle, as this can also help you nail all your moves. The boxer braid is a popular hairstyle choice for physical activities. It keeps hair off your face and keeps every strand in place even as you jump and flip. How's that for doing AND looking great, especially when you win?
Editor's tip: When you're done braiding, spritz TRESemmé Salon Finish Hold Hairspray to help keep every strand in place despite the humidity. 
2. Sleek ponytail
A well-done ponytail always looks chic, whether you style it low or high. The key to a perfect ponytail is making sure your 'do is free from frizz and fly-aways. When you're done tying your hair, you can straighten your ponytail with a flat iron so it looks sleek and polished.
Editor's tip: Apply a drop of TONI&GUY High Shine Serum Drops on your hair when you're done styling it to keep frizz at bay. 
3. Slicked back bob
Want a no fuss hairstyle? Let the slicked back 'do be your best friend. This is probably one of the easiest hairstyles for skaters because you can whip it up in just a couple of minutes. Just comb your hair back and spritz hairspray. That's it! The slicked back hairstyle is perfect for short hair like bobs or pixie cuts, but you can also do it for long hair.
Editor's tip: Position the bottle of TRESemmé Freeze Hold Hairspray around 10 to 20 centimeters from your hair when spraying to avoid product clumping on one spot.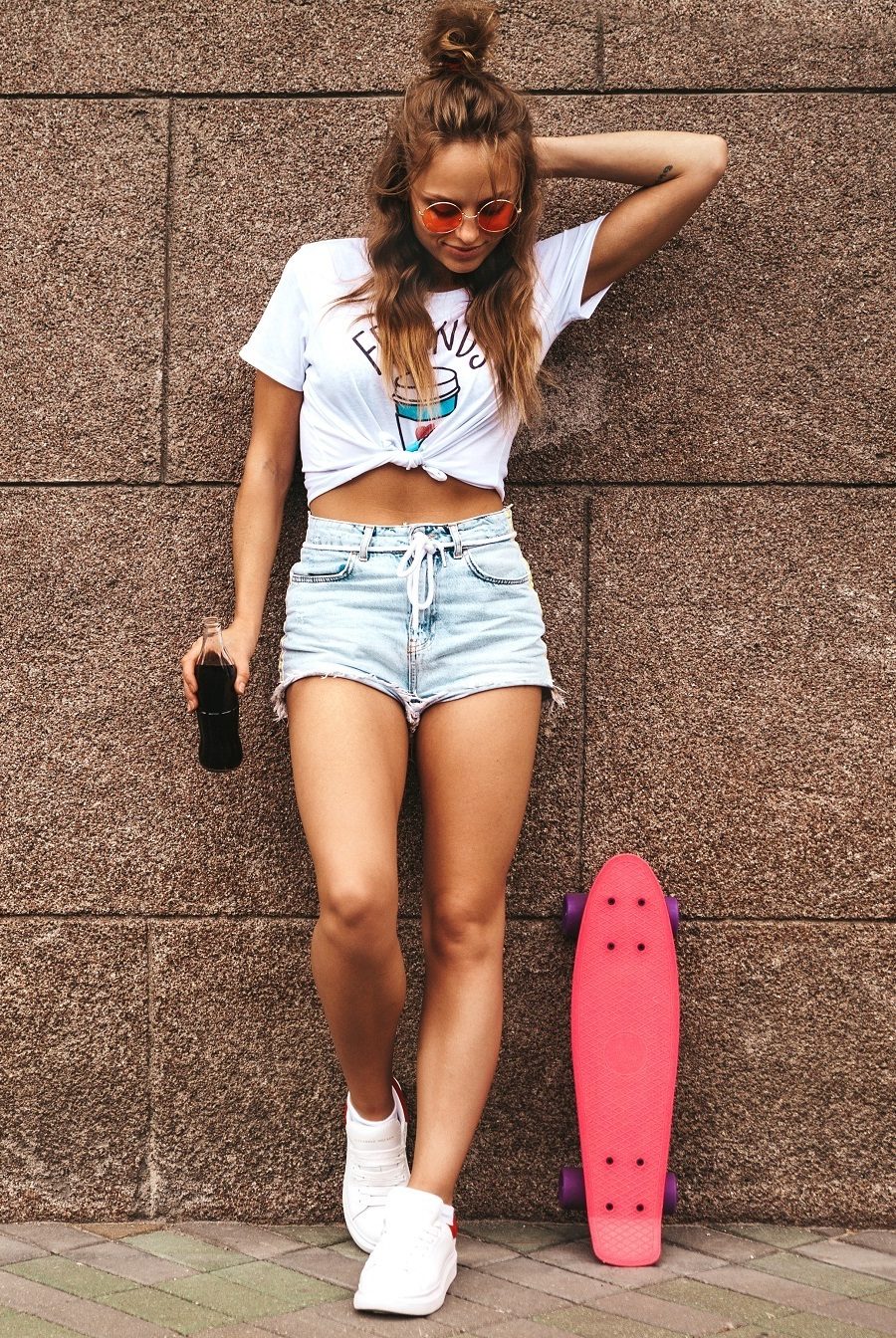 4. Top knot
If you can't decide whether to put your hair up or leave it down, this hairstyle is for you. Take a section of hair at the top of your head (like you're creating a half updo) and tie it with an elastic. Then, twist this section, wrap it around the elastic, and secure with bobby pins. Your top knot is done! Brush the rest of your hair to make sure it is tangle-free.
Editor's tip: Add texture to your hair by spritzing TONI&GUY Sea Salt Texturising Spray. This will help make your look hip, sporty, and casual. 
5. Wavy down 'do
Show off your natural waves by keeping your hair down. Choose this hairstyle if you're skateboarding leisurely around your neighborhood. Got pin-straight, flat locks? You can make your hair wavy with the help of a blow dryer or a flat iron. If you don't have these styling tools, you can go for tousled hair. This will create the same beautiful, wavy effect without using heat.
Editor's tip: Wash wavy hair with DOVE Oxygen and Nourishment Shampoo and DOVE Oxygen and Nourishment Conditioner to maintain its natural valume while keeping it soft and manageable. 
Have these hair products delivered to you by using these links:
TONI&GUY High Shine Serum Drops
TONI&GUY Sea Salt Texturising Spray
DOVE Oxygen and Nourishment Shampoo
DOVE Oxygen and Nourishment Conditioner
TRESemmé Salon Finish Extra Hold Hairspray
With these chic hairstyles for skaters, all eyes will certainly be on you. We bet they are impressed with your look and your skating, so work it, girl!
Next read: A lot of people go to yoga classes especially after a tiring week. It will be easier to relax if your hair is styled well. Check out these pretty yoga hairstyles that can take your focus off your falling strands and channel it to nailing your downward facing dog. 
Prev Article
Next Article
Article
Love Layers? Try These Shag Haircut Ideas
Here are easy ways to rock this layered haircut.
See article