Buns for Short Hair: Creative Styling Tricks for Girls with Short Tresses
Create 15 different looks with these lovely buns for short hair. There's bound to be one that suits you.
Contrary to popular thinking, short hair can be styled in many ways. You can make beach waves. You can go for slicked back 'dos and braids. Even pixie cuts can be styled. What you probably don't know is that even short hair can be put in a bun. Yes, dear, these hairstyles aren't just for long-haired girls. Check out these chic buns for short hair, and we bet you'd want to try them out right after reading this article.
15 Pretty Buns for Short Hair
1. Baby Bun for Short Hair
Ballerina buns require long locks, but other bun hairstyles work on short hair. Why don't you go for a baby bun? It works on medium bobs and lobs, and it's very easy to do. Just gather your hair into a low ponytail and create a small bun. Loosen some strands and let them frame your face to create a softer look.
Editor's tip: Help your baby bun stay in place by spritzing TRESemmé Compressed Micro Mist Extend Hold Hairspray. It gives your hair a natural, flexible hold without making it stiff. It is also fast-drying and humidity-resistant, so you can rock your look for a long time. 
2. Low Bun with Headband
Jazz up your baby bun by adding a headband. A floral headband is perfect when you're gunning for a boho-chic vibe. Don't forget to loosen some hair a bit to make your look softer and more laidback.
3. Half Up Space Buns
If you want to make buns for short hair, this hairstyle is another great choice. Whenever you're feeling quirky and playful, style your hair this way. You can also create this 'do if you want to go kawaii.
4. Curly Half Up Space Buns
Got naturally curly hair? This hairstyle is perfect. You get to showcase your natural curls while sporting a cute hairstyle.
Editor's tip: Keep your curly hair moisturized by using Dove Nourishing Oil Care 1 Minute Serum Conditioner. It has serum capsules that are infused with coconut, argan, almond, and sunflower seed oils that help in taming frizz and transforming your rough, dry strands to smoother, softer hair. 
5. Double Low Bun
If you don't like your double buns high up on your head, then go for the double low bun! It's simple, chic, and can help make you feel presko on a hot and humid day. This hairstyle also suits any face shape.
6. Half Up Top Knot
This chic and practical hairstyle helps get the hair off your face so you can concentrate on your tasks. It's also an easy way to disguise a bad hair day, and it's so easy to do. Just gather the top section of your hair, tie it, twist it and wrap it around your elastic, and secure with bobby pins. You can even leave it messy!
7. Half Up Stacked Buns
If you have short, thick hair, you can create two half up buns instead of one. To create this hairstyle, get a section of hair from your hairline up to your crown and put this in a bun. Then, get another section of hair from your ear level up to the back of your head, and create another bun below the first one. Easy, right?
8. Double Stacked Buns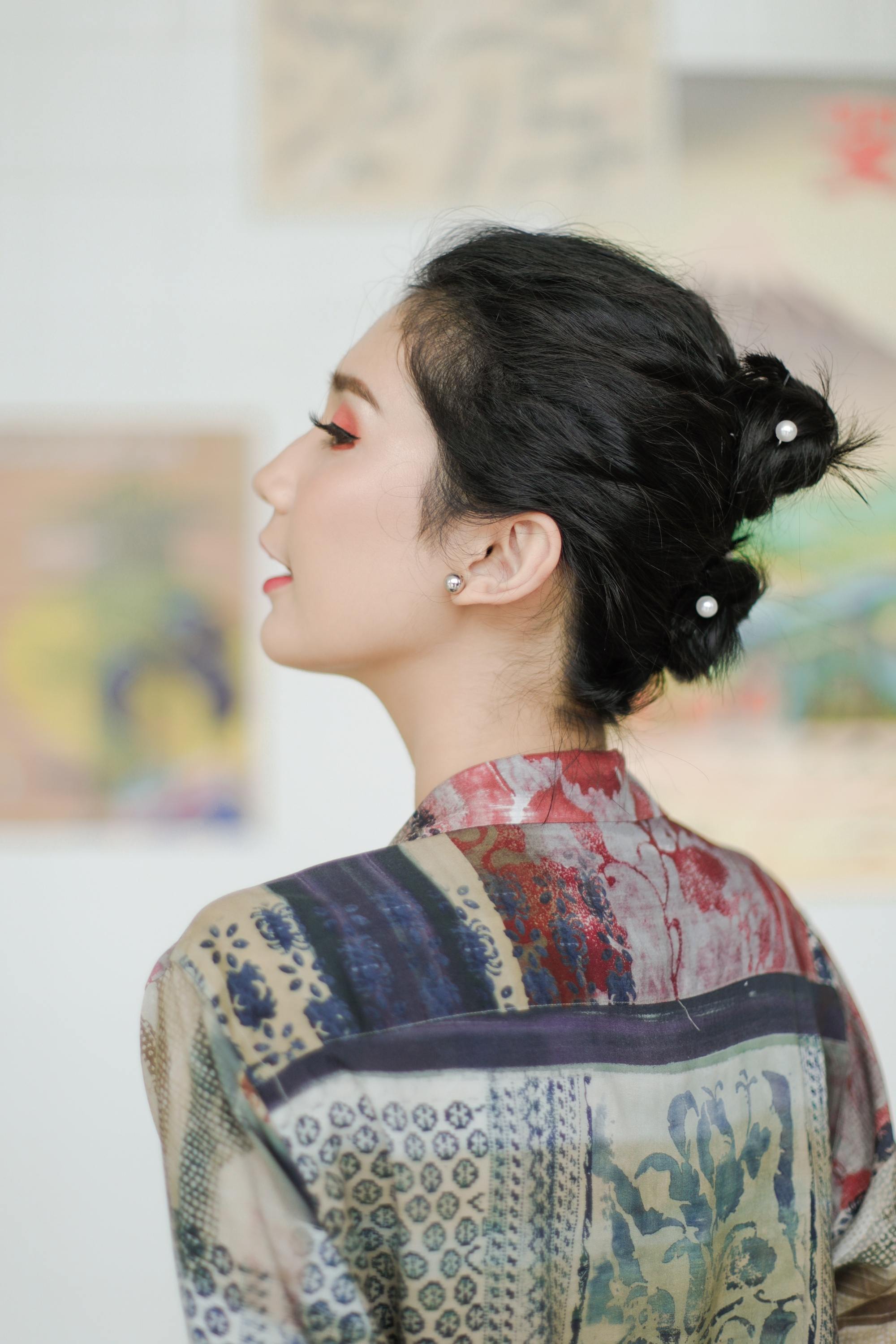 This hairstyle is the half up stacked buns older sister. This works on lobs and medium bobs, where the hair is long enough to be put into this updo. The process is similar to making the half up stacked buns. The only difference is that, for the second bun, you style the entire bottom section of your hair.
9. Chopsticks Bun
Do you remember securing your bun with pencils when you were in high school? Like when you were intent on solving those algebra problems and you just wanted to get your hair out of the way? Well, let's do an updated version of that. Instead of pencils, use chopsticks for hair instead.
Lobs can be put into a chopsticks bun, while a half bun up with chopsticks can work with a shorter bob. First, gather your hair as if you're about to put it in a low ponytail. Then, wrap it around one stick. Twist the stick and plant it on your hair. Make sure the stick is secured nice and tight. Place the other stick to form an X.
10. Vintage Buns
Travel back in time with this hairstyle. Vintage buns or victory rolls may look complicated, but they're easy to do if you know the right steps. This hairstyle can work in both long and short tresses. You can wear this when you're attending parties or when you want to glam up for a Saturday night-out with your friends.
Editor's tip: Keep your victory rolls in place by finishing your 'do with TRESemmé Freeze Hold Hairspray.
Here's a tutorial on how to do victory rolls for a vintage hairstyle. This should help you get started with the basics of vintage glamour style. Give it a few tries then you can experiment with buns, vintage curls, and other variations to modernize and personalize the look.
11. Top Buns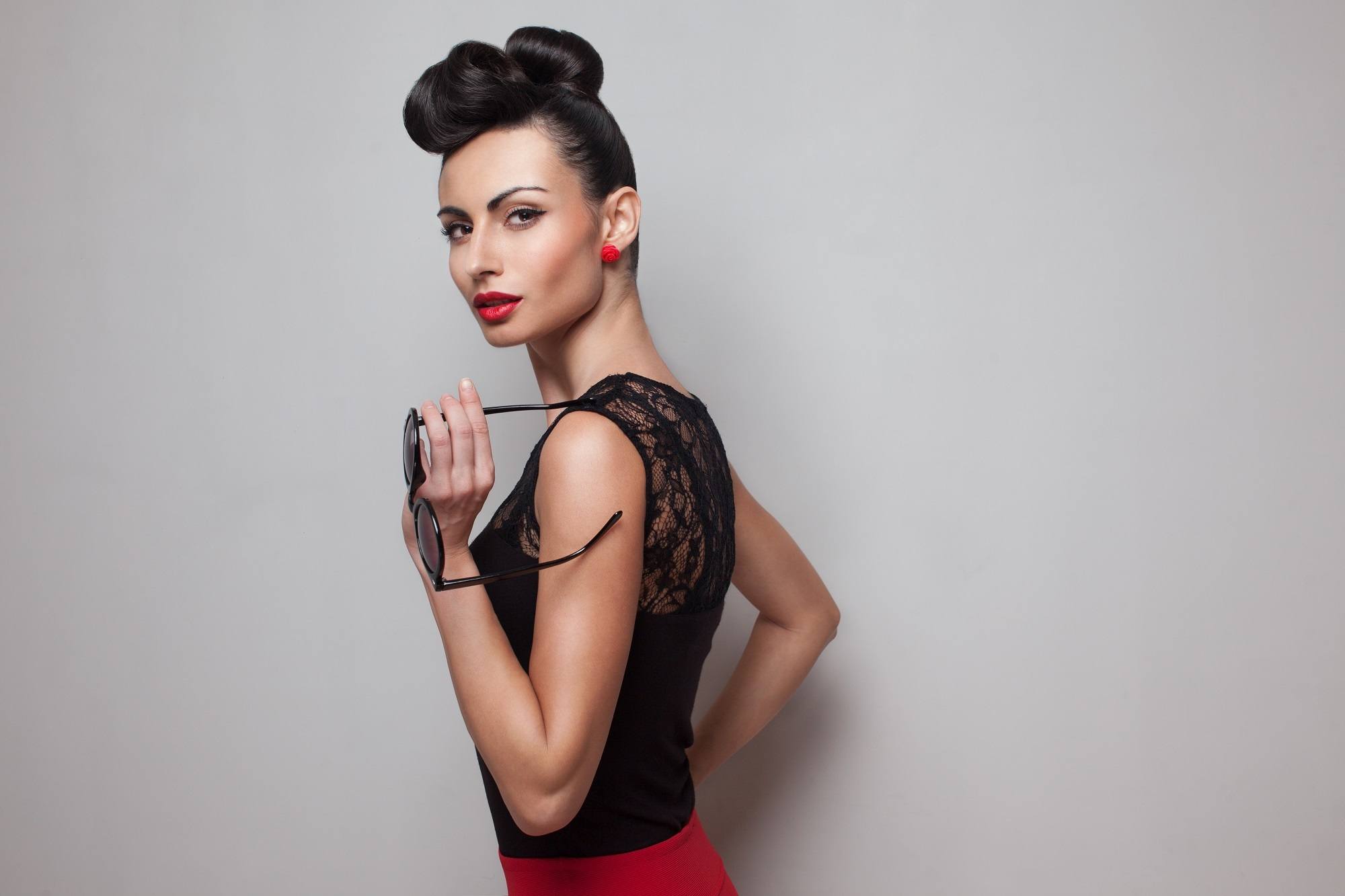 Got a pixie cut? You can make buns, too. First, spritz some heat protectant on your hair. Then, get a small section of hair at the top of your head, wrap it around a curling iron, and curl backwards to make a ring. Once you've made the ring shape, clip the tips with bobby pins. Create around two to three rings, repeating the process until you're done.
The rings may not be actual buns, but they can pass as buns for short hair. We're sure you'll look great, too.
Editor's tip: Since your hair is short, you'll benefit a lot from VO5 Mega Hold Gel Spray which has the styling properties of a gel and the convenience of a spray. Feel confident that your hair will hold its shape for long periods. 
12. Messy Low Bun
Don't worry about your short hair if you want to put it in a bun. The secret is putting it low and styling it messy! This way, you'll be able to include more strands into the bun and ignore the stubborn ones as they will compose the messy part.
13. Mini Space Buns
Here's another way to style your short, curly hair! Try the mini space buns hairstyle. It doesn't even take more than 10 minutes to do. Just put your buns below the ear level and secure with bobby pins. Leave some loose strands around your face to nail that gentle and innocent look.
14. Double Braid and Double Bun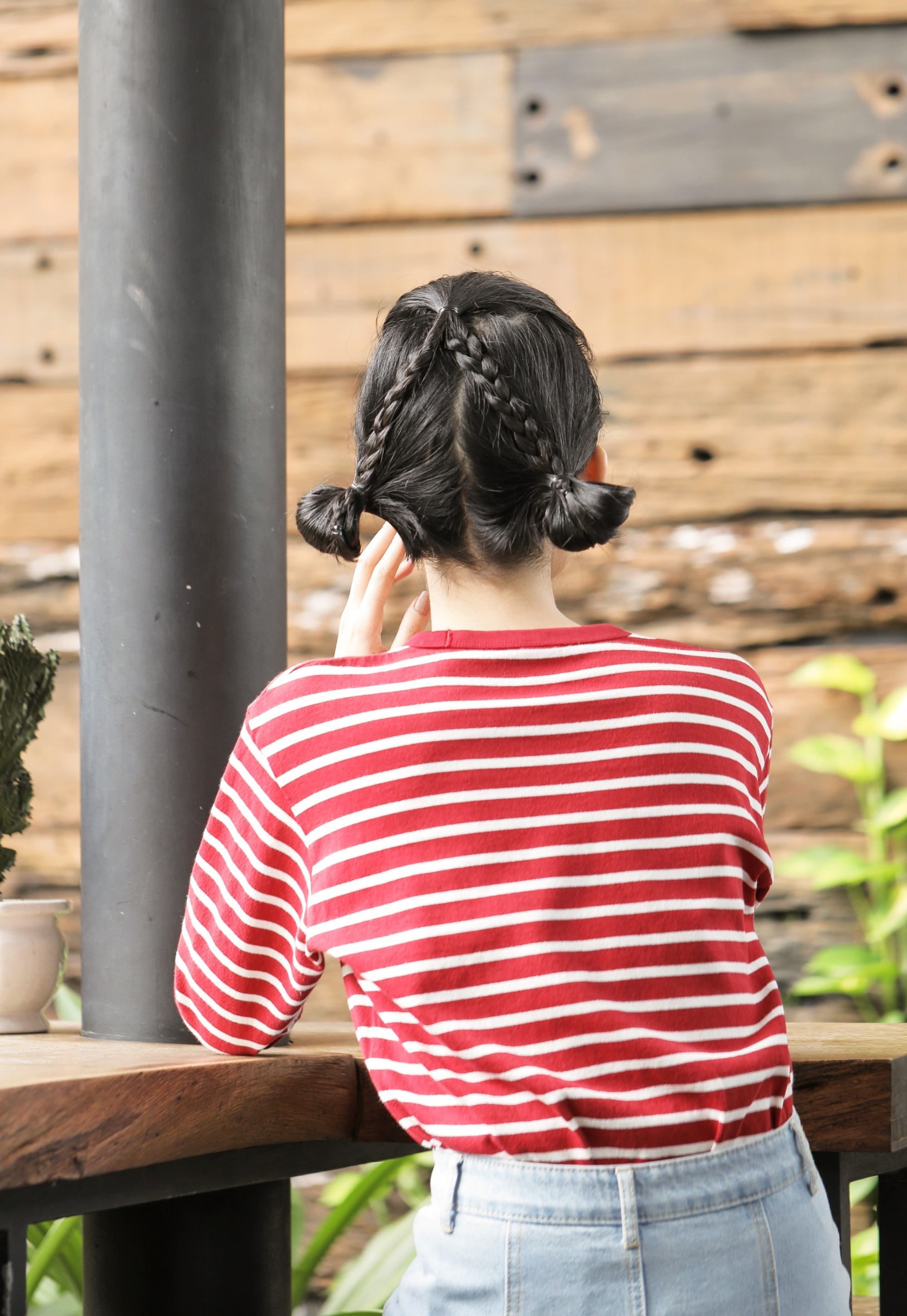 Take your buns for short hair to the next level by adding braids. First, take a small section of hair from your hairline to your crown and tie this with an elastic. Then, divide your half ponytail into two sections and put each in a three-strand braid. Tie the end of the braids with an elastic. For the final step, put the rest of your hair into two low buns and include the tips of the braids when you create them.
15. Double Braid Updo for Short Hair
This hairstyle suits formal occasions or even virtual wine sessions with your friends. To create this 'do, create two Dutch braids on each side of your hair. Secure the tips of the braids with elastics. Then, combine the tips at your nape and form a bun.
See? You can definitely create buns for short hair. All you need are the right styling products and just a little imagination.
Article
Love Layers? Try These Shag Haircut Ideas
Here are easy ways to rock this layered haircut.
See article