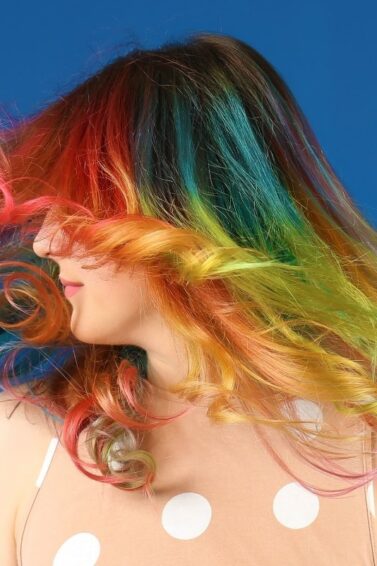 12 Ways to Wear Rainbow Hair Color With Pride
Check out different ways to express yourself with this hair color trend.
The rainbow hair color trend has been around for a while now, but it hasn't really lost its appeal. How could it? The combination of fun, vibrant shades all on one head will always add an irresistible charm to any look. If you've been wanting to do a major hair makeover but your vibe leans towards the cutesy than edgy, the rainbow hair color could be it for you.
To achieve this Rainbow Brite look, you either have to bleach your hair (we're assuming you're a brunette like the rest of us, but if you're already blonde, congrats—you've got half the work done!), or go for subtler shades that would only require for your tresses to turn a light shade of brown.
Now to make this colorful style even more interesting, you can add a fun twist to the look. Need ideas? Look no further 'cause we've got some for you! Keep scrolling and check out the cool ways you can wear this trend below!
12 Ways to Wear the Rainbow Hair Color Trend
1. Color-Blocked Rainbow Hair
When you go for color blocking, you place two or more dramatic colors on large sections of your hair. You see where one color ends and where a new one begins. This is perfect if you want to make each rainbow hue on your hair more pronounced.
Editor's tip: Bleaching your hair can cause great damage. To better take care of your rainbow hair, use Dove Intense Repair 1 Minute Serum Conditioner regularly. This conditioner has serum capsules that deeply penetrate your strands to repair damage from within. 
2. Rainbow Bob
If you think that you need long hair to sport a cool rainbow hair color, then this should be your proof. Even with a haircut like a bob, you can fashionably pull off the vibrant colorsof the rainbow. It sure is a nice futuristic look that would be great for costume parties or cosplay conventions.
3. Two to Three Colors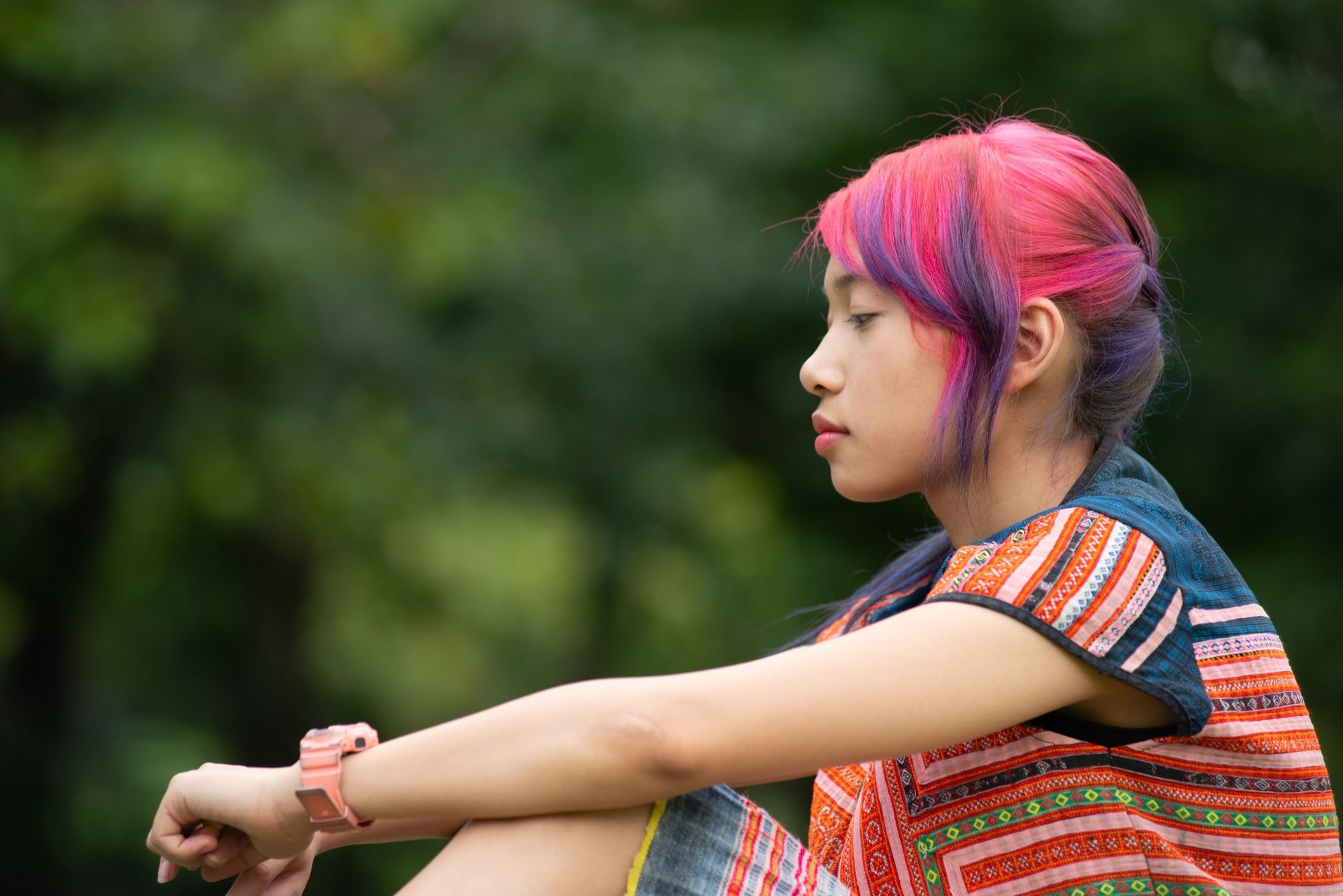 If you're not (yet) comfortable having several bright colors on your hair, you can simply pick two or three vibrant colors. Shades of blue and violet combined with red make for an edgy combination. It's bold, and it gives you a rock star vibe!
4. Pastel Party
Pastels can make you look sophisticated, too. Pick one vibrant hue and let it stand out. For the other colors, go for light and subtle tones like pale peach and ice blonde to keep your look from looking too sweet.
5. Ashy Rainbow Hues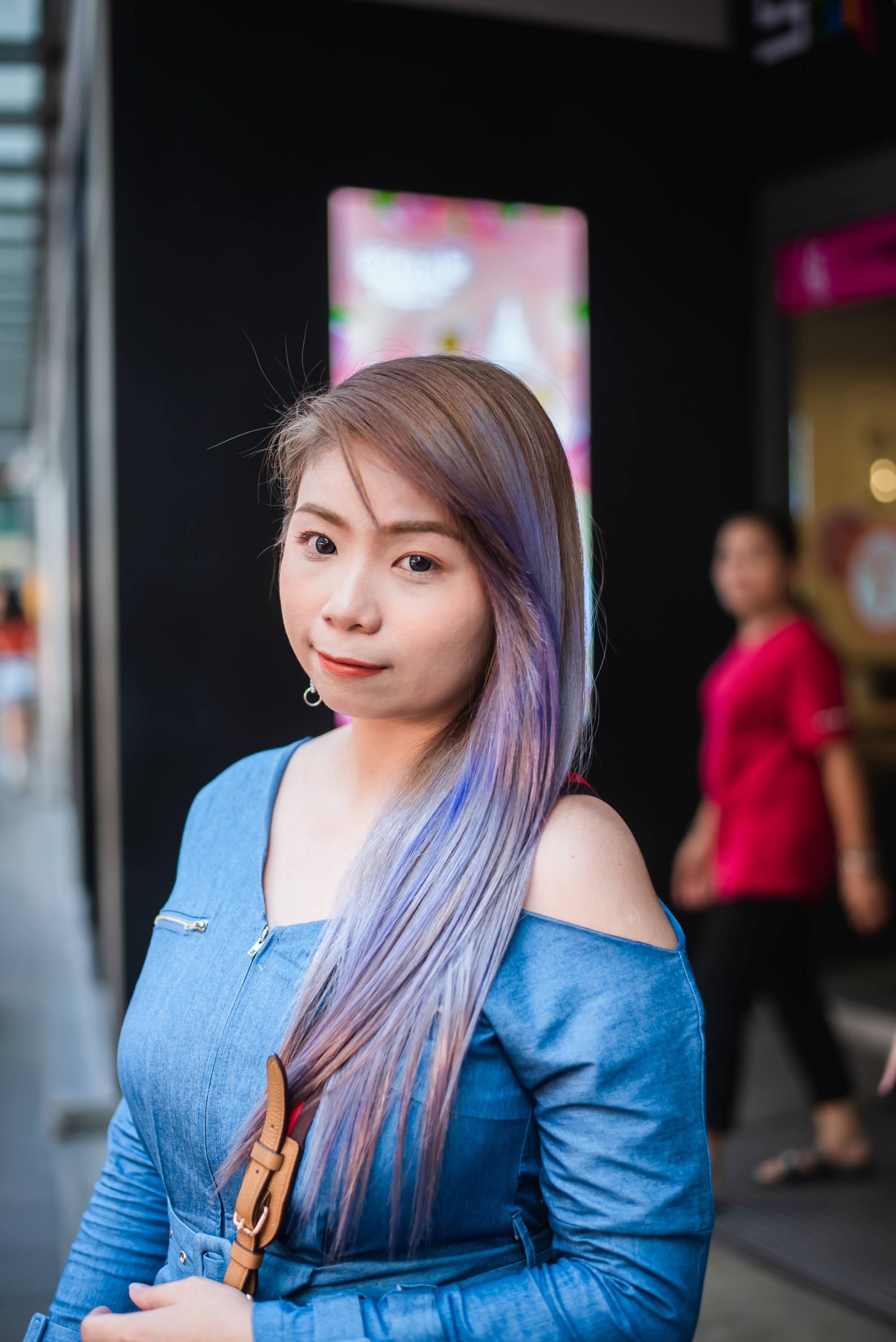 Add a tinge of gray to your rainbow hair to tone it down a little. It's a great way to combine two color trends: rainbow and ash hair color.
Editor's tip: Bleaching and coloring strip away nutrients from your hair, leaving it dry, frizzy, and dull. Use Cream Silk Keratin Triple Keratin Rescue Ultimate Color Revive Ultra Conditioner. It has keratin relaxers to tame frizz, keratin essence to add shine, and keratin serum to moisturize and smoothen your hair. It helps replenish lost nutrients due to chemical and color treatments, leaving your hair vibrant and beautiful. 
6. Ombré Rainbow Hair Color
Wearing your rainbow hair ombré style is one way to keep it stylish but a bit subtle (compared to dyeing all of your hair!) If you have long locks, the colors can start at mid-length with maybe a few strands on the sides going up a little higher. This also allows you to sport this look much longer than if you have a full head of rainbow hair because even if your hair grows, it wouldn't show awkwardly dark roots.
7. Hidden Rainbow Hair Color
Not only is the underlayer hair color trend so much fun (it's like keeping an exciting secret!), it's also very clever. If your workplace has a very corporate setting, donning multi-colored hair may not sit well with HR. But this hair coloring trick will let you express yourself without having to get a memo—just leave your hair down in the office and put it in a half updo as soon as you're out the door. It's also cute to have just a part of it peeking out of your bun hairstyle.
8. Glitter
Is rainbow hair color not cool enough for you? You're already stepping out of the box with your hairstyle, might as well do it way cooler—and sparklier–than everybody else, right? This version is actually less complicated to achieve, no bleaching required. Just mix some styling gel and colored glitter into a bowl, get an old paintbrush, and apply it to your hair.
9. Half-Up Braid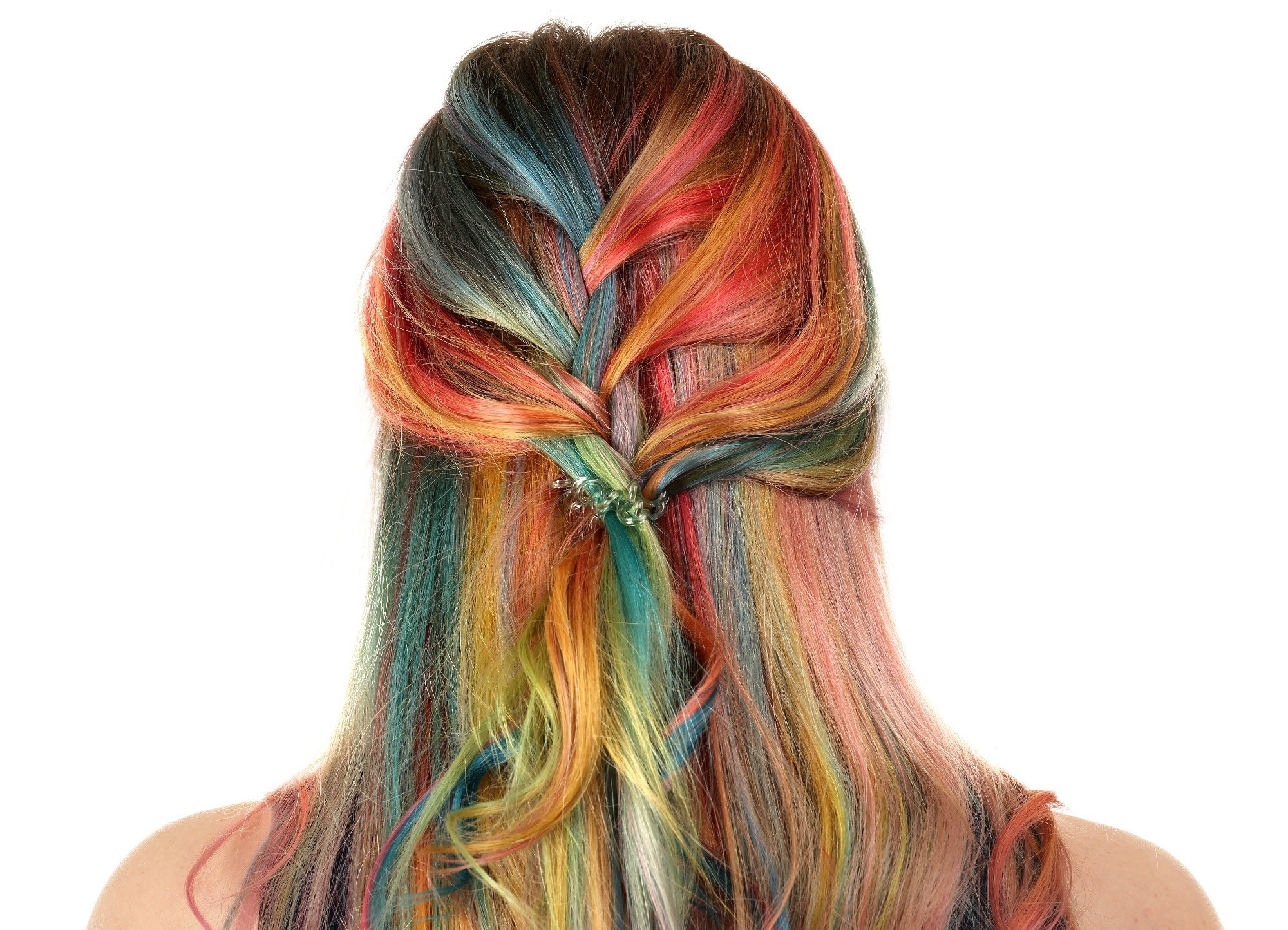 Half updos are great hairstyles that can help you show off your rainbow hair color. Make your look even more playful with a half up braid. Keep your braid loose for a more laidback and relaxed look that suits rainbow hues well.
10. Twists
Like hair braids, twists are fun hairstyles you can try with a rainbow hair color 'do. There's a lot to choose from,  depending on the occasion or your mood. Why don't you try a twisted ponytail half updo? All you need are a few bobby pins, an elastic, and a few minutes to nail this hairstyle. Easy, right?
11. Punk-Style Layered Hair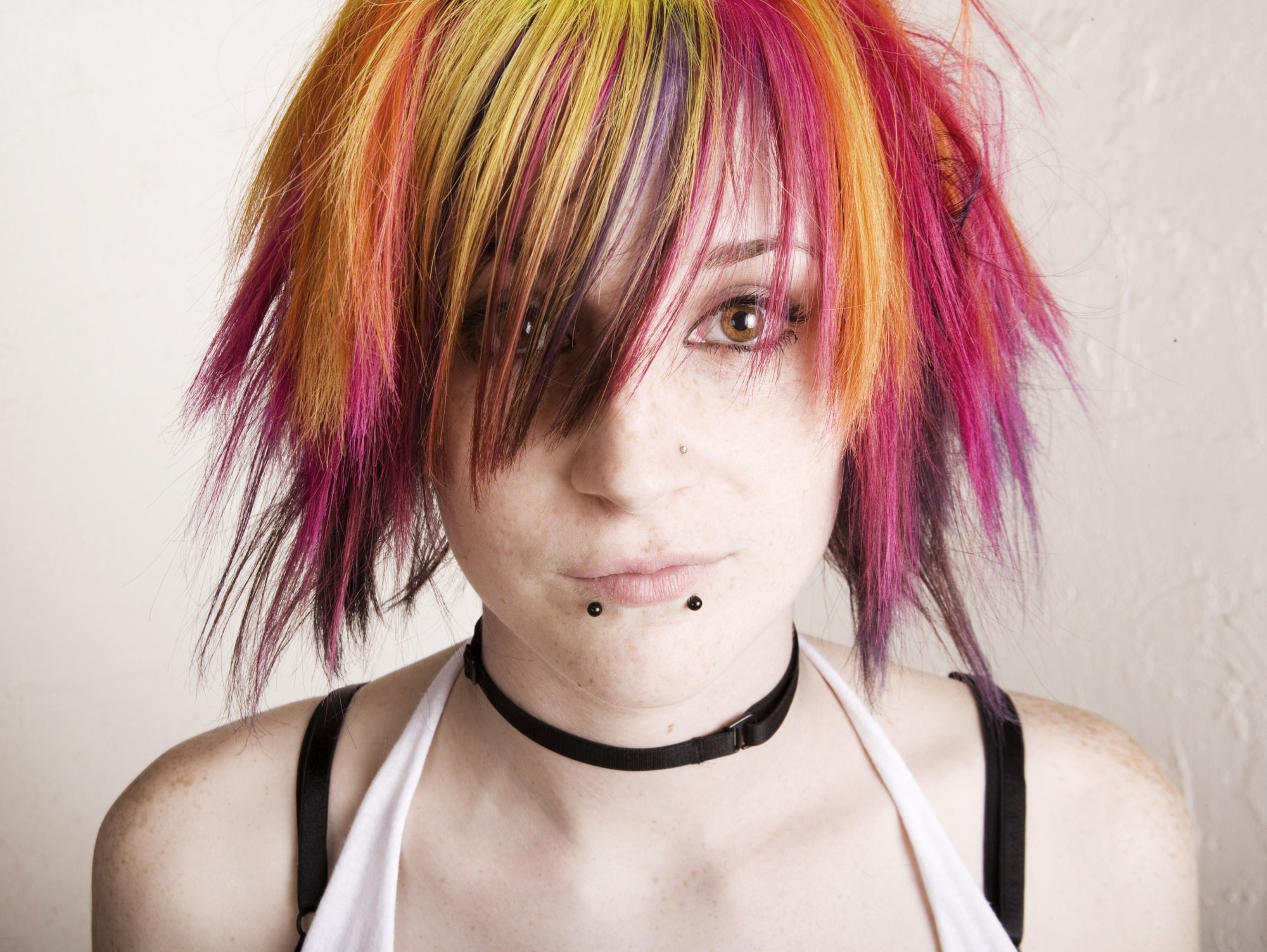 If you want a look that screams so much attitude, then this is your best bet. Combine rainbow hair color with short, layered hair like that of a rock star and you'll get a totally unique 'do! Keep your hair layered hair messy by simply giving it a good shake with your fingers. Then, spritz sea salt spray to nail that textured look.
12. Long Rainbow Hair
Ready to go all out? Dye your long hair with rainbow hues. Let several colors show by starting with a vibrant color like red or yellow at your roots, then let the colors transition to the darker ones at the bottom.
This look is not for the faint-hearted, so think twice or even thrice before making this bold move. Also, make sure that your hair is strong enough to take all the bleaching and coloring. Check when you've had your last hair treatment or coloring. You should have four to six weeks intervals before you get another dye job.
If you're game for an outrageously fab look, you should def give the rainbow hair color trend a try! Oh, and did we mention the magic words? It's definitely Instagram-worthy material!
Prev Article
Next Article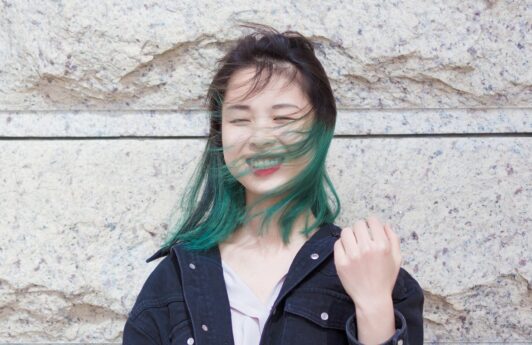 Gallery
20 Green Hair Color Ideas to Try in 2023
Check out these mint green hair and other green style inspirations that stand out with a fresh vibe!
See article