Henna hair color: Everything you need to know if you're considering this hair coloring option
Henna hair color is your mom's go-to when she needs to cover her greys. But maybe you should start considering this hair coloring alternative, too!
In the early 2000s, henna was more popular as tattoos that you can get for 100 pesos in Boracay (which will end up staining your hotel's sheets, which you'll end up being charged for—but that's a different story). Now it's also become a popular hair coloring option for moms and titas who regularly cover their greys. But hey, don't dismiss henna hair color just yet. Unless you're aiming for a bright shade, it could actually work wonderfully for you. We put together everything you need to know about this natural hair dye. Keep reading to find out if it's for you, too.
What is henna hair color?
Henna hair color is made of the henna plant which grows in the Middle East. The leaves are harvested, dried, ground into fine powder and turned into paste to dye the hair. Unlike chemical hair dyes, henna doesn't penetrate the hair's cuticle or change the structure and texture of the hair, so it doesn't damage your strands. It simply coats the surface, providing extra gloss to your tresses. It's also known to stimulate hair growth and strengthen the scalp, making it a fantastic alternative to chemical dyes.
Editors tip: Complement the gloss that henna provides your tresses with Cream Silk Stunning Shine Conditioner. It's formulated with Shine Boost Complex and is specially designed to moisturize dull and lifeless hair and gives it up to 50% more shine!
When to avoid this coloring option
The only time henna hair color can give an unwanted outcome is when you use synthetic hair color over it. Henna works like varnish that coats your strands; when you synthetically process your hair, it would open up your cuticles and push the henna inside, which could alter the structure of your hair. The result can be unpredictable, so you might want to skip it if you plan on letting chemicals touch your tresses anytime soon. You can however, use henna over your chemically colored hair.
How long does the color last?
Henna hair color comes in subtle shades of black, brown, and red and is considered a permanent hair color. It stays vibrant for about four to six weeks. It doesn't wash off, although it does fade gradually over time.
Editor's tip: Keep the vibrancy of your hair color longer by conditioning with Cream Silk Color Protect Conditioner. It has a sulfate-free formulation, specially designed to protect colored hair from dryness and dullness, enhance vibrancy, and give up to 80% color protection.
Overall, henna hair color is not only a healthier option when you want to color your hair, it also provides awesome results. Looks like moms really know best, huh?
Prev Article
Next Article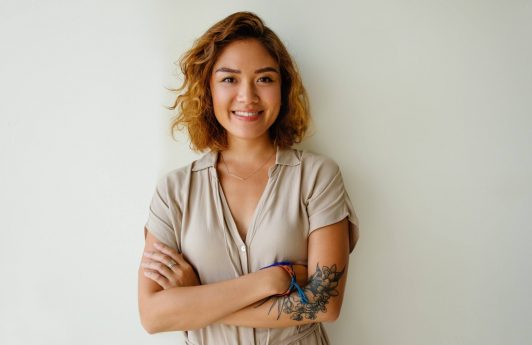 Gallery
Hair Color for Curly Hair: Our Top Picks for 2022
Bored with your 'do? Get hair color for curly hair. We list down some hues you can choose from to help you out. 
See article