Hairstyles for Round Faces: 25 Looks We Love
Check out these cute hairstyles and haircuts for round faces that complement your features!
Got a round face shape? Then, you probably have been frustrated when finding a flattering hairstyle or haircut. Round face shapes tend to be wide, and the goal when picking hairstyles and haircuts for round faces is to achieve a more balanced face shape. And it's not always about covering your cheeks or wearing your hair long. In fact, you have plenty of options. We've rounded up the best hairstyles for round faces to give you ideas. Check them out.
Our Fave Filipino Hairstyles for Round Faces
1. Lob Haircut for Round Faces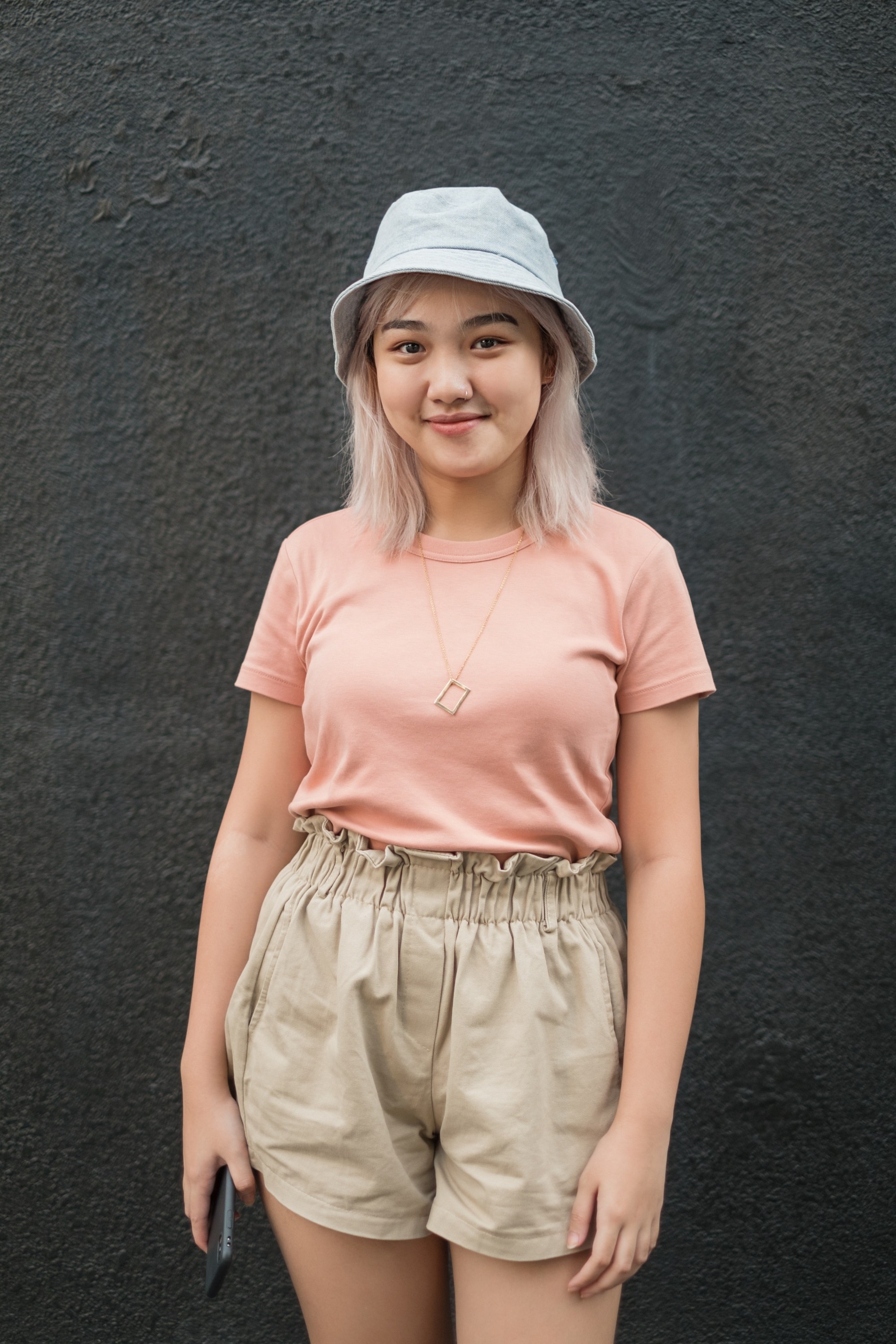 Medium length haircuts look fabulous on just about anyone, including women with round faces. A lob helps accentuate the angles near your jawline, adding a bit of sharpness to your look.
Editor's tip: Got a blonde lob? Protect it from brassiness by using TRESemmé Pro-Color Series Blonde Brilliance Shampoo. Its purple formula neutralizes brassy tones, helping your hair blonde and bleached hair color stay beautiful for longer. It also has jojoba oil to help moisturize your hair and add shine. 
For best results, pair TRESemmé Pro-Color Series Blonde Brilliance Shampoo with TRESemmé Pro-Color Series Blonde Brilliance Conditioner.
2. Lob With Bobby Pins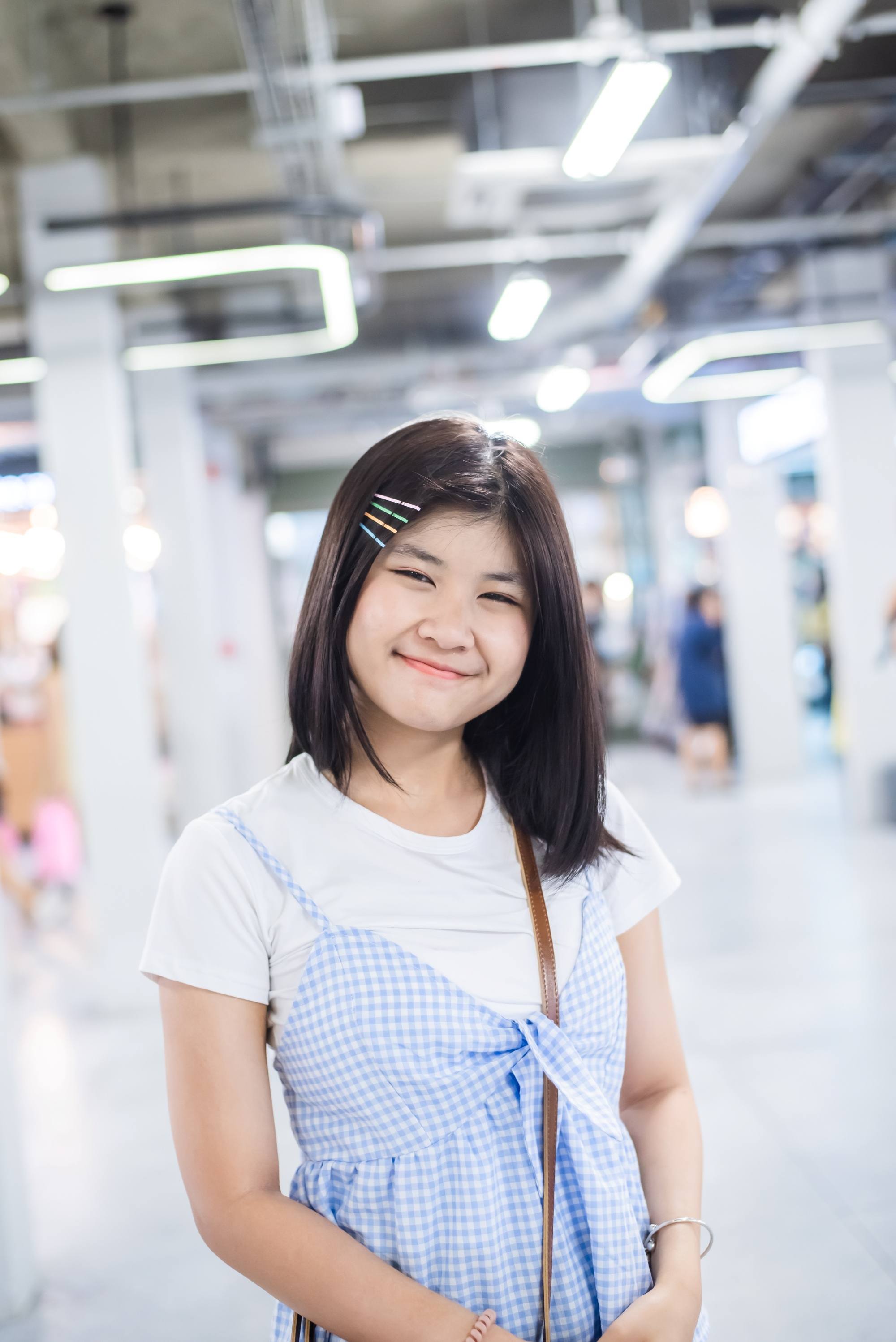 Jazz up your lob haircut by adding colored bobby pins. It's a cute hairstyle to wear to school, and it showcases your bubbly personality.
3. Blowout Hairstyle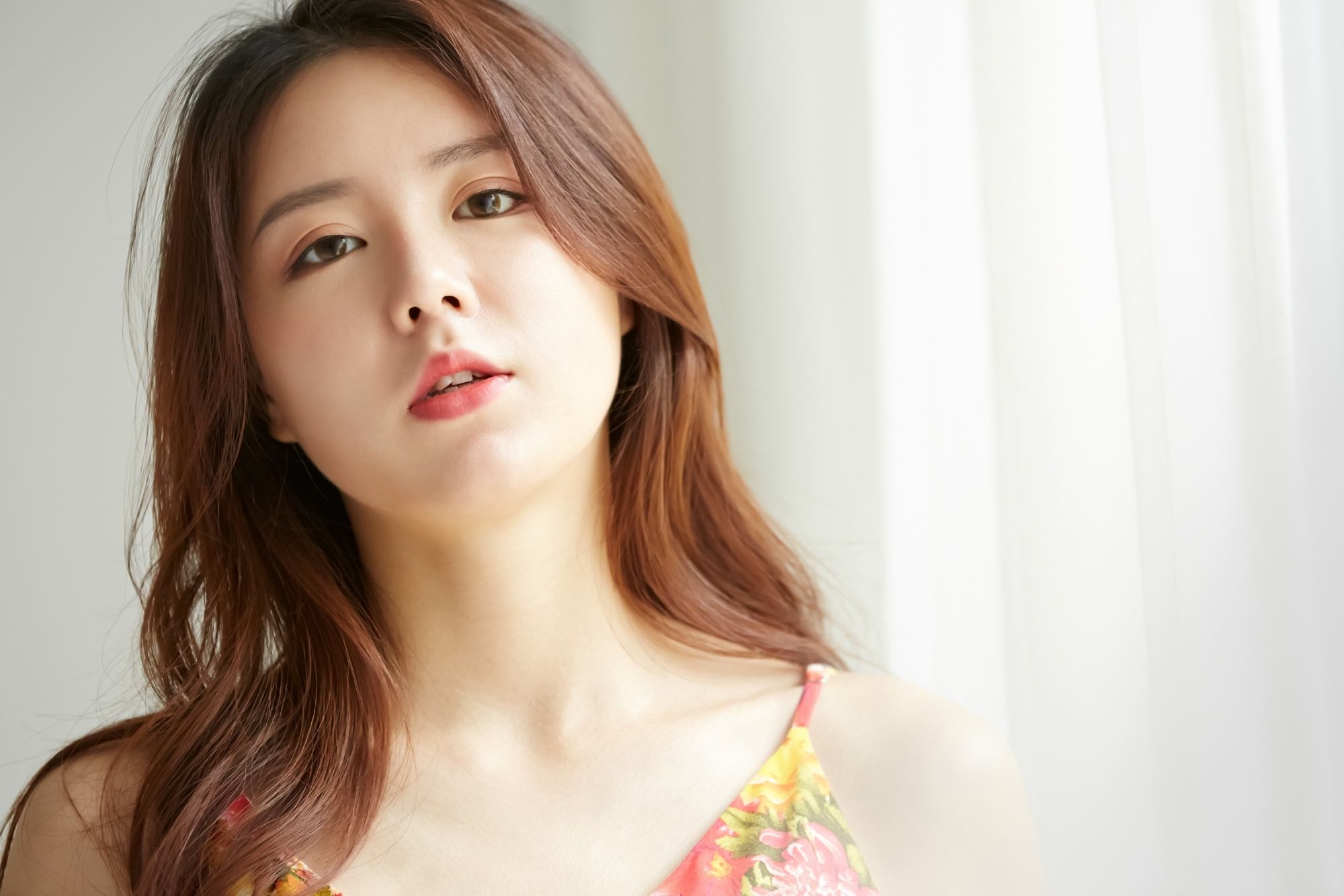 Got a layered haircut for a round face? Give it a blowout. This hairstyle will add bounce to your hair, define your layers, and frame your face beautifully at the same time.
4. Chin-Length Bob With Bangs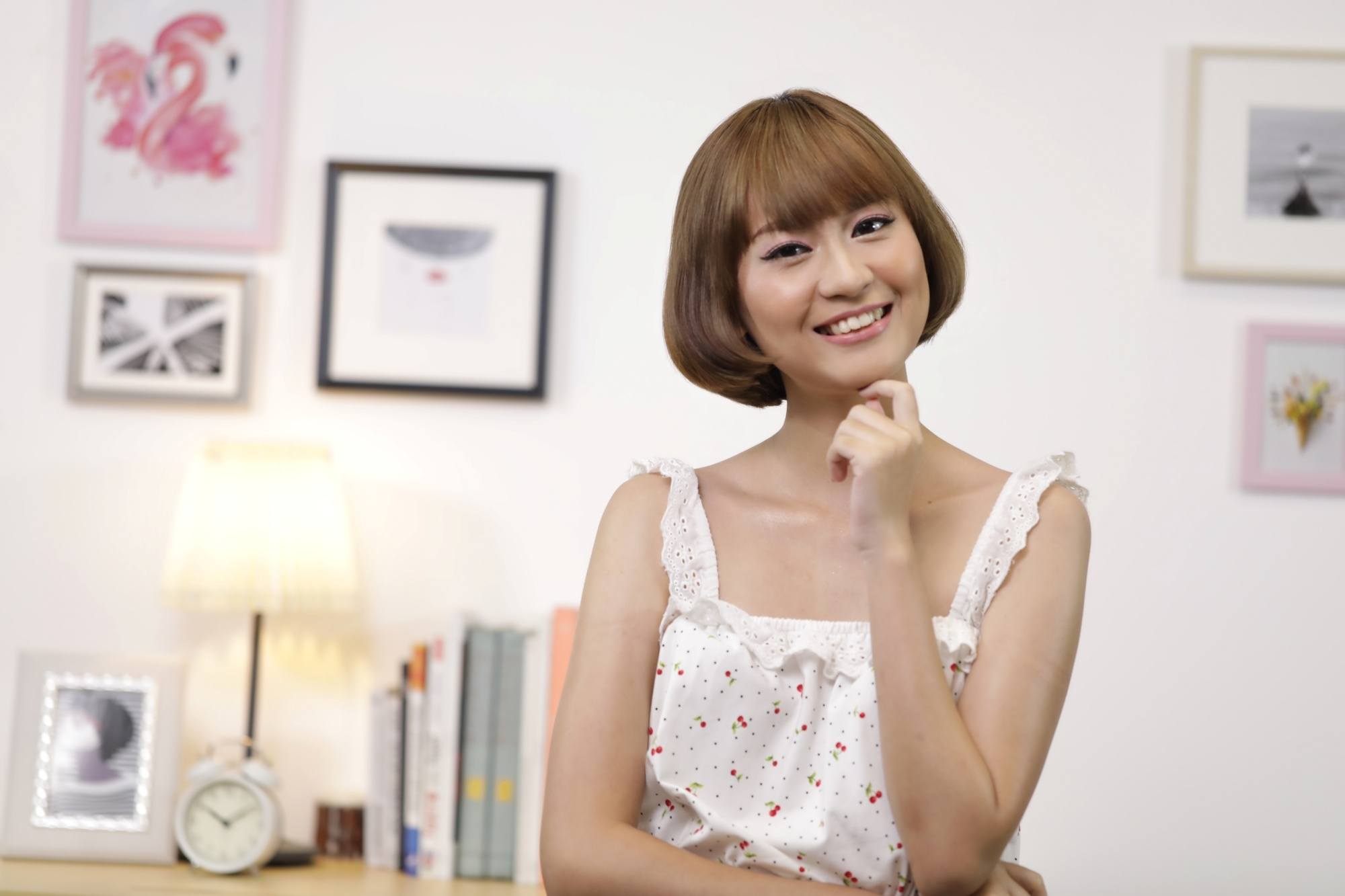 Style your bob in a way that your hair covers your ears to help balance out your face's width. You can also add bangs to frame your face. Blunt bangs together with a chin-length bob give you a Korean-style 'do.
5. Loose Waves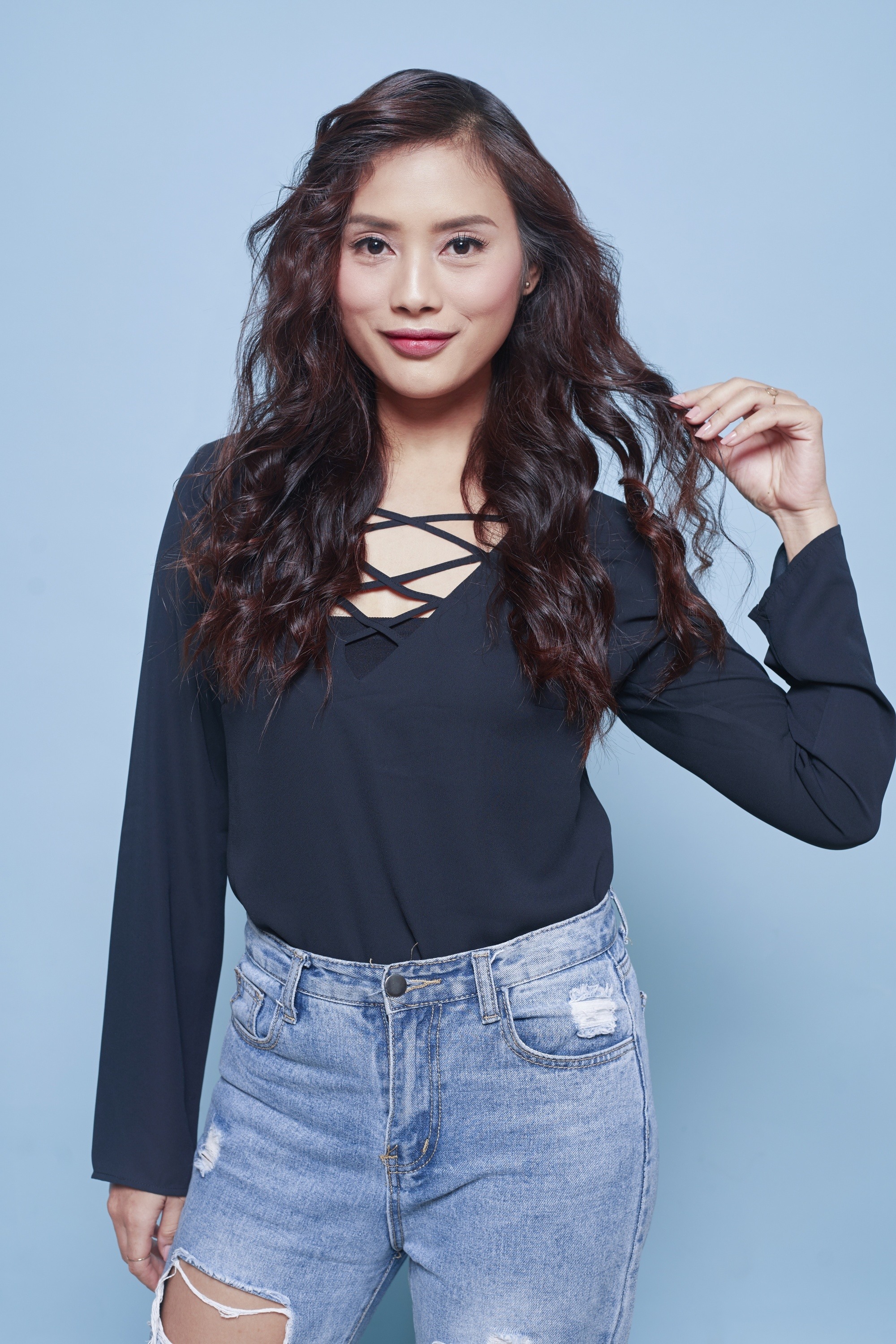 A tousled hairstyle helps add dimension and movement to your hair. All these help in framing a round face and giving it a more balanced shape.
6. Long Hair With Side-Swept Bangs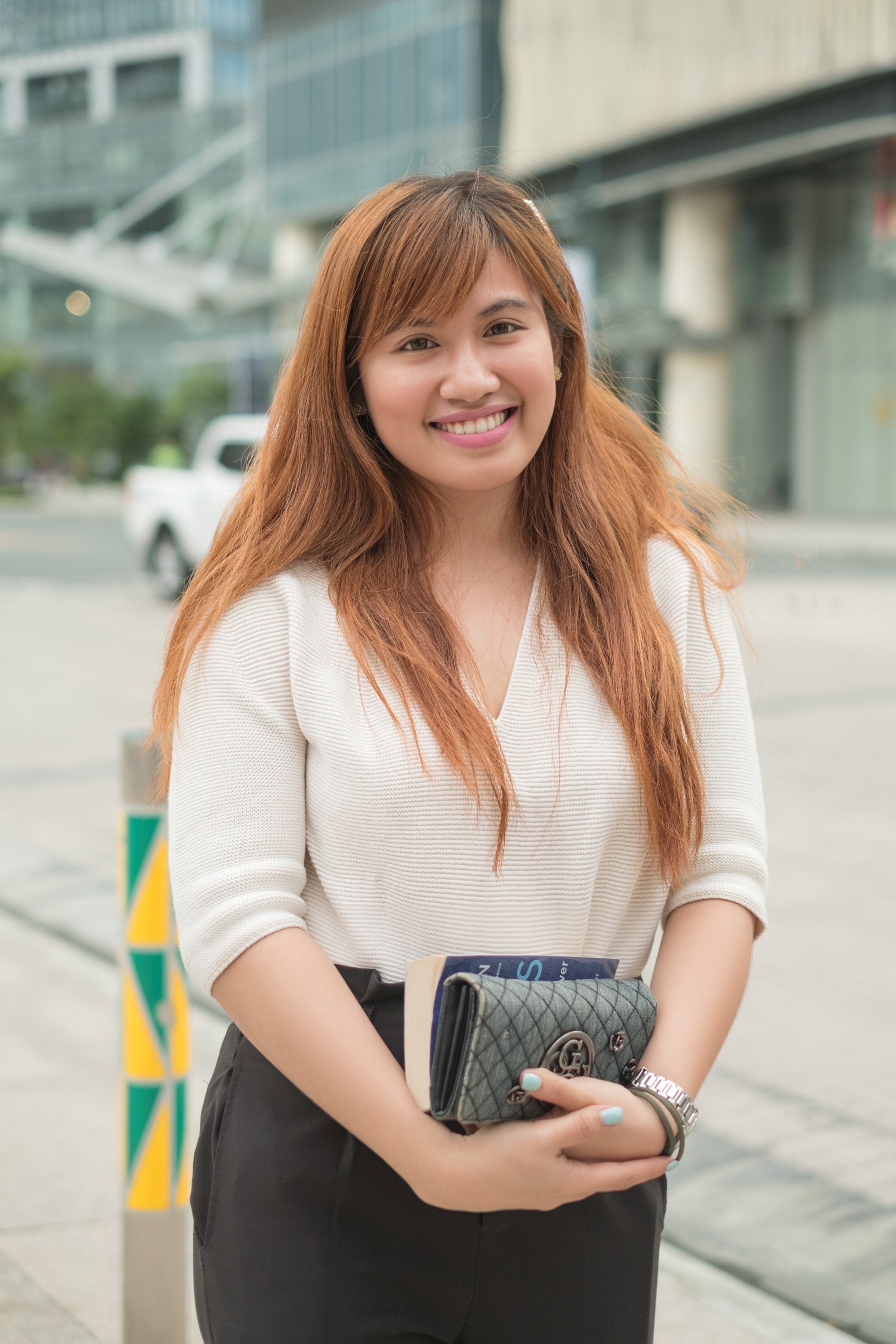 Side-swept bangs offer a softer way to frame your round face. They help minimize your face's width, and they blend with the rest of your hair more seamlessly than full, blunt bangs. Side-swept bangs are also easy to maintain, and you can cut them yourself!
7. Pixie Cut With Side-Swept Bangs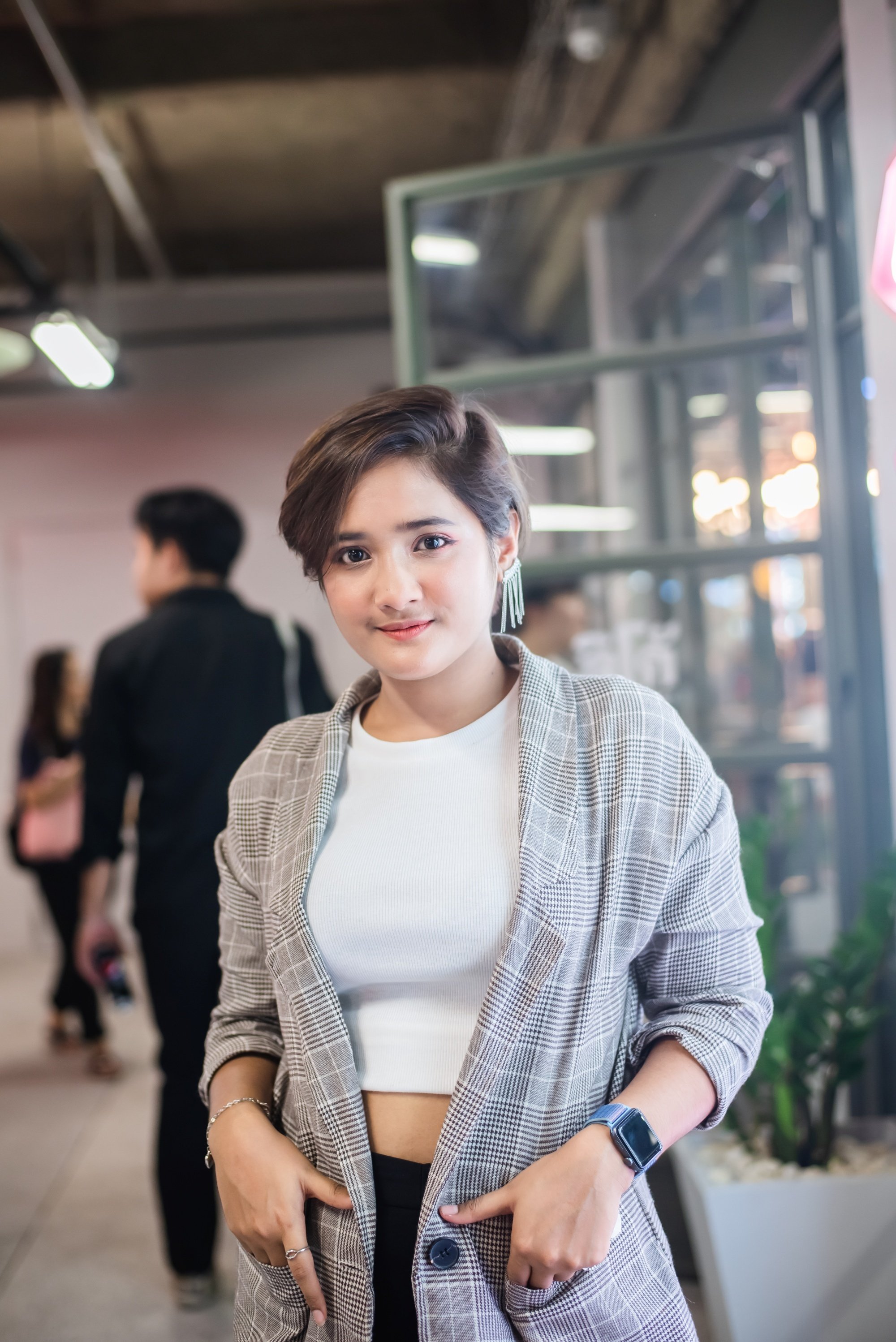 A pixie haircut for a round face? It's a yes! Maintain a side part then style the longer side as your side-swept bangs. Scrunch your hair a bit for added volume, which will help you achieve a more balanced face shape.
8. Curtain Bangs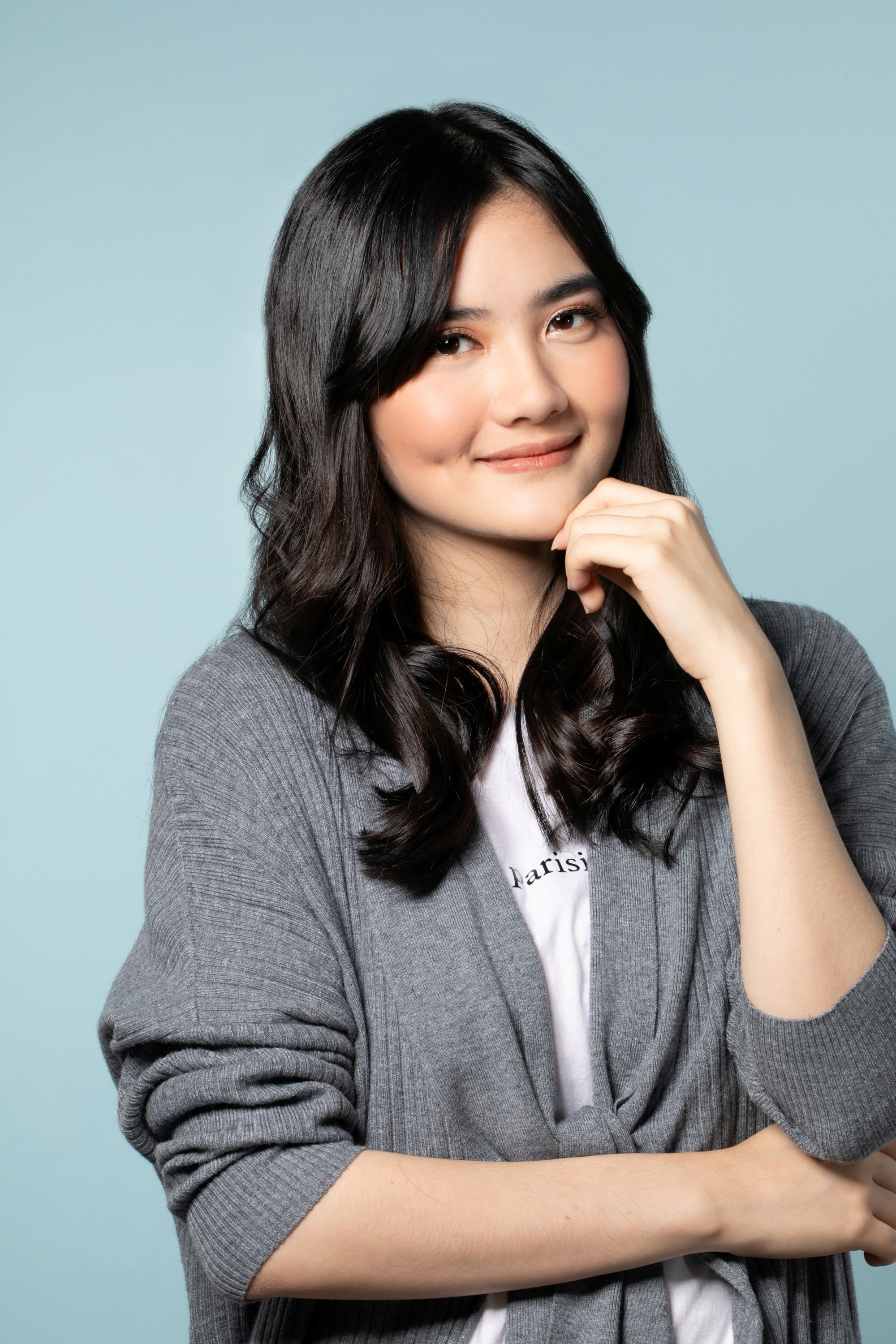 If you want a symmetrical look with your fringe, curtain bangs can help you achieve that. They stay at the sides and help make your face look less round. You can even make your curtain bangs look wispy for a more relaxed vibe.
Editor's tip: Keep your hair from getting dry and dull by using Cream Silk Rich Organic Powerfusion Rich Moisture Conditioner. This nature-powered conditioner has shea butter and coconut oil that deliver moisture to your hair. It also has various flora oils and extracts to smoothen and nourish your hair. 
9. Boxer Braid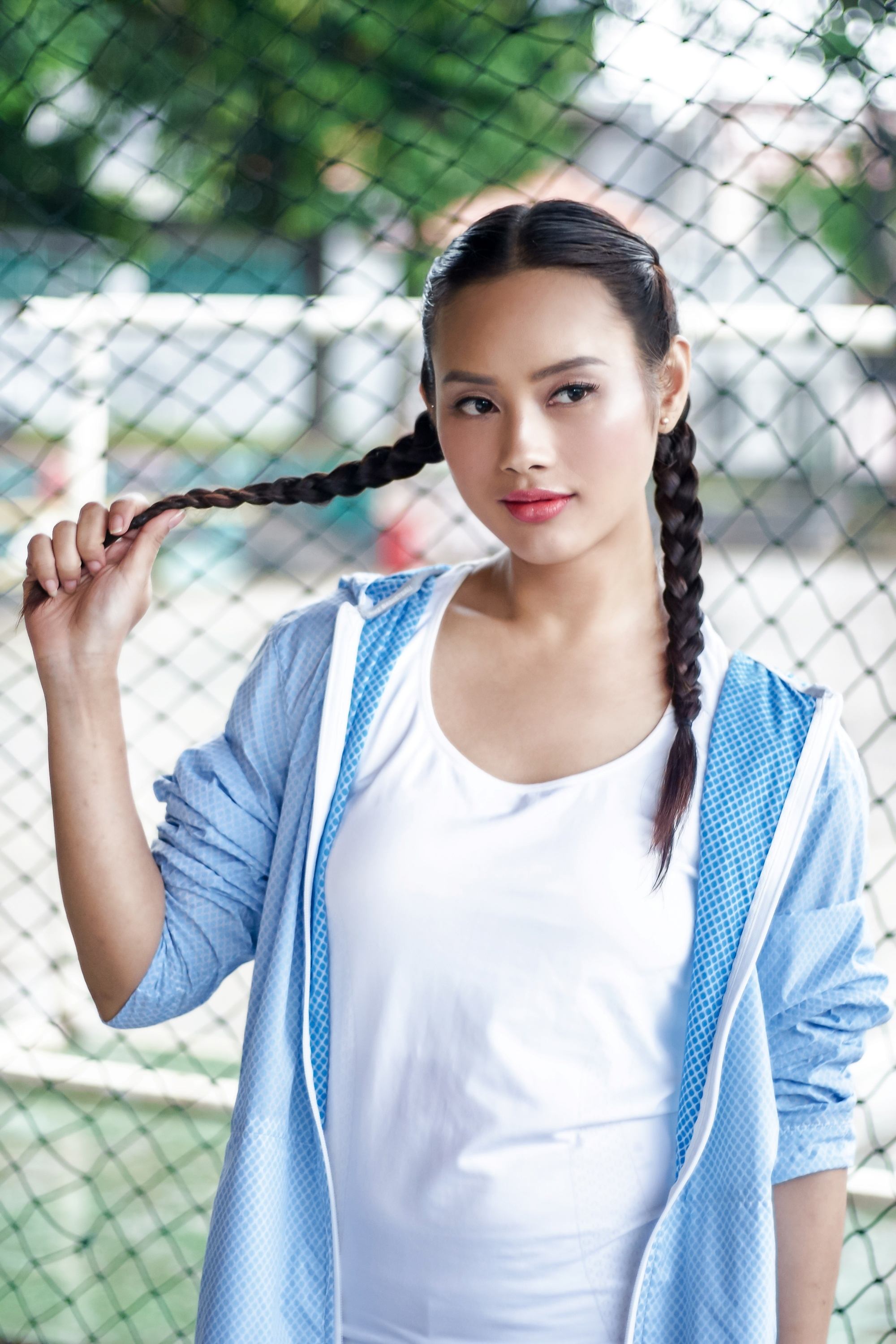 You don't always have to cove portions of your round face shape to give it balance. You can do it as well with a boxer braid. With a center part and two braids on the sides, you get to showcase a proportioned round face shape.
10. Top Knot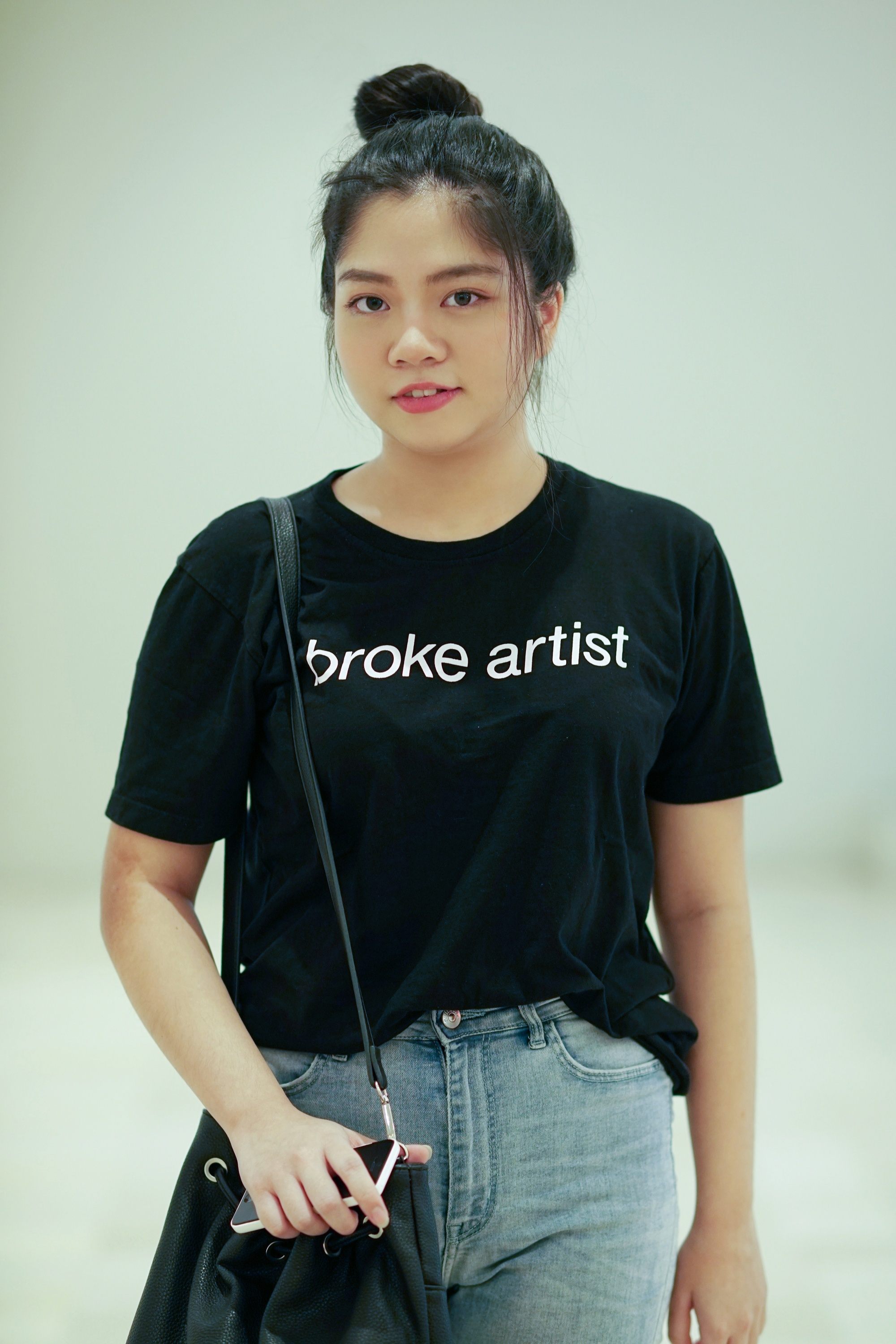 Who says you can't put your hair up if you have a round face? This top knot adds height and helps elongate your face shape. To create this hairstyle, just gather your hair on your crown, tie it into a ponytail, and form a bun. You can loosen a few strands for a more relaxed, messy-chic look.
11. Top Knot With Bangs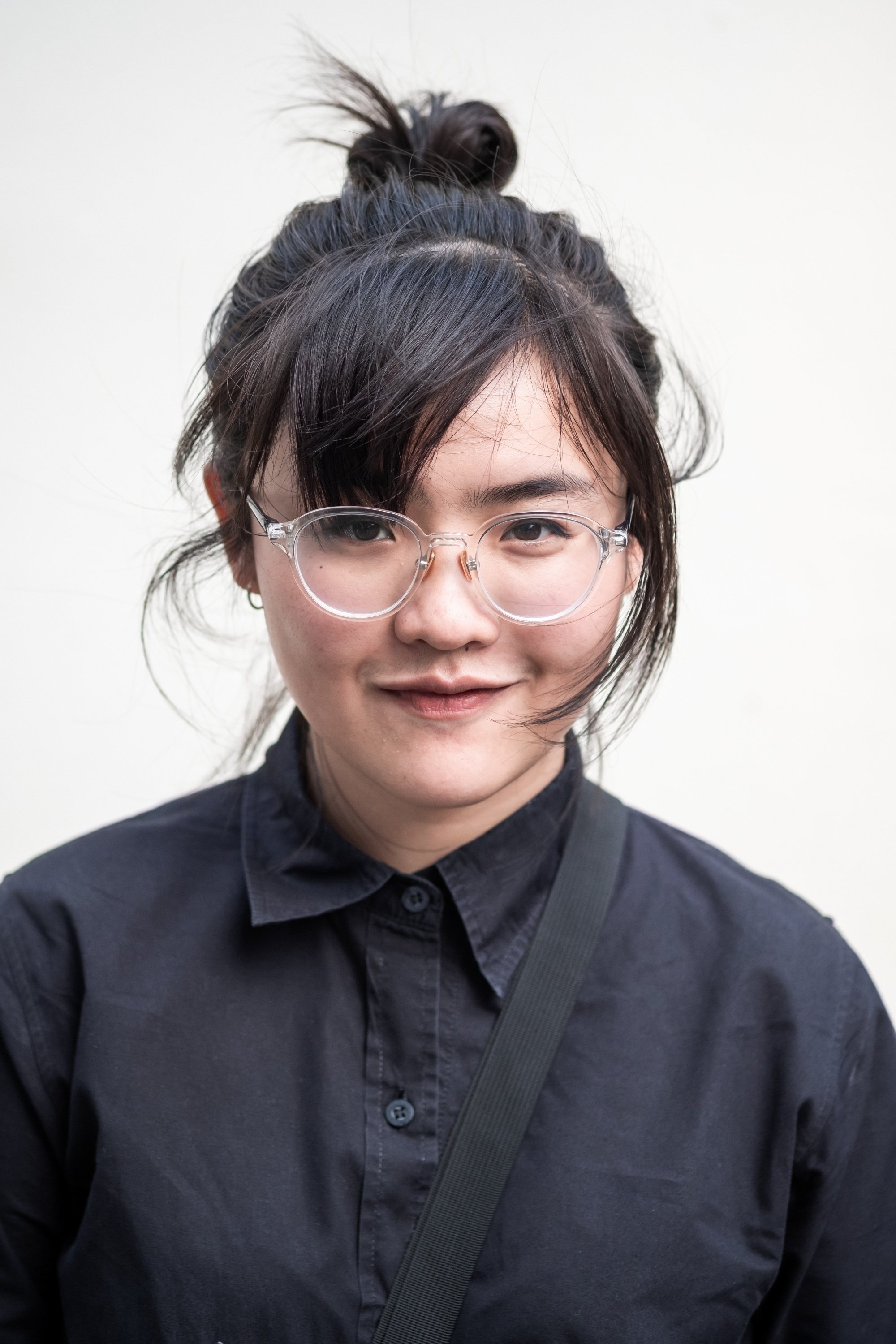 Speaking of messy-chic, nail it with a top knot wispy bangs. If your fringe seems uncooperative for the day, wrap it around a hair roller for a minute or two to shape it. Then, remove the roller and style your bangs with your fingers.
12. Low Bun With Tendrils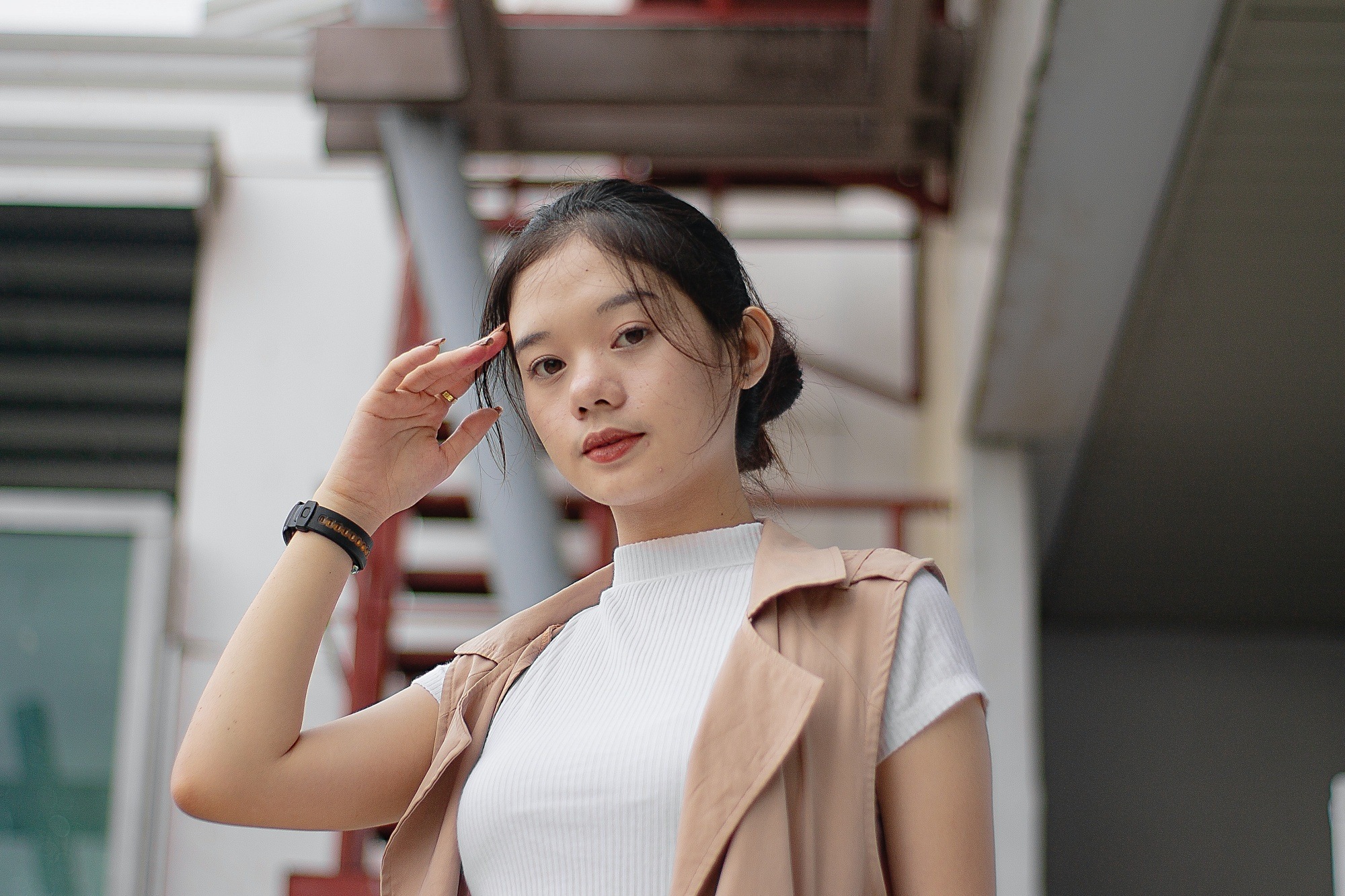 You can wear a low bun from day to night, so try this 'do if you're meeting your friends for happy hour after work. Loosen some strands of hair at both sides to frame your face and make it look more balanced.
13. Long Side Bangs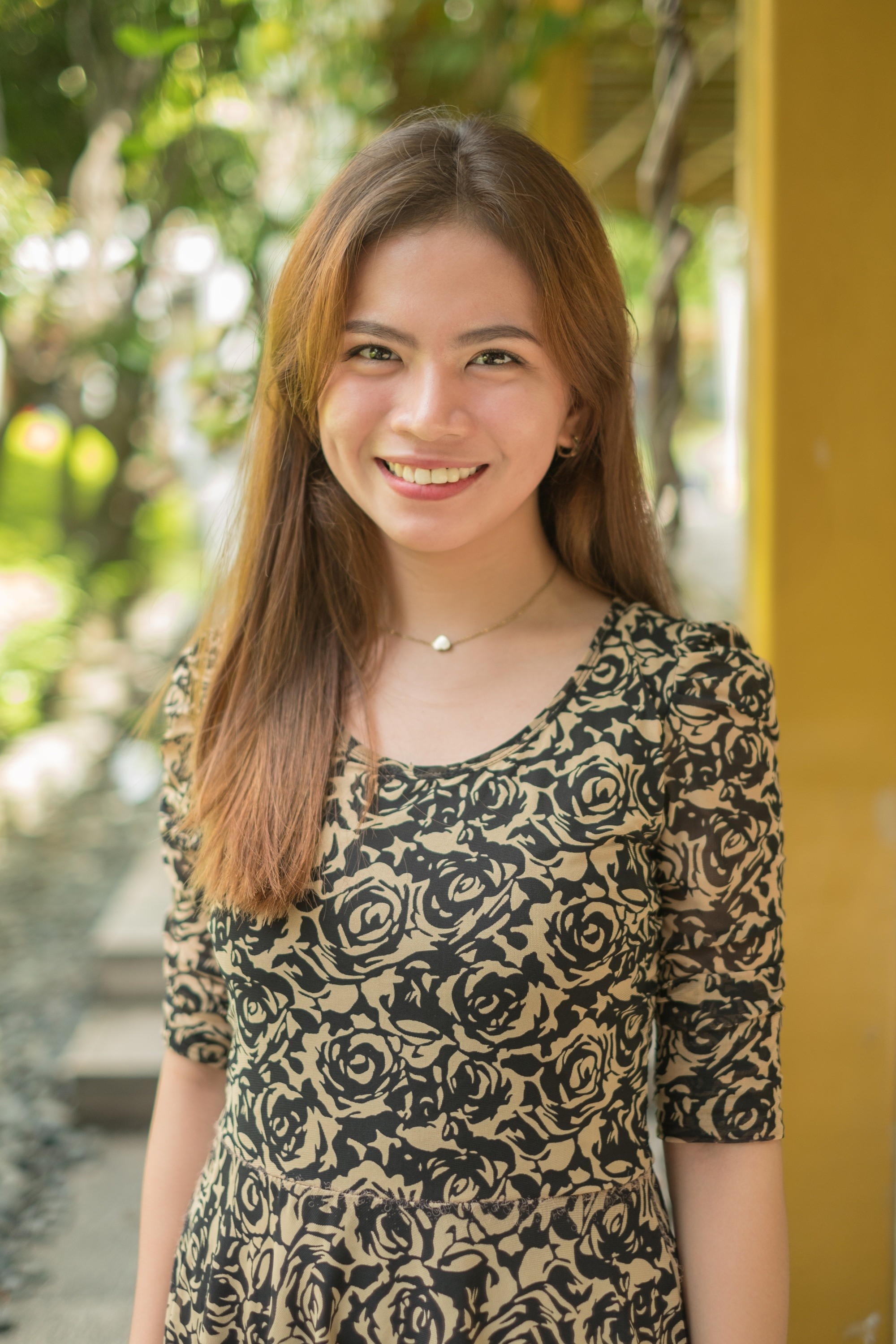 Unlike curtain bangs, side bangs don't form a drape over your forehead. They just fall casually to the sides and blend with the rest of your hair. Nevertheless, they help just as well in creating a flattering hairstyle for round faces.m
14. Long Straight Hair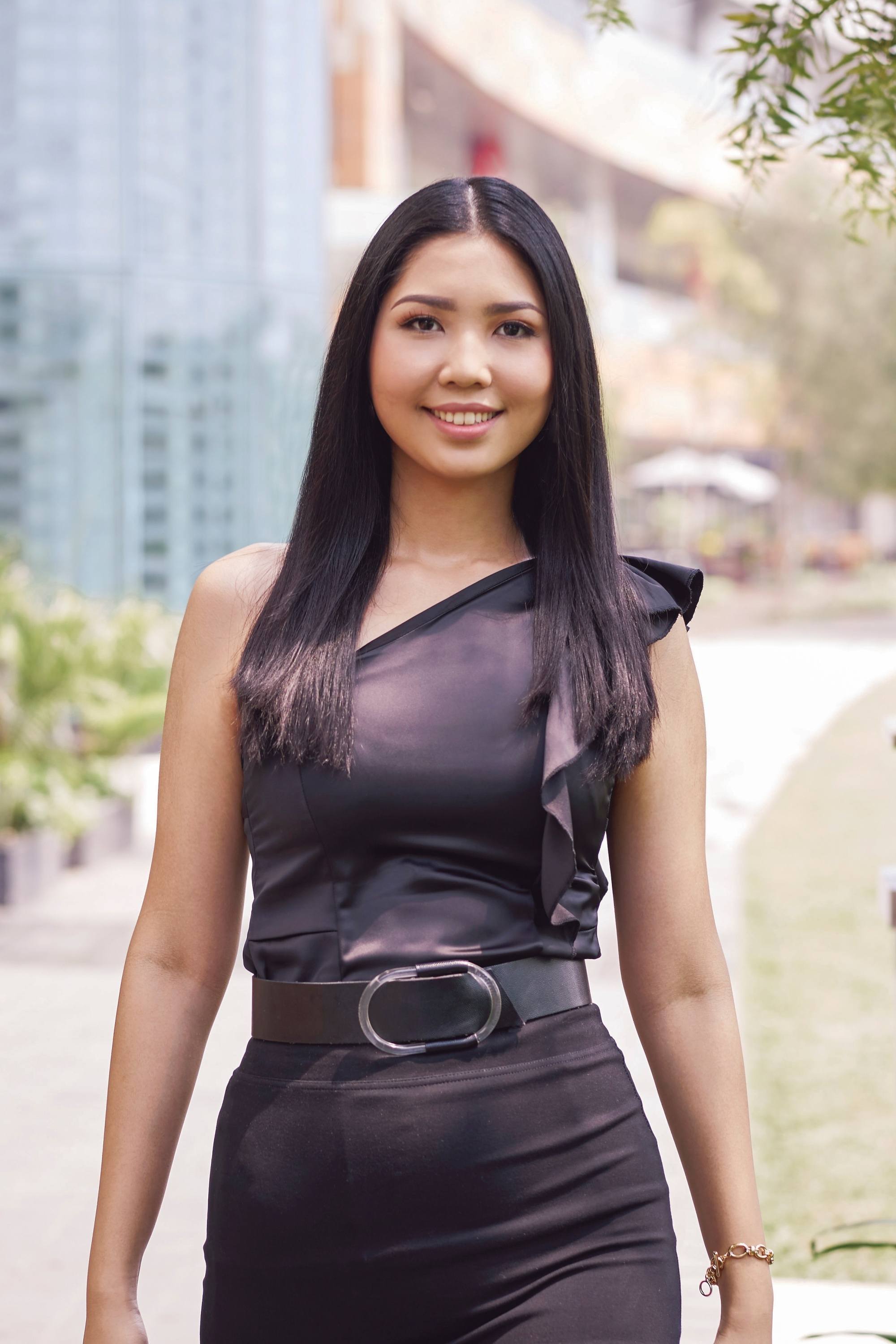 With pin-straight hair. a round face's width is balanced out and looks less wide. You can achieve this by straightening your hair at home, by rebonding, or by getting a keratin blowout.
Editor's tip: Use Cream Silk Triple Keratin Rescue Ultimate Straight Ultra Conditioner to maintain sleek and smooth hair. It has keratin relaxers that tame frizz, keratin serum that revives damaged strands, and keratin essence that restores shine to dull hair. 
15. Beach Waves With Bangs
Beach waves add texture to any haircut. And because they're loose, they give your whole look a chic and laidback vibe. This hairstyle is versatile, too. You can wear it as a casual 'do or when attending dressy occasions like weddings and cocktail parties.
16. Long and Center-Parted Waves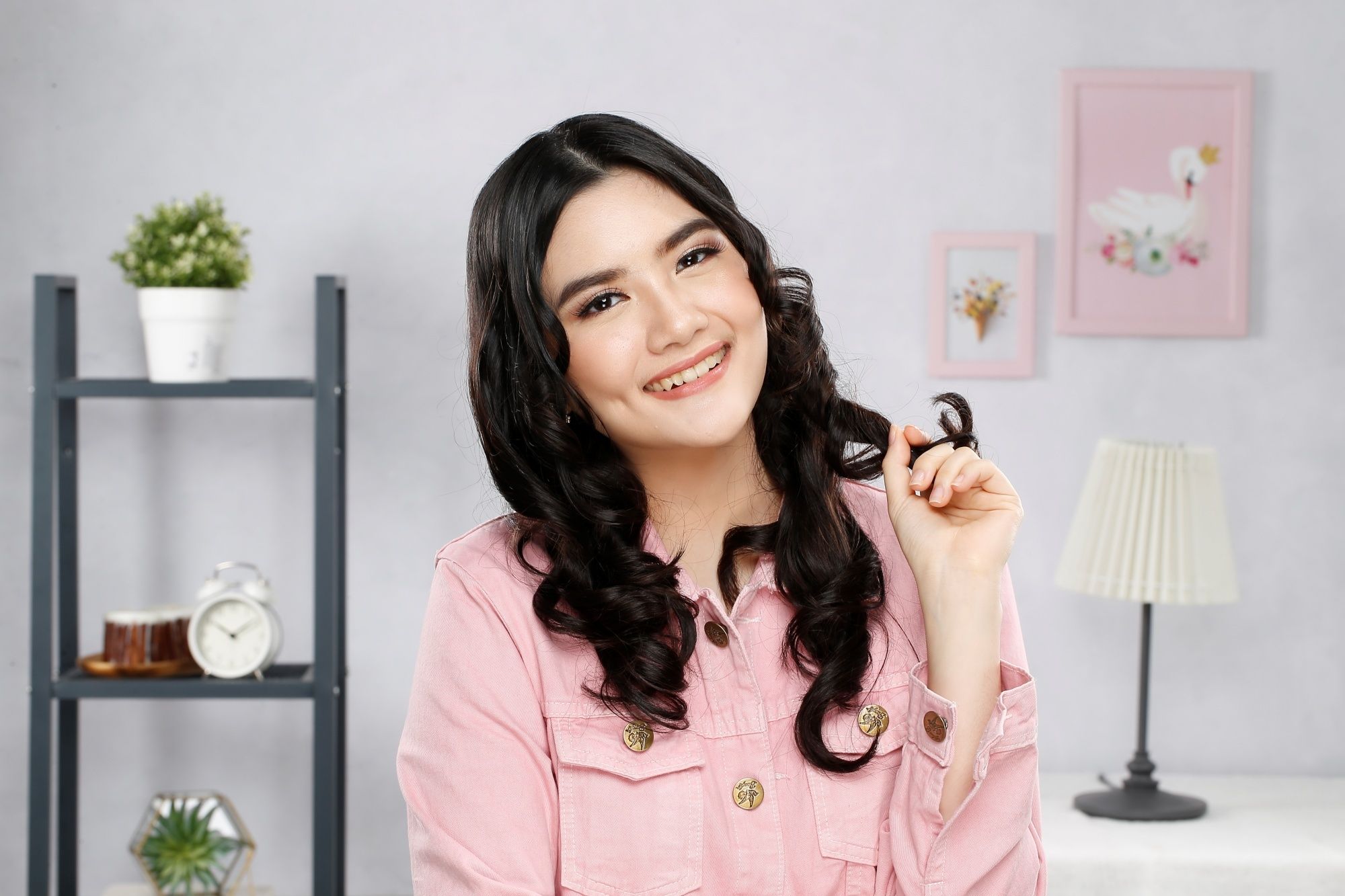 Long hair that falls by your cheeks helps elongate your face. Add curls or waves for some bounce and movement.
17. Crimped Hair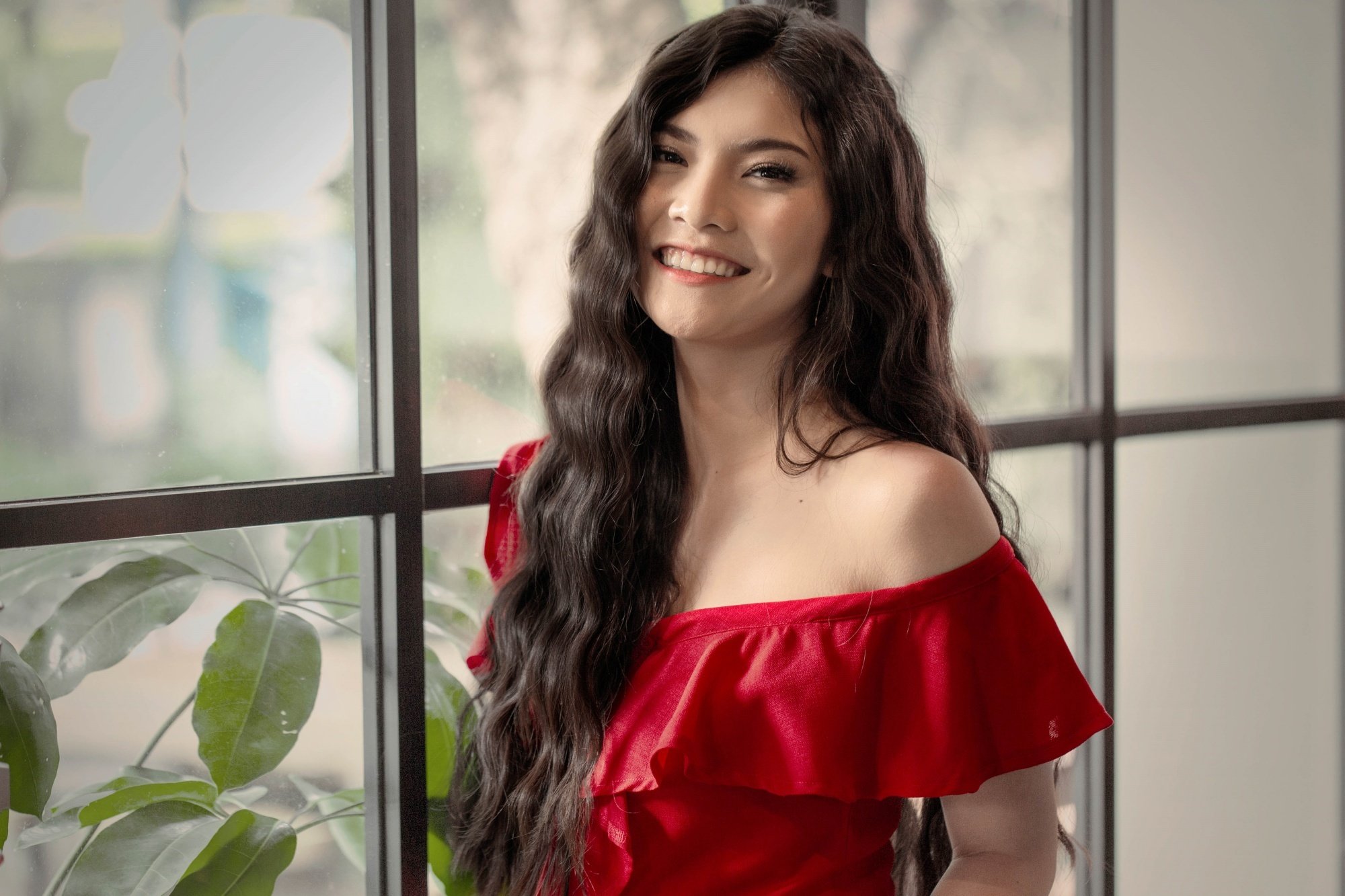 Long, mermaid-like curls or crimped hair also flatters a round face shape. This look is a great break from sleek and straight hairstyles. Crimping also adds texture and volume to thin hair, so you can do this to add body to your flat hair.
18. Low Side Ponytail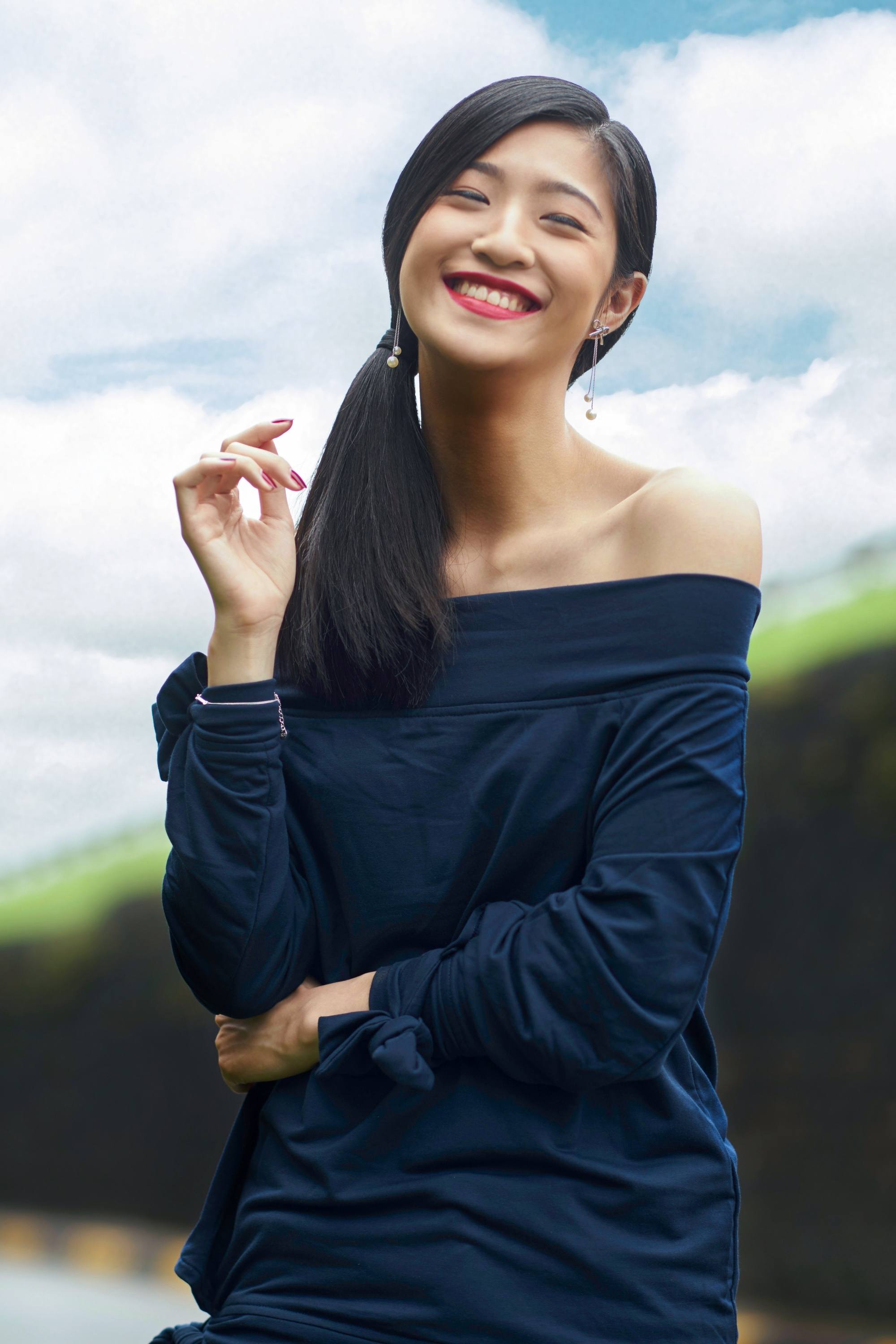 Flatter your face shape with this side low ponytail. To create this hairstyle, just gather your hair on one side. Then, tie it and spritz hairspray to make it smooth and polished. It's a quick and easy hairstyle that suits your round face shape!
19. Ponytail With Side Swept Bangs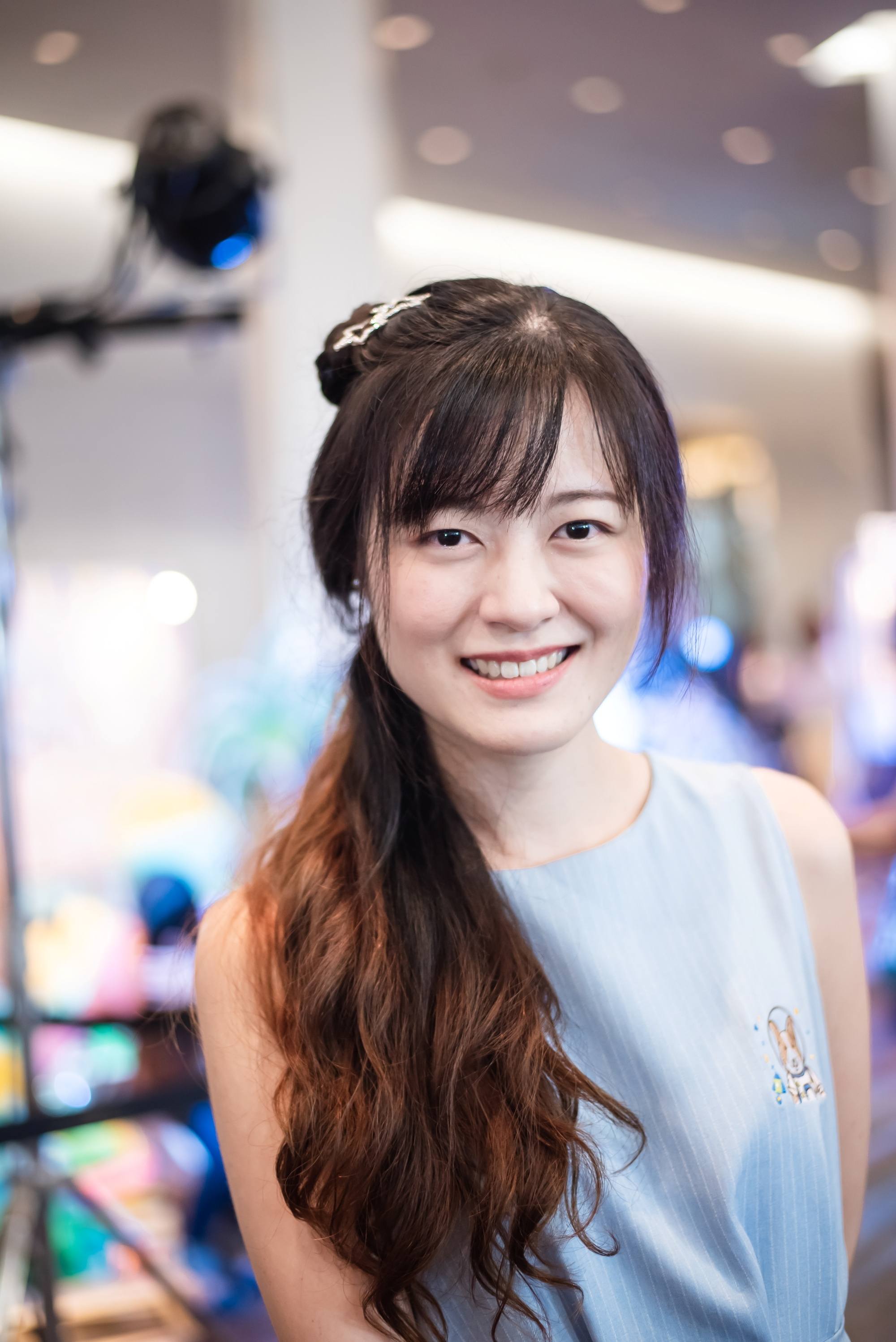 Add character to your ponytail by adding hair clips and a side-swept fringe. Try this hairstyle when you want to jazz up a simple ponytail without looking overdone.
20. Short Curly Hair
If you're looking for short hairstyles for double chins and round faces, try a curly bob. The volume of the curls takes attention away from the width of your face. When you have short hair curls, make sure to keep them moisturized to avoid frizz.
Editor's tip: Wash your curly hair with Dove Nourishing Oil Care 1 Minute Serum Conditioner. It has serum capsules that contain argan, coconut, almond, and sunflower seed oils. They go deep into your hair to treat dryness and nourish it from within. 
21. Space Buns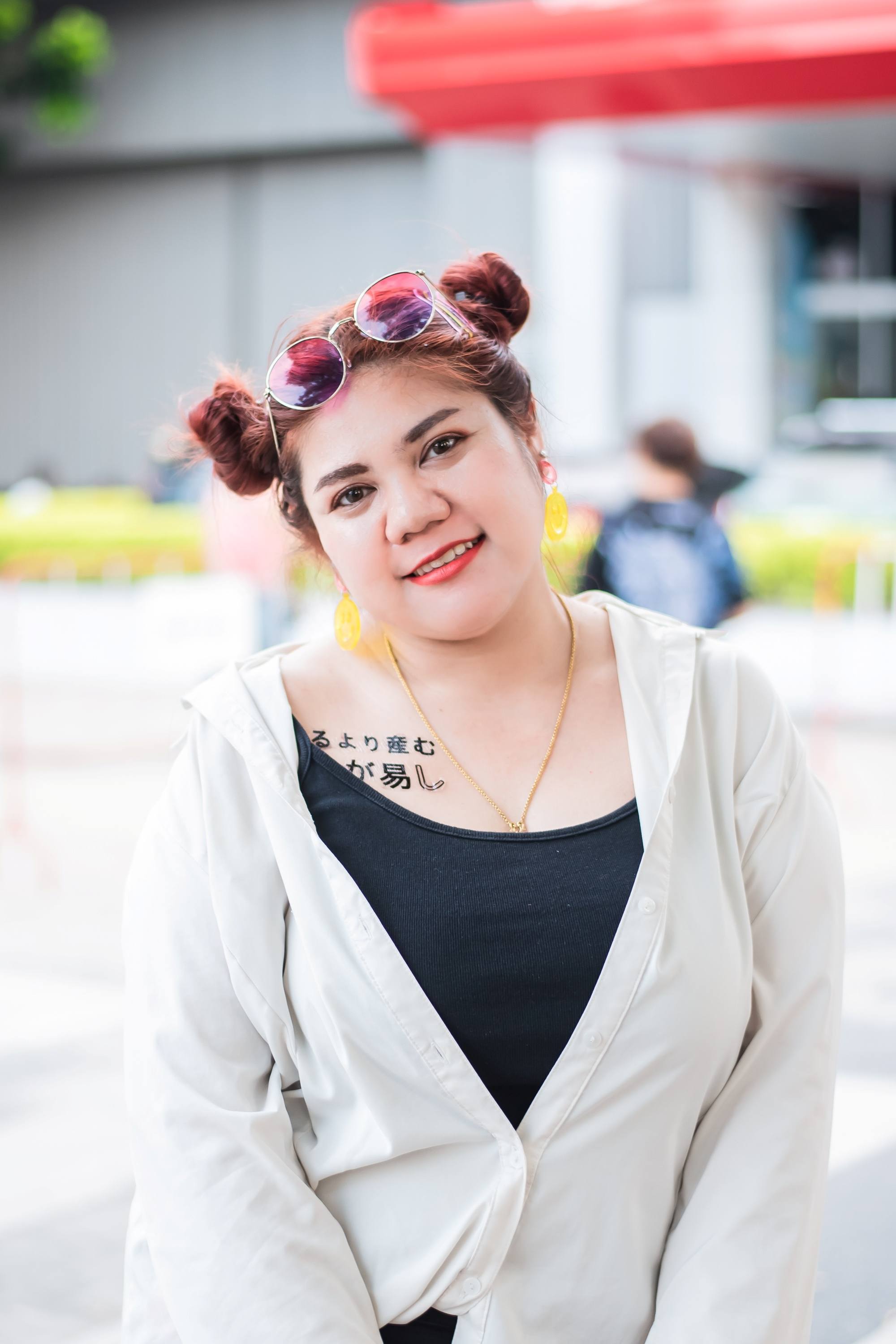 Want a quirky updo? Create two high pigtails and form two buns on each side of your head. Put the buns high on each side to add height to your 'do.
22. Clips on One Side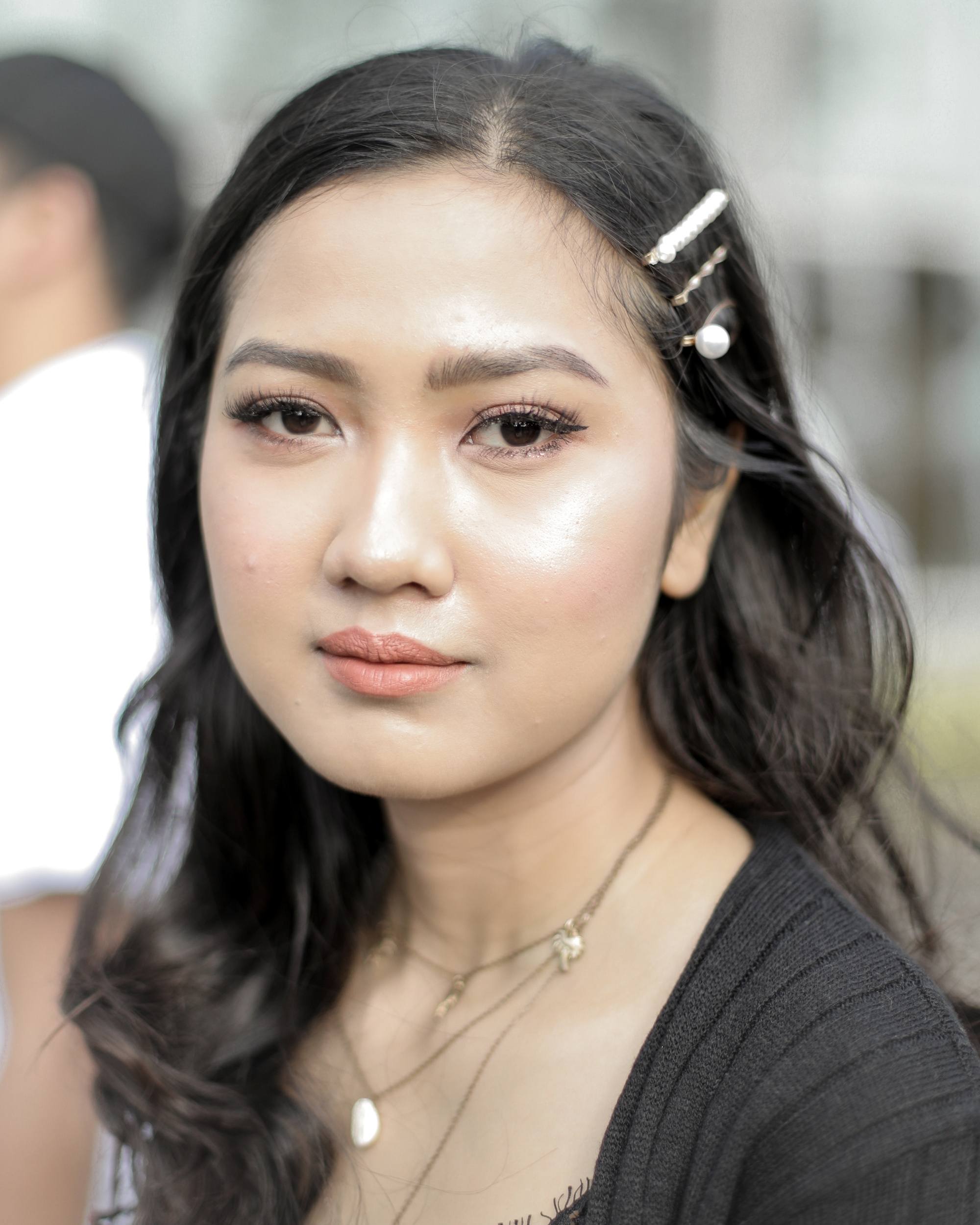 Jazz up your down 'do by wearing hair clips. You can mix and match different hair clips to create a playful look. Put the clips on one side of your hair while the other side frames your face.
23. Bob With Headband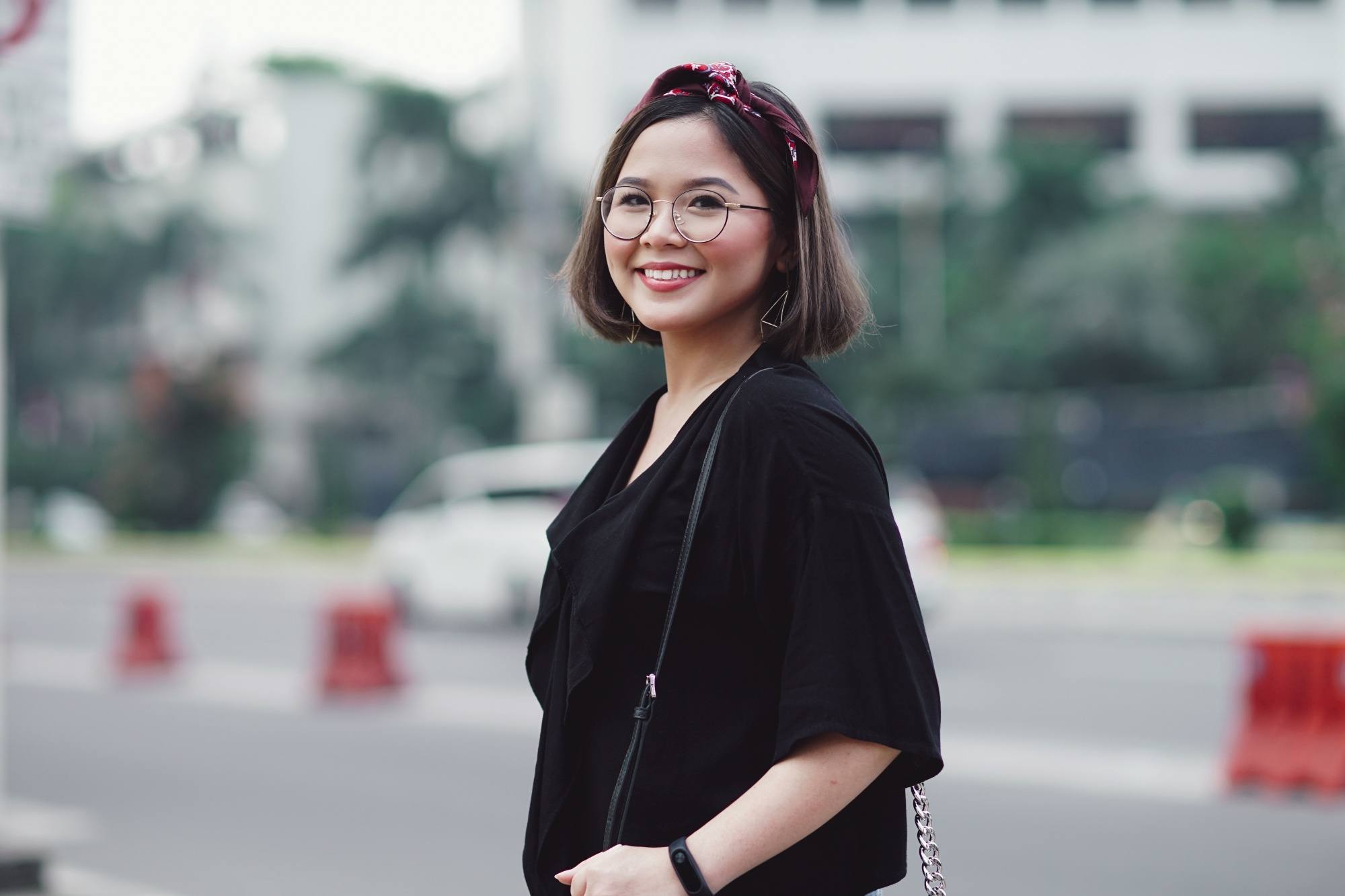 Aside from being chic, this hairstyle is a practical choice when you want to keep strands off your face. You can also get a headscarf, fold it until it's about an inch wide, then tie it around your head. So easy!
24. Bob With Sparse Bangs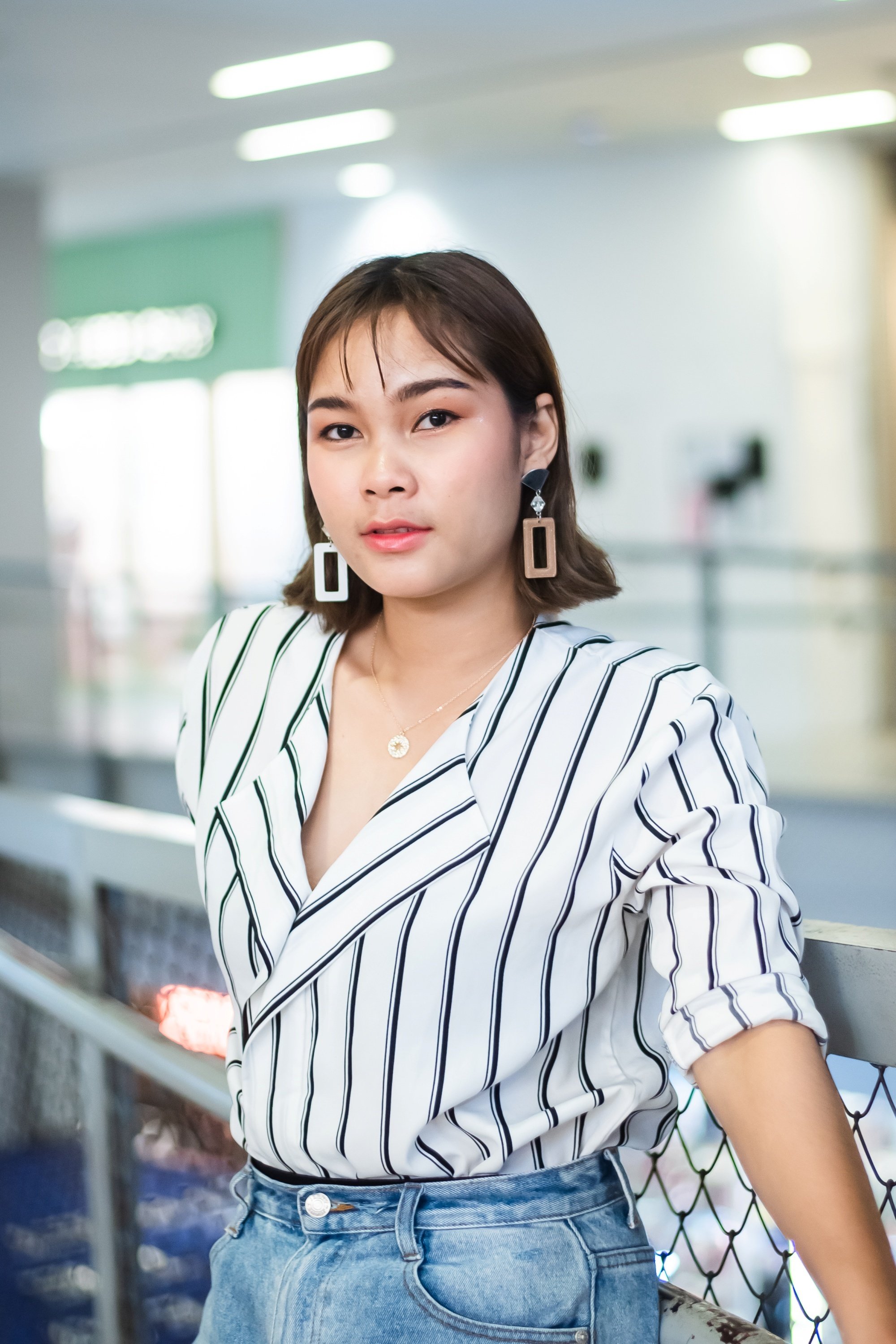 Sparse bangs are thin, wispy bangs that sit on your forehead without covering it. They help soften your look and they also frame your face and help give it balance. Wear it with a sleek and smooth bob, and the result is a polished hairstyle for round faces.
25. Ponytail With Bobby Pins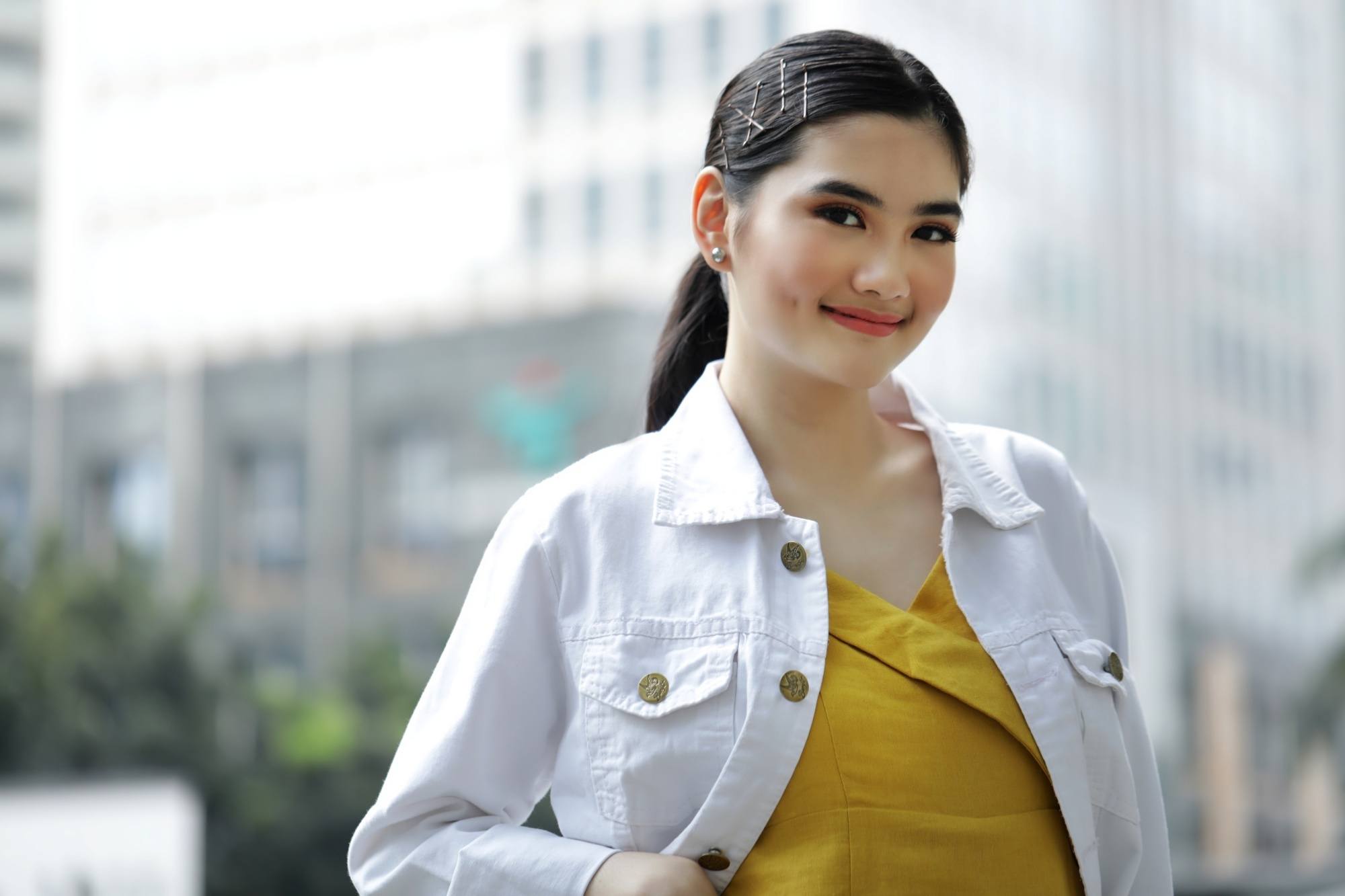 Parting your hair on the side can give the illusion of a less wide face, so we recommend doing it before tying your hair into a ponytail just above your nape. Then, jazz up your simple hairstyle by adding metalling bobby pins on one side of your hair.
Now, you have all these ideas to help you choose the best hairstyle for round faces. Which of these do you love most? Once you've picked your fave, go ahead and rock your look!
Prev Article
Next Article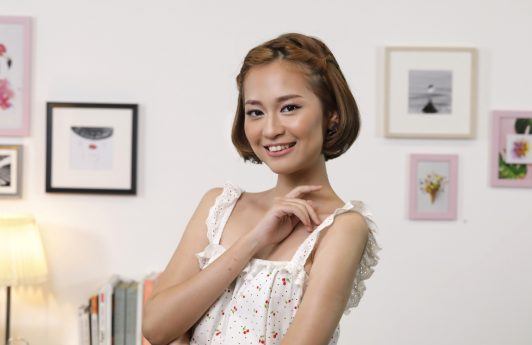 Gallery
Short Hair for Round Face: 25 Chic Ideas for Pinays
Got a round face shape? Here are short hair ideas for you!
See article