How to Turn Your Super Straight Hair Into Curly Hair
Make the prep work worth it. Learn how to get your super straight hair to hold curls.
Straight hair is great for just about any occasion,  but there are days when you wish your super straight hair can actually hold a curl and stay that way all throughout the day. After all, turning straight to curly hair takes some work, and wouldn't it be great to enjoy these waves and curls for a long time?
Curling your hair doesn't need to be a struggle. With a few easy tips and hair hacks, you can rock curly hair effortlessly!
Tips to Nail Straight to Curly Hair Transformation
1. Keep it well-conditioned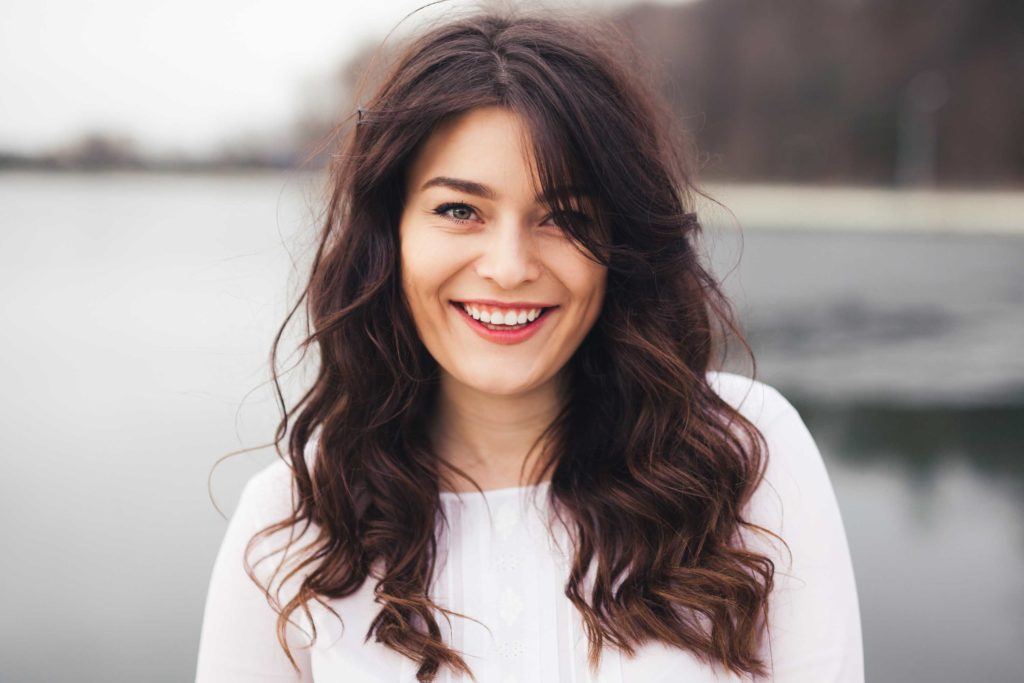 For your hair to hold a style, it needs to be healthy, nourished, and frizz-free. To achieve this, don't forget to condition your hair whenever you wash it. Conditioning also replenishes lost moisture to your hair so you don't end up with fried-looking strands.
Editor's tip: If you're worried about your conditioner making your hair flat, use Cream Silk Hydra Fresh Fresh & Bouncy Light Conditioner. It's perfect for hydrating flat and limp hair because it doesn't weigh your hair down. Its water-based and easy-rinse formula also keeps your hair from getting greasy. 
2. Don't curl your hair immediately after a shower
Hair is at its most fragile when it's wet, so give your mane enough time to dry before you begin the curling session. Besides, it's easier to style your hair when you're working with its natural texture. So let your hair air dry for at least 15 minutes before attempting to style it.
3. Prep with a heat protectant spray
Spritz your favorite heat protectant spray on your hair to prevent heat damage. This is a vital step whether you're curling, straightening, or blow-drying your hair.
Editor's tip: Use TRESemmé Keratin Smooth Flat Iron Smoothing Spray to protect your hair from the damage caused by heat-styling tools. It also seals in shine and gives your curly hairstyle movement and bounce.
4. Use the right tools
Investing in a good curling iron may be expensive, but they heat up better, which means that you don't need to apply heat for as long, saving you a lot of time. It's also important to know and use the right barrel size. If you have super straight hair, it's best to use a one-inch or 1.5-inch barrel, depending on how loose or tight you want your curls to be.
Editor's tip: Using heat styling tools like curling iron can cause severe damage to your hair. Cream Silk Triple Keratin Rescue Ultimate Repair & Shine can help protect and repair hair damage.
5. Section and pin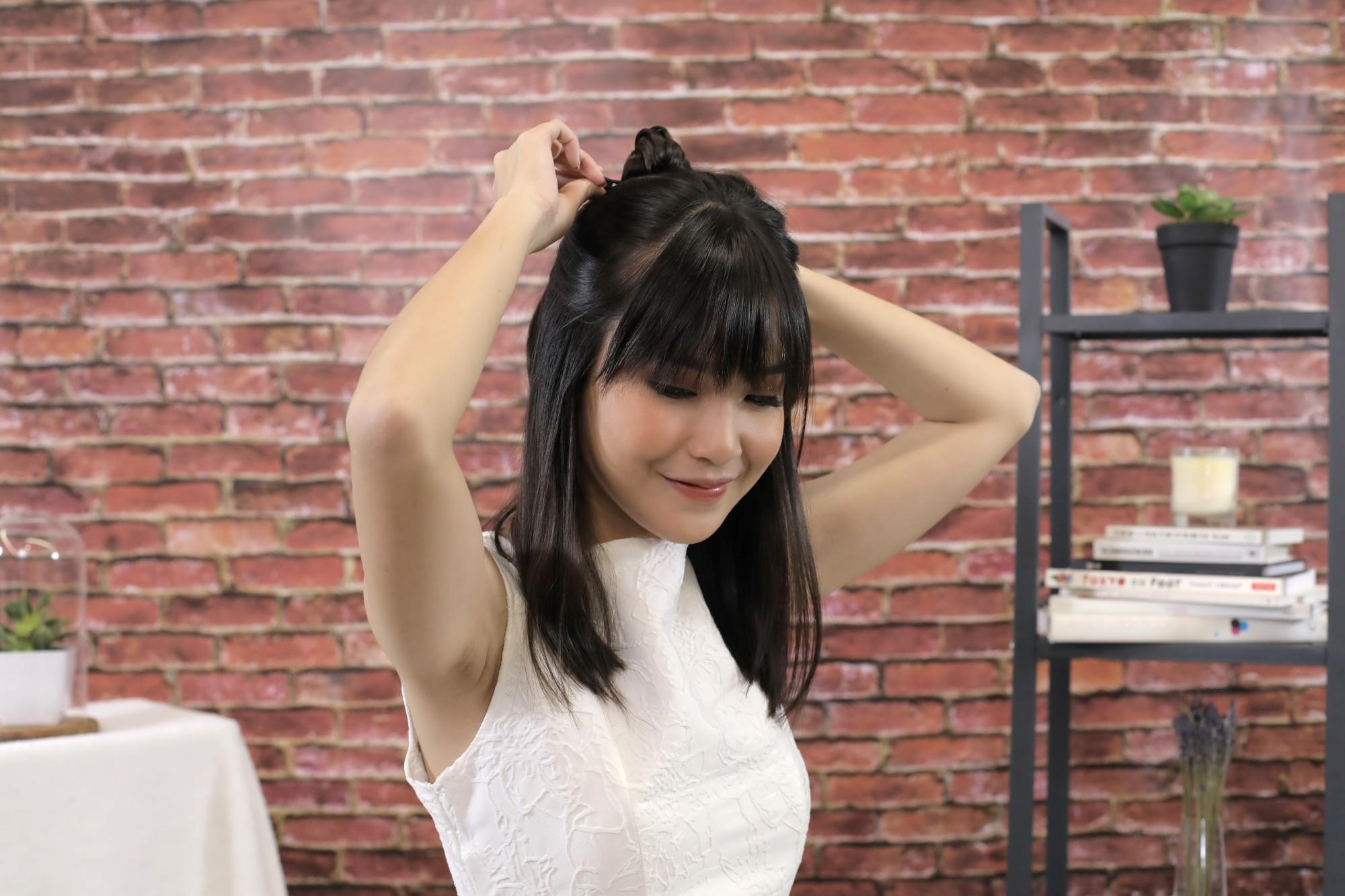 Sectioning your hair saves you time and makes your curls look more uniform. Work with smaller sections of your hair when curling as smaller curls tend to hold much longer than larger waves. After curling a section of your hair with a curling iron, keep the curl shape and secure it with a clip or bobby pin. When hair cools down this way, the curls will set and are guaranteed to last much longer.
6. Spray and style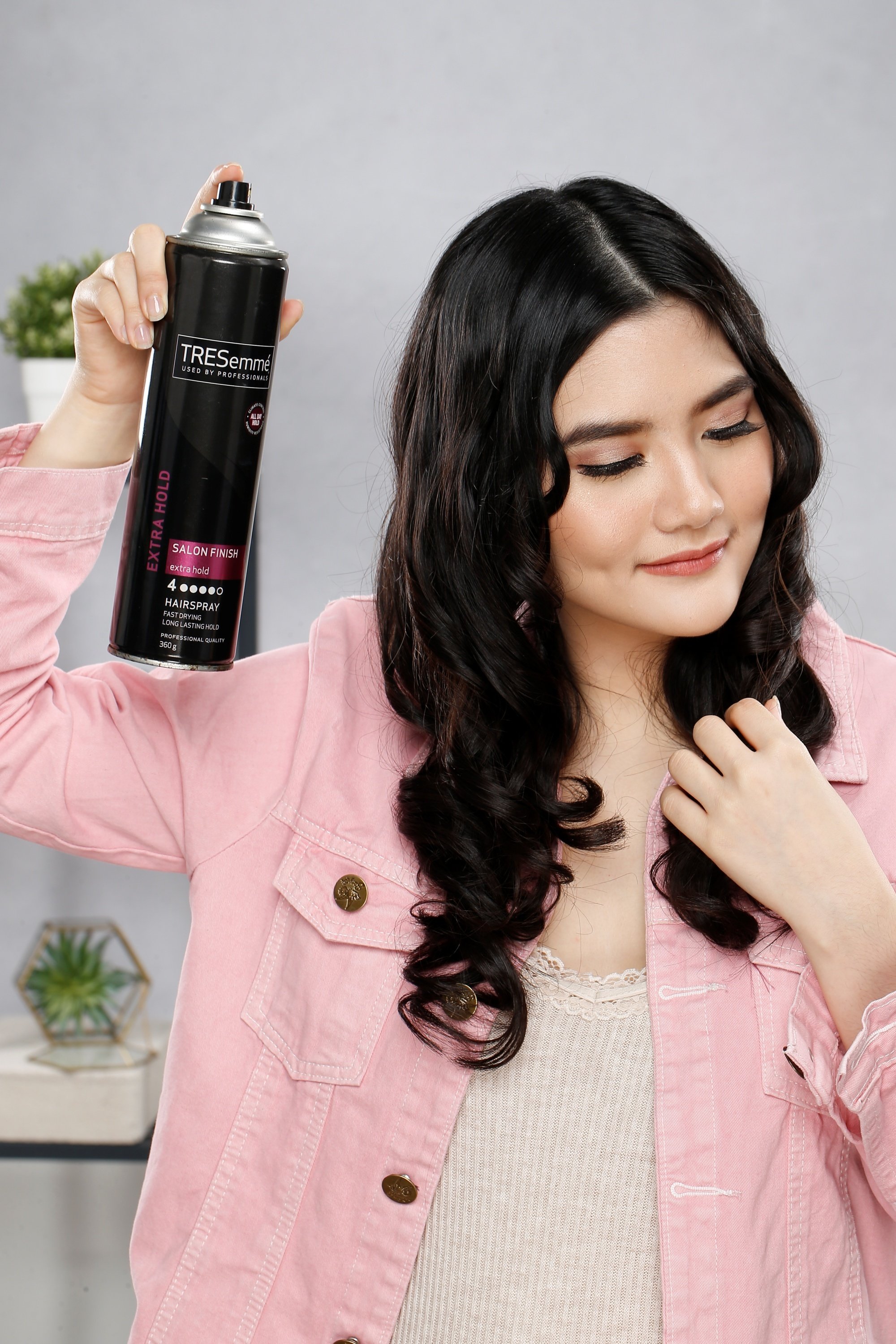 Once you're done curling all the sections and your hair has cooled, remove the clips then gently shake out your curls or run your fingers through them. Remember not to pull too hard as this will loosen the curls; you'd want them to fall and loosen naturally throughout the day. Then, finish by spritzing hairspray to make your curls last.
Editor's tip: Lock your curls in with TRESemmé Salon Finish Extra Hold Hairspray. Lift your hair up in sections and mist underneath for more volume and extra hold. 
Straight Hair to Curly Hair Tutorials
There are several ways to curl your hair. Just pick the method that works best for you.
1. With a Blow Dryer
This basic hairstyling tool can also be used to make gorgeous curls and waves! You just need a round metal brush to help you shape your hair.
Watch this tutorial video to learn how to curl your hair using a blow dryer.
2. Sock Curls
If you don't want to use heat to curl your hair, go for sock curls. Just roll a sock around small sections of your hair, tie the ends, and remove the sock after 30 minutes to an hour. Then, say hello to gorgeous curls!
Learn how to create sock curls by watching this tutorial video.
3. With a Curling Wand
If you want to create more defined curls, use a curling iron with a small barrel. On the other hand, if you want big, loose curls, go for a large barreled curler.
Watch this tutorial video to learn how to curl your hair using a curling iron.
With these tips and tutorials, you can now rock curly hair more effortlessly. Have fun styling your hair!
Prev Article
Next Article
Article
4 reasons mousse for curly hair is a style savior
Mousse for curly hair? Yes, please! If you have curly hair and haven't been using this product, we're giving you reasons to start now! As a lightweight, all-in-one product, mousse for curly hair can help plump, define, and style your tresses.
See article