10 Simple Braids That You Can Easily Do at Home
These simple braids will make your hair look neat and polished every day. The best part? They're so easy to do! You don't need to be a pro to create them. 
When it comes to pretty and practical hairstyles, simple braids are included in the list. These are perfect when you want to look neat on a hot, sunny day. They also keep hair strands away from your face when you're busy. There is also the kind for when you want to look dainty and feminine.
If you're a hairstyling newbie, don't worry. Here are simple plaited hairstyles that you can learn in no time.
Try These Simple Braids Now
1. French Braid
When you know how to create a French braid, you can easily transition to other hairstyles. It's also one of the easiest ones to make. Just gather a section of hair near your crown, divide it into three parts, and start creating a three-strand braid. Add more hair as your braid progresses, and when you reach the tips, secure your braid with an elastic. No sweat!
2. Twin Braids
Want a simple but presko hairstyle to wear this summer? Put your hair in twin braids, and you'll be feeling comfortable and fresh all day.
Editor's tip: Keep your hair fragrant by washing it with Sunsilk Smooth and Manageable Shampoo. It has five flower essences that help make your hair smell good for hours! 
3. Face Framing Lace Braid
Can't decide whether to style your hair or to just leave it down? Do both with face framing lace braid. It's a dainty hairstyle you can wear when you simply want to chill and read a book.
Editor's tip: Make your hair soft and bouncy by washing it with DOVE Oxygen and Nourishment Shampoo and DOVE Oxygen and Nourishment Conditioner. These products can help boost your hair's natural volume so you can rock any hairstyle you want. 
4. Rope Braid
If you find it difficult to cross sections of hair over one another (because how are you supposed to do that when you can't see your hair, right?), go for a rope braid instead. It doesn't require all this weaving. You simply have to twist and twirl two sections of your hair, tie it with an elastic, and you're done! It's the easiest braid ever, so go ahead and give it a try.
5. Boxer Braid
Working out indoors? Doing yoga? The boxer braid can keep all your strands in place, so your hair still looks neat even if you're all sweaty.
Editor's tip: Get rid of frizz and help make your 'do last longer by spritzing TRESemmé Freeze Hold Hairspray on your hair after styling. 
6. Braid Ponytail
Want to look polished and neat? Try this stylishly smart look that you can wear even when you're working from home.
7. With Double Buns
Inject a playful vibe to your everyday look with this hairstyle. You can use brightly colored hair ties to make your 'do more fun, especially when you're in the mood for kawaii hairstyles.
8. Fishtail
If your hair is thin, you can style your hair this way to give it an interesting shape. You can also make your fishtail braids a bit loose for a more relaxed vibe.
9. Looped Side Braids
Another playful 'do that you can try is the looped side plaits hairstyle. You can even finish it in less than 10 minutes! Just make sure that your looped hairstyle is well-secured with bobby pins so they won't fall as you move.
10. Messy Rope Braided Bun
Do you love messy-chic hairstyles? Try messy rope braided bun. Just tie your hair in a low ponytail, create a rope braid, and wrap it around the base of your ponytail to form a bun. Secure with bobby pins, leave some strands loose, and you're done!
Try these looks now to look chic and feel comfortable at the same time, especially during summer. When you've mastered creating these hairstyles, you can experiment with other ideas and learn more ways of styling your hair. Have fun!
Prev Article
Next Article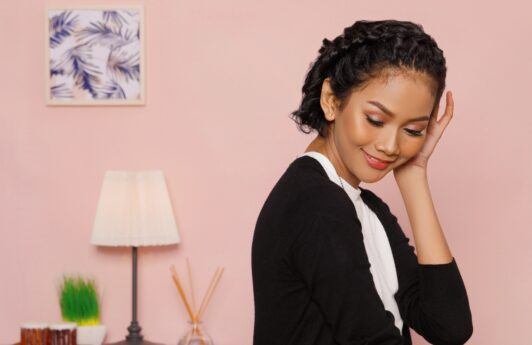 Gallery
20 Braids for Short Hair That Are Perfect for Summer
Add texture and a dose of playfulness to your look with these easy braids for short hair.
See article