4 Interesting ways to do the side bangs style
Give the classic side bangs a bit of an interesting twist with edgy details, side-swept curls, and fancy flyaways!
Mitch
|
February 18, 2018
Side bangs are the fringe counterpart of the lob—they look good on everyone, flatter all face shapes, and they're always, always stylish. If you've been sticking to this classic style for the longest time, we totally understand. You can hardly go wrong with this type of bangs! But if you want to shake things up a little bit, we've got some interesting and creative ways to style your side bangs. These looks make a statement, so if you're game to let your fringe do the talking, keep scrolling down and get ideas, now!
4 Funky ways to style your side bangs
1. Curly
Curl your bangs while leaving the rest of your hair straight for a beautiful contrasting effect that's runway worthy! It's not exactly for everyday wear (unless you always have the time, patience, and the guts to make this your signature look), but it's a good idea if you want to add a spunk to your look at parties.
Editor's tip: Don't forget to mist your bangs with TRESemmé Keratin Smooth Flat Iron Smoothing Spray before you start curling to avoid frying your strands.
2. The rolled-up swoop
This one's more wearable and you can even tweak it a bit to tone down the edginess. You can choose to sweep your bangs up higher so they don't cover your eye and the whole look isn't too out there. Use a curling iron with a thin barrel or a small rounded flat iron to create the roll, pin to the side of your head to secure, and set with TRESemme Salon Finish Extra Hold Hairspray to keep your side bangs nicely rolled up.
3. Braided
If you want to still keep it sweet and stylish, here's a cute way to style side swept bangs. Just create a deep side part and start braiding your fringe all the way to the opposite side, securing the end to the back of your head or behind your ear with bobby pins. The look only requires the regular three-strand braid so it should be very easy.
Editor's tip: Wash your hair with TRESemmé Keratin Smooth Shampoo and TRESemmé Keratin Smooth Conditioner for a sleek, frizz-free style; then when your hair's dry, apply a pump of TONI&GUY High Shine Serum Drops for added gloss, right before styling.
4. Long & messy swoop
Even side bangs can enjoy the messy hair trend! You can adjust the messiness according to your liking, but you can easily keep your side swept bangs piecey by spraying with TONI&GUY Sea Salt Texturising Spray. Comb a bit to separate the strands, put in a half-up half-down 'do, and set with TRESemmé Freeze Hold Hairspray.
So if you ever get bored with your side bangs, you can always give it zing by adding edgy details here and there.
For more ideas on how to wear your bangs, check out our page specially dedicated to fringe hairstyles!
Prev Article
Next Article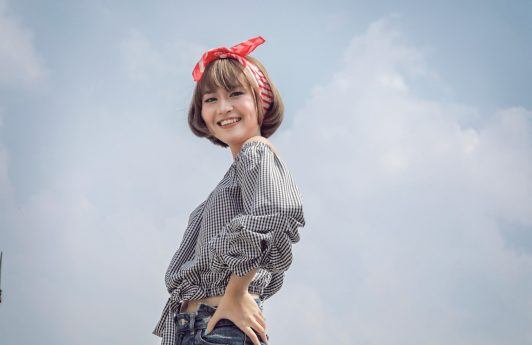 Gallery
Bangs for Round Face Shapes: 20 Hair Ideas for 2023
Here are chic ways to rock bangs for a round face shape.
See article