Our Best Hair Serum Recommendation for You
Get smooth and shiny hair, along with other benefits, with the help of a hair serum.
When it comes to taming flyaways and frizz, hair serums are your hair's BFF. They are styling products that you usually apply as finishing touches to your hair to help keep frizz under control, especially when the weather is warm and humid. When used together with a nourishing shampoo and conditioner,  hair serums can help make your buhaghag hair smooth, shiny, and manageable.
Curious to know more? Well, you've come to the right place! We've listed the benefits of using a hair serum and why you need it in your hair care routine.
Why Using A Hair Serum is Good for Your Hair
If you've been looking for a good hair serum, we recommend TRESemmé Keratin Smooth Anti-Frizz Shine Serum.  It contains keratin and marula oil, giving your hair five benefits in one amazing product. Here they are.
1. It makes your hair shiny.
Depending on how long or how thick your hair is, a drop of hair serum can already do a lot in helping you get sleek and shiny locks. It's the perfect finishing touch for sleek hairstyles or glam waves.
2. It calms frizz.
We can't stress this enough. Hair serums are great at combating frizz. Use it post-styling to help your hairstyle remain frizz-free no matter the weather. But take note: a little serum goes a long way. Be careful and don't apply too much. While serums are great, too much hair serum can make your hair look greasy, so apply little by little until you give your hair just the right amount of smoothness and shine.
3. It helps in detangling your hair.
Hair serums leave a moisturizing layer on your hair to help make it smooth and shiny. And when your hair is smooth, it's easier to detangle because your comb seems to just glide through your mane.
4. It makes your hair soft.
Say goodbye to rough strands! Get hair that feels silky and soft with a drop (or two) of hair serum.
5. It tames flyaways.
One of the struggles of living in a humid country is dealing with flyaways. You start your day with smooth and well-styled hair. Then, by midday, you see tikwas dampening your style! So, make it a habit to finish your hairstyling with a drop of hair serum to keep tikwas at bay.
How to Apply Hair Serums
Hair serums are a quick, no-fuss way to add gloss and shine to your hair. But applying it the wrong way can easily ruin your hairstyle. So, here are the easy steps on how to use it:
Step 1: Dispense a pump into your palm. Never pump the product directly to your hair so you'll be able to control the amount and distribute it evenly on your hair.
Step 2: Rub your palms together to make the serum warm. This allows the product to better be better absorbed by your hair.
Step 3: Apply it from the mid-lengths to the tips of your hair. You may finger-comb your hair to help you apply the product evenly.
Step 4: If your hair is long and thick, you can dispense another pump into your palm and apply a second coat. You can also apply half a pump if you're simply applying on dry ends to add smoothness and shine.
There you have it! Using a hair serum gives your hair loads of benefits. Plus, it's easy to use, so make it a part of your daily hairstyling and hair care routine.
Prev Article
Next Article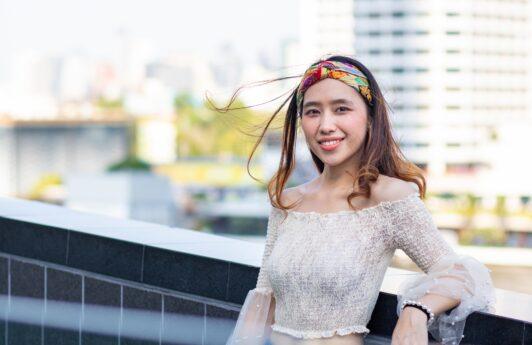 Article
10 Headband Hairstyles That Will Jazz Up Your Look
Say bye to plain-looking hairstyles by wearing a cute headband! Here are chic ways to rock this hair accessory.
See article