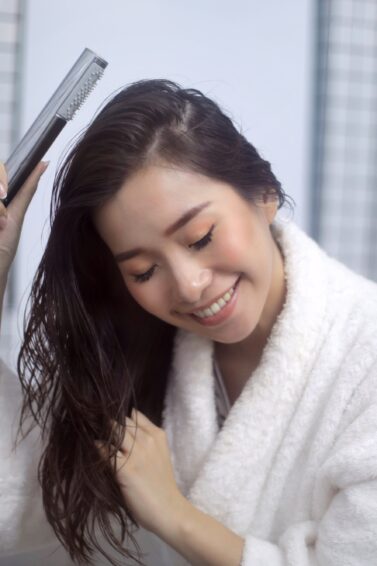 Water-Washing Hair: What You Need to Know Before Switching to This Method
Can you wash your hair without shampoo and conditioner?
Hair-washing habits differ from one person to another. Some may prefer using their favorite shampoo-and-conditioner duo, while others have decided to co-wash or use only their conditioner when washing their hair. But have you heard of water-washing hair? As the name implies, it's the process of cleansing your hair using lukewarm water only. Yup, no shampoo, no conditioner, and no other products.
Advocates of this method believe that not using shampoos can help preserve your hair's natural oils. After all, conventional shampoos have surfactants in their ingredients. These surfactants—often listed as sodium lauryl sulfate and sodium laureth sulfate or SLES—help remove excess oil, dirt, sweat, and trapped pollutants from your hair and scalp. They also make your shampoo lather. In a nutshell, surfactants make your shampoo do its job, which is to cleanse your hair, but they often get a bad rap for stripping your hair's natural oils and leaving your strands dry.
With the water-washing or water-only method, you don't have to worry about shampoos doing this to your hair. But this process is more than just running your hair under the tap. Read on to learn how to do it right. And most importantly, check if this hair-washing method is for you.
Steps in Water-Washing Hair
1. Scrunch your strands.
Gently rub your fingertips on your scalp to massage it and help break up oil and trapped dirt. Finger-comb your hair as well to detangle it.
2. Pinch them.
Take a small section of hair and gently slide two fingers on it from the roots to the tips to help distribute your hair's natural oils. Do this to all sections of your hair.
3. Brush.
Use a boar-bristle brush or a paddle brush to distribute oils to all your strands even more and help remove hair knots. Brush your hair from the roots to the tips.
4. Wash your hair.
It's time to get your hair wet! Rinse your hair using lukewarm water while finger-combing to help get rid of grease and dirt. Finger-combing will also help keep your hair from being a tangled mess post-wash.
5. Switch to cool water.
When your hair is already cleaner and less greasy, rinse it with cool water to close your hair cuticles, keep moisture in, and help make your hair shiny.
6. Dry your hair.
Pat your hair dry with a soft towel, an old t-shirt, or a microfiber towel. Refrain from using coarse towels to protect your hair from breakage and frizz. Then, detangle your hair using a wide-tooth comb.
It's Only Water. Can It Be Bad?
Water is generally harmless, and washing your hair with it can help remove some dirt. But water alone may not be enough to cleanse your hair, especially if you live in a hot and humid country. When you don't use shampoo, you might deal with amoy pawis and malagkit hair during the punishing summer months. Add to that the pollutants that may mingle with your sweat after a long commute or a workout session, and you might end up with overly greasy hair.
Dirt buildup can also make your scalp itchy and irritated. This, plus an overly greasy scalp, might be a recipe for dandruff. You see, on our scalps lives a type of fungus called Malassezia. When there's an overproduction of oil or sebum on the scalp, Malassezia thrives and causes the scalp to get flaky.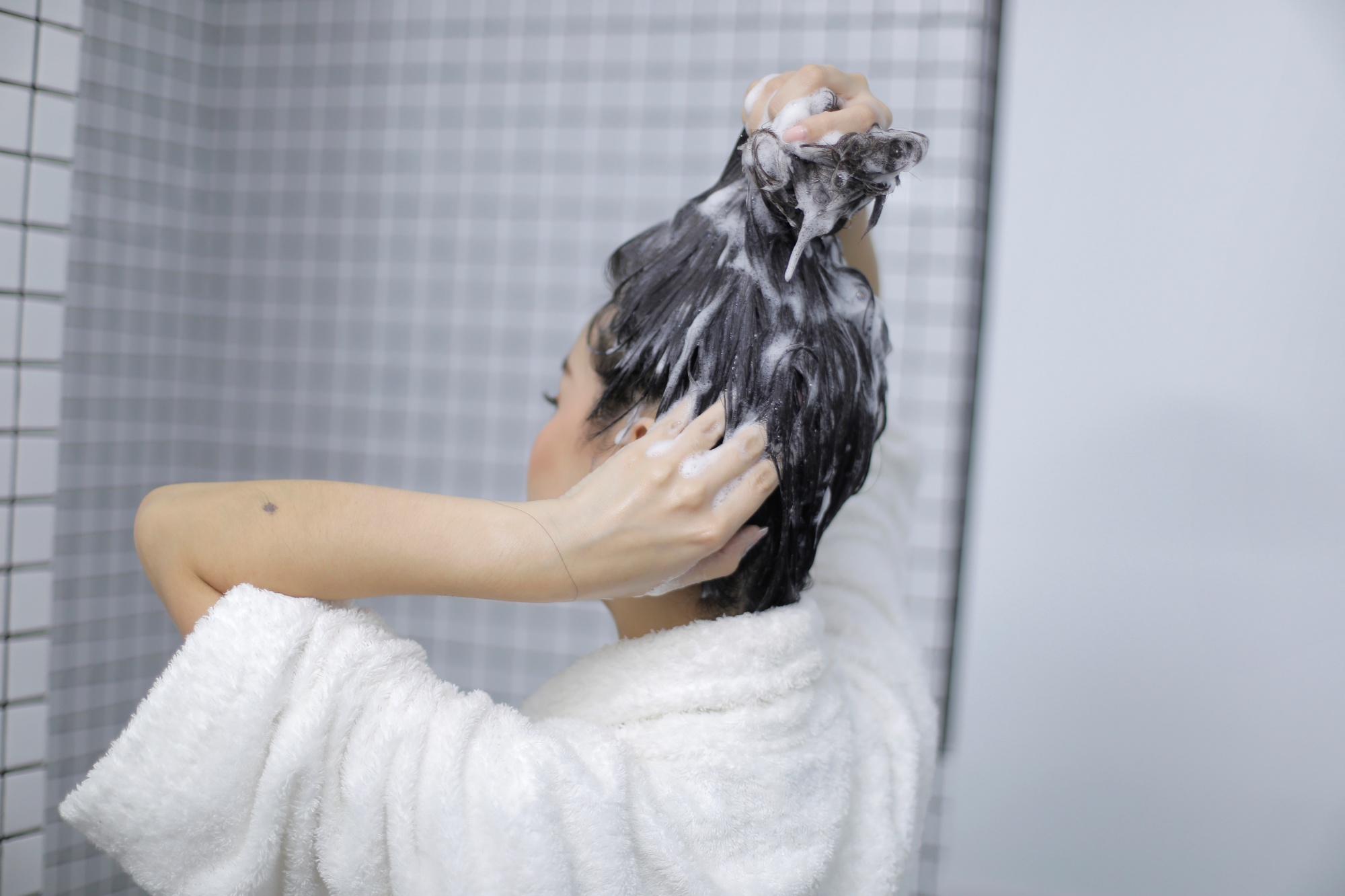 Also, shampoos and conditioners have nourishing and moisturizing ingredients. Ditch these products, and your hair doesn't get these products' benefits. If you're worried about hair care products drying out your strands, you can check out various shampoos that gently cleanse your hair. Why don't you try Dove Botanical Silicone Free Shampoo for Damaged Hair Restore? It is made with 100% botanical oil with pink Moroccan rose extract. This shampoo nourishes your hair and leaves it lightweight and beautiful. And the best part? This shampoo has petals floating in it. These petals dissolve as you lather for more nourishing power!
Want to get fragrant hair? Try Sunsilk Smooth & Manageable Shampoo. It has the new Activ-Infusion, a blend of oils, vitamins, and proteins that protect hair from damaging factors like dust, heat, pollution, the sun's UV rays, and humidity. Its flower oils leave your hair sweet-smelling, form a protective shield, and keep your strands moisturized.
After shampooing, don't forget to condition your hair! Conditioning keeps your hair from getting dry and brittle, so you can avoid breakage and hair fall. Try Cream Silk Ultimate Reborn Hair Fall Defense Tri-Oleo Conditioner. It is infused with Tri-Oleo Complex, a blend of three nourishing and lightweight oils such as argan oil, rosehip oil, and marula oil. This combination strengthens, smoothens, and moisturizes hair. This conditioner also has Break Shield Complex which helps strengthen brittle hair from the roots to the tips.
Should You Wash Your Hair With Water Only?
If you've spent the entire day at your house and you simply want a quick refresh, you may do away with shampoo and conditioner. However, for your daily hair care routine, we recommend washing your hair with a shampoo-and-conditioner duo that's right for your hair type and hair goals. Shampooing your hair regularly keeps your hair clean and nourished. Meanwhile, conditioning brings back lost moisture and keeps your hair smooth, soft, and manageable. All these work together to give you the great hair day you deserve.
Prev Article
Next Article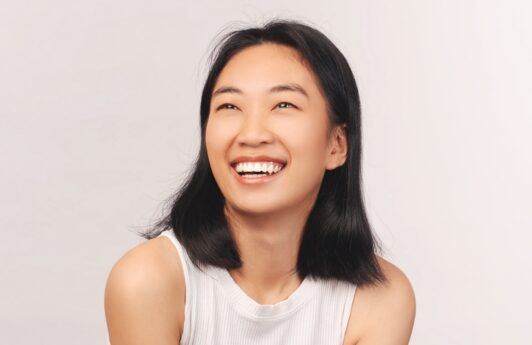 Article
Hair Care Hacks When You Can't Wash Your Hair
The world seems to stop when the water supply gets cut. You can't cook, clean, and shower. Check out these hair care hacks to help keep your tresses clean and fresh when you have to skip a wash or two.
See article