13 Kulot Hair Care Habits for Pinays
It's time to get into good hair care habits, like taking care of your kulot hair properly. Here are easy tips to get you started.
Taking care of kulot hair involves a hair care routine designed for this hair type. For one, curly hair is prone to dryness and frizz, especially in a humid climate. You need hair products that are deeply nourishing and moisturizing to give your curls a good texture.
Now is the time to switch to a nourishing hair care routine for your curls. Check out these tips, as well as our recommended hair serum, conditioner, and shampoo for curly hair.
How to Take Care of Your Curly Hair
1. Turn to styling products for help.
Applying hair serum can help make your curls look smoother and sleeker without weighing them down. You can also use hair mousse to style your kulot hair, as it tames frizz while helping make your curls more defined.
Editor's tip: Apply a drop of TRESemmé Keratin Smooth Anti-Frizz Shine Serum to your hair to keep your curls smooth and glossy. This hair serum has keratin and marula oil, giving your hair five benefits in one amazing system. It calms frizz, adds shine, detangles hair knots, makes your hair soft, and tames flyaways. It also has a non-greasy formula, so you get shiny curly hair that's full of movement. 
2. Always condition your curly hair.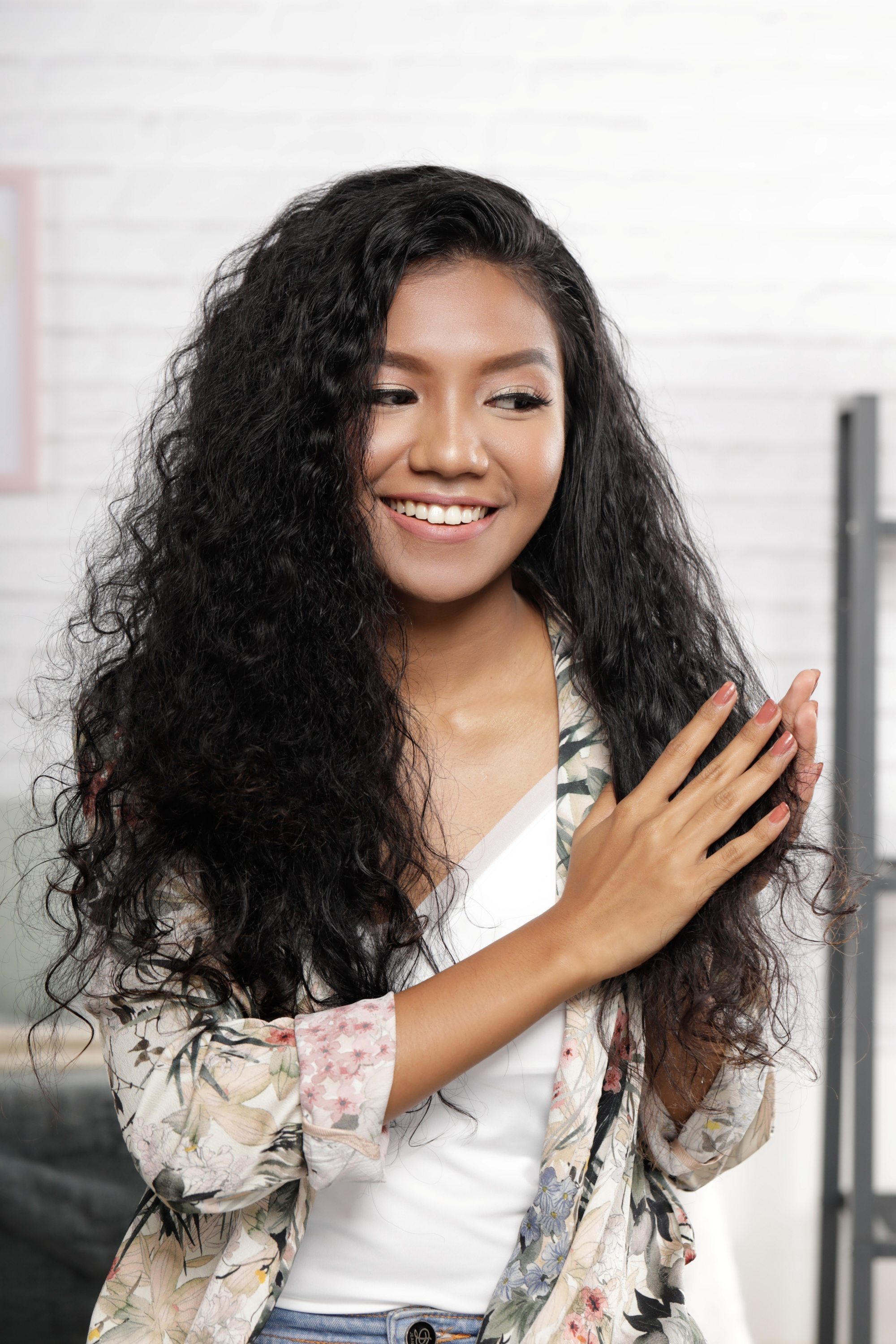 Using a hair conditioner is a must for curly hair. It gives your locks extra moisture to prevent frizz, making them easy to manage. After shampooing, apply the conditioner and leave it on for a minute before rinsing to give your strands time to absorb the moisture.
Editor's tip: Go for a conditioner that moisturizes your hair deeply like Dove Nourishing Oil Care 1 Minute Serum Conditioner. It is infused with coconut, argan, almond, and sunflower seed oils as well as vitamin E. These help fight frizz and dryness, making dry and rough hair softer and smoother.
3. Shampoo your curly hair less often.
Kulot hair tends to be dry, and your natural oils help provide the moisture it needs. Overwashing your hair can remove the natural oils on your scalp, and this leads to dryness. On some days, opt to co-wash your curls, where you skip the shampoo and just use conditioner on your hair.
Editor's tip: Use a moisturizing shampoo for curly hair like Love Beauty and Planet Murumuru Butter & Rose Blooming Colour Shampoo. It's not only for colored hair. Because murumuru butter has deeply moisturizing properties, it can also help keep your curls from drying out and help make your hair shiny. 
4. Skip the brush.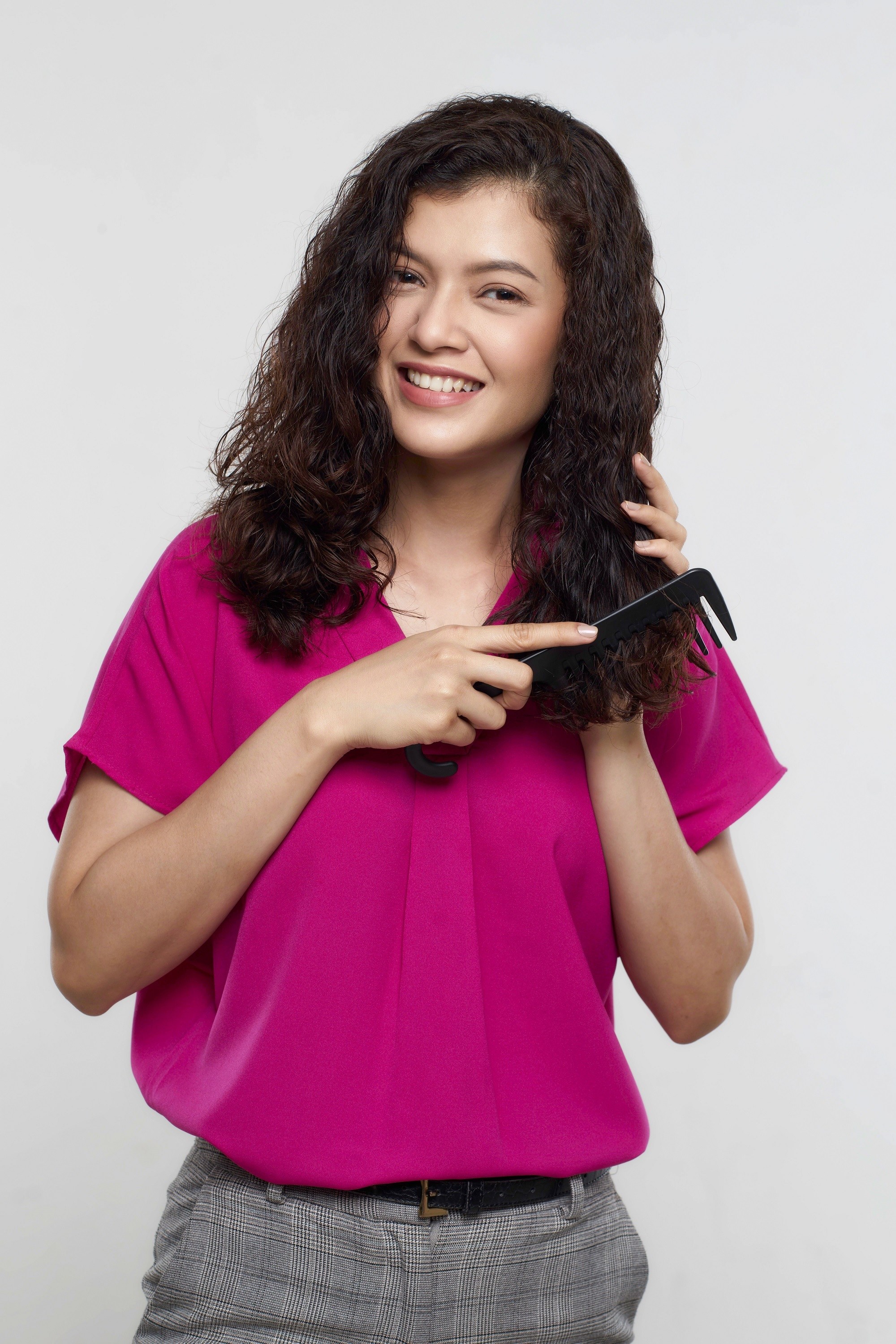 Combing out your curls using an ordinary brush or a fine-tooth comb is a no-no. This causes the curls to break up, making your hair more prone to frizz. Instead of yanking on your curls with a fine-tooth comb after a bath, gently detangle your hair using either your fingers or a wide-toothed comb. Twirl each cluster of curls, set it in place, then scrunch it. Not so hard, right?
5. Set your diffuser on low heat.
A diffuser dries your curly hair without ruining or damaging its shape. But go easy on the heat so you don't dry out your curls.
6. Leave your curly hair be.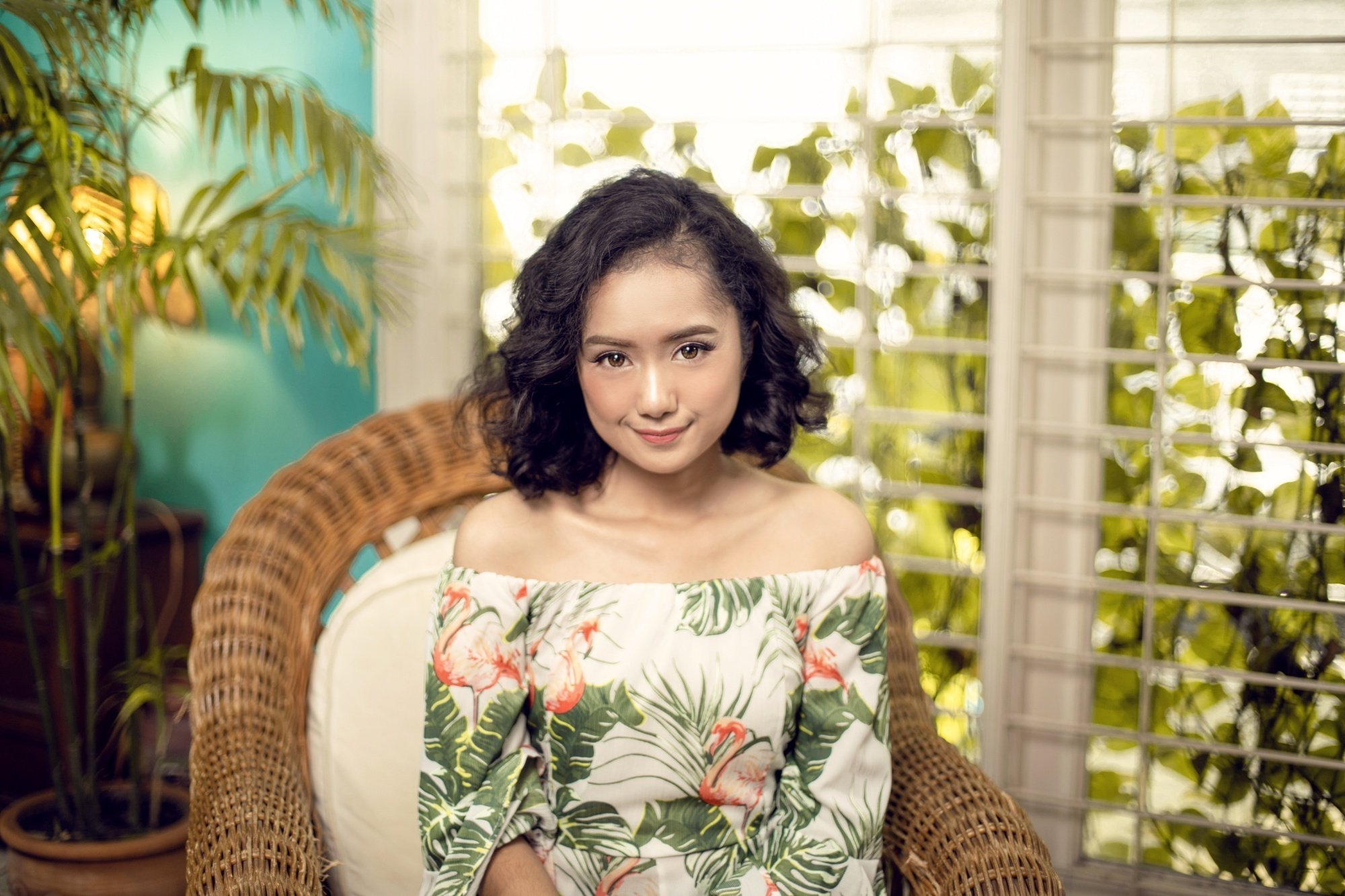 It's very tempting to keep touching curly hair throughout the day to make sure that each ringlet is still in place. It seems like a harmless habit, but it's actually a major culprit of frizz. Constantly twisting and twirling also make your hair stressed, causing it to fall off. Just leave your hair, and get on with your day.
7. Use spiral hair ties.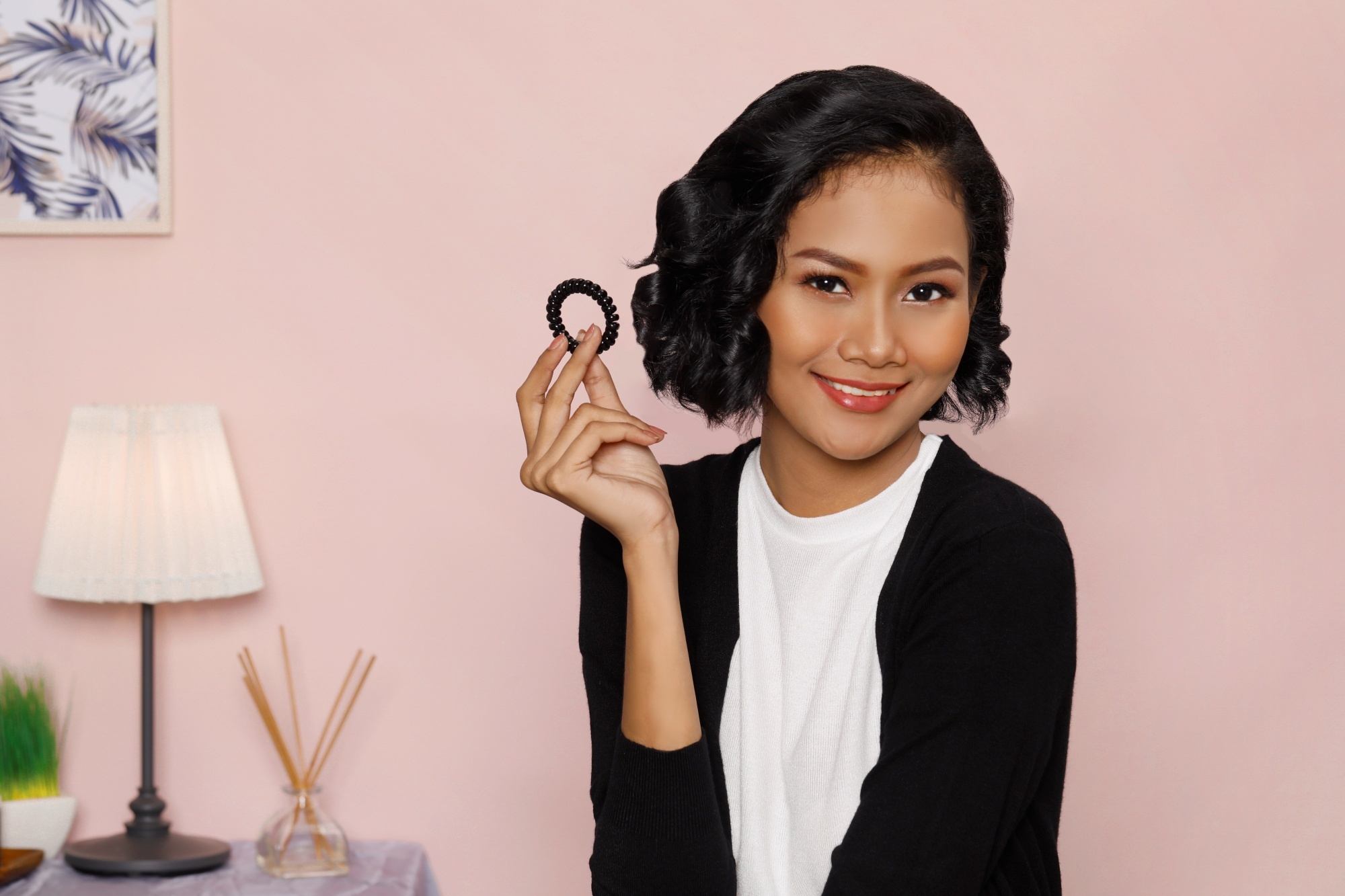 Putting your curly hair up? Use spiral hair ties instead of regular hair elastics or rubber bands. Spiral hair ties do not wrap around your hair too tightly. They put less stress on your hair, so your strands are less likely to break and get damaged.
8. Go to an experienced hairstylist.
Yes, your choice of hairstylist matters a lot. Not all hairstylists know how to cut curly hair properly, especially here in the Philippines, where curly girls often get asked if they want a rebond upon entering a salon. Experienced hairdressers will cut your hair dry and snip off your strands according to your curl pattern. They can also teach you how to style and maintain your ringlets. It might take some trial and error to find "the one," but when you do, it'll be totally worth it.
9. Style curly hair when damp.
Unlock the world of defined, frizz-free curls with the "cup, squeeze, crunch" method. After applying your favorite curl-enhancing product to damp hair, cup your curls in your hands and gently squeeze out excess water. Then, lightly crunch them upward and toward your scalp. This technique will encourage your curls' natural shape, giving you gorgeous, bouncy locks as they dry.
10. Use silk or satin pillowcases.
Curly-haired folks, rejoice! Silk or satin pillowcases can be your secret weapon for preserving your curls overnight. These smooth, luxurious fabrics reduce friction between your hair and the pillow, helping to prevent tangles and breakage. Make the switch to a silk or satin pillowcase and wake up to softer curls.
11. Don't forget to take care of your scalp.
Let's talk about the real MVP of your hair routine: a healthy, happy scalp! Get those fingers working with regular scalp massages to boost circulation and hair growth. If your scalp is itchy or flaky, use a gentle anti-dandruff shampoo like Dove Dermacare Scalp Soothing Moisture Shampoo. It has Olacare Scalp Actives, a blend of Octopirox, sunflower seed oil, and glycerin. Octopirox works deep in the scalp to keep flakes away. Meanwhile, glycerin helps keep our scalp from drying out and helps with skin barrier repair. Sunflower seed oil keeps your hair moisturized.
12. Always shower with cold water.
Let's be real, hot showers feel amazing, but they're actually doing your curly hair dirty by stripping away all those natural oils your hair needs. This leaves your hair dry and prone to frizz and breakage. So, next time you're lathering up, give cold water rinses a try. Trust us, your curls will thank you for it!
13. Get regular trims to avoid split ends.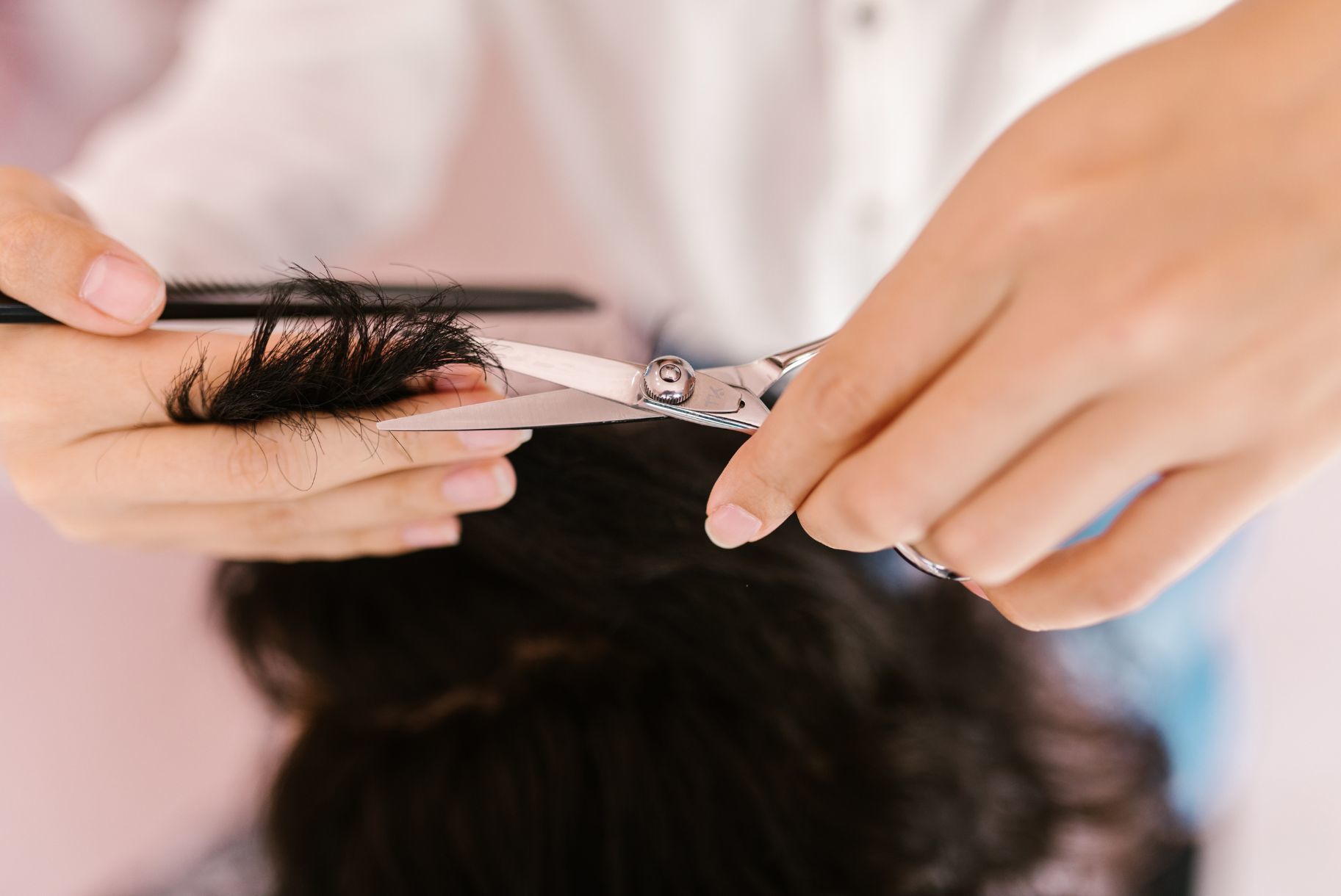 When it comes to maintaining gorgeous curls, one of the best-kept secrets is getting regular trims every six to eight weeks. By cutting away split ends and damaged hair, you're ensuring that your curls stay healthy and bouncy. Don't underestimate the impact of this simple routine on your curly hair journey—embrace regular trims and let your healthy-looking curls shine!
Curly Hairstyles to Try
1. Curly Half Updo With Scarf
This hairstyle keeps strands off your face while showcasing your curls' natural shape and bounce. Then, get a headscarf, fold it, and wrap it around the base of your half updo to add color to your hairstyle.
2. Curly Side Ponytail
Dressing up for your friend's wedding? A curly side ponytail can make your curly long hair stylish and elegant. This hairstyle also suits any outfit—whether you're wearing a long gown or a simple cocktail dress.
3. Curly Hair Down 'Do
Celebrate your natural curls with a long, beautiful down 'do. Nail this 'do by making your curls well-moisturized with a drop of hair serum or leave-on cream.
4. Half-Wet Waves
You can also sport a half-wet look along with your curly or wavy hair. It's a sleek hairstyle that makes you look polished and sophisticated sans the need to straighten your curls.
5. Half-Up Space Buns
Love playful looks? Put your curls in a half-up space bun hairstyle. It's a young and hip look that you can sport during weekends when watching a movie or going on a tour around your city.
6. Turban
Having a bad hair day? Wear a turban or a bandana, and no one will notice! You can also wear a hat, which can double as sun protection for your hair.
7. Crimped Curly Hair
Sometimes, the best way to wear your kulot is to just let it flow like mermaid waves. You can also use hair crimpers to achieve this look. Feel free to add some gloss so your hair looks polished.
8. Braided Updo
Going out to a party or having a romantic dinner date? Put your hair up in this braided updo and look fresh all night. This stylish look helps you maintain your curls and keep them in check. You can also wear this hairstyle to a wedding.
9. Curly Crown Braid
Try this day-to-night hairstyle when you're planning to go out after work. This braided hairstyle is equal parts sleek, elegant, and romantic. You can curl the tips of our hair for added glam.
10. Half-Up Ponytail for Short Curly Hair
The beauty of having kulot hair is that you have natural volume and body to work with. This is a good start if you're in the mood for '80s hairstyles. Go for a half-up ponytail for curly hair for a fun and cute hairstyle for your barkada night!
You don't have to resort to straightening your curls to get a manageable mane. All you need is patience, practice, and a sense of appreciation for the gorgeous hair you were born with. With the right haircut and hair care routine, you can rock your kulot hair confidently!
Prev Article
Next Article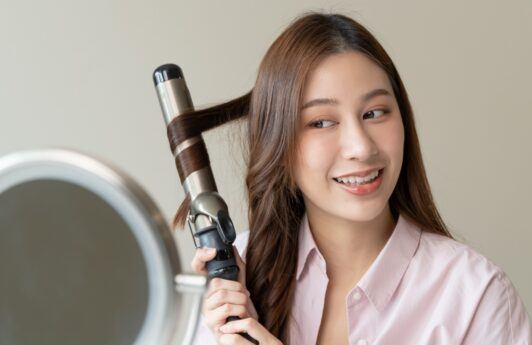 Article
4 Rules you shouldn't break when styling your hair with heat
If you often style your hair with heat, make sure you don't break these rules—for your hair's sake!
See article