Why Honey is Good for Your Hair
There's nothing like a natural ingredient to get your hair looking healthy and fab!
Do you like honey? Well, we here at All Things Hair, we love it! Honey is amazing. It's great on pancakes and toasts, on your granola breakfast, on iced tea, and on your hair—yes, it's definitely great on hair! It's a natural ingredient with superpowers. I mean, have you ever noticed how a lot of products in drugstores have honey in them, from skin care to food supplements to shampoo and conditioner? Like we said, superpowers.
Honey has a lot of healing and nourishing properties, making it an incredible ingredient for anything that's supposed to heal and nourish the body, including the hair. Your tresses, which need vitamins and minerals and a lot of good stuff to stay healthy and look beautiful, benefits from everything honey has to offer. Here's a list of cool things it can do to your locks.
Check Out the Benefits of Honey
1. It smoothens and softens the hair
Honey is an emollient which means it has softening and relaxing properties that help make your strands smooth and shiny. It's also rich in vitamins and minerals, contributing to the overall health of your hair and scalp.
Editor's tip: Pair your homemade honey treatment with TRESemmé Smooth & Shine Shampoo. This advanced smoothing system helps tame unruly mane, leaving it smooth and salon-soft. 
2. It stimulates hair growth
Honey is a natural antioxidant which keeps scalp and hair healthy, which in turn stimulates hair growth. It also helps strengthens follicles and reduces breakage, allowing for faster growth and the development of new strands.
Editor's tip: Boost the effect with Sunsilk Strong & Long Shampoo, which is formulated with Biotin to deeply nourish each strand so they become strong as they grow!
3. It prevents scalp infections and other hair problems
Its natural antibacterial and antiseptic qualities keep your scalp clean and bacteria-free which helps in preventing dandruff and other scalp conditions.
4. It keeps your tresses moisturized and frizz-free
A humectant in nature, honey has the capability to attract and retain water molecules from the atmosphere. This quality helps preserve the moisture in your strands and keep strands from getting dry and frizzy.
Editor's tip: Humidity can wreak havoc on your hair. Keep your tresses nourished and frizz-free with a drop of Cream Silk Standout Straight Leave-On Cream.
5. It naturally and effectively lightens the color of your locks
If you want subtle highlights or want to lift your overall color a few shades, there isn't a more natural method to get it done than by using honey on your strands and immediately exposing them to the sun. For a more powerful formula, mix honey with your conditioner and add a squeeze of lemon juice.
How to Make a Honey Hair Mask
Now that you know the benefits of honey, you might want to make your very own honey hair mask. It's easy! Here's how.
What You Need:
Towel
Comb
Honey (at room temperature)
Olive oil
A small bowl
Steps in Making a Honey Hair Mask
1. Put an equal amount of honey and olive oil in a bowl. For shoulder-length hair, you can use one tablespoon of honey and one tablespoon of olive oil. You use less or add more, depending on your hair length.
2. Mix the ingredients using a spoon, a fork, or a whisk.
3. Place the towel on your shoulders so your clothes won't get stained.
4. Apply the honey hair mask evenly on your hair. If you don't want your hands to get sticky, you can use a silicone brush to apply the mixture on your hair.
5. Cover your hair with a shower cap for 15 minutes. You can also use a regular plastic bag secured with a rubber band to cover your hair.
6. Remove the shower cap and wash your hair with water and shampoo to rinse out the honey mask. Because the mixture is sticky, wash your hair thoroughly to make sure you don't leave any residue on your hair.
7. Let your hair dry naturally.
This moisturizing hair mask can help make your hair softer. Try this when you want to revive dry and dull hair. And the best part? You don't need to visit the salon! Just go to your kitchen, gather what you need, and start preparing your DIY mask. Have fun with this hair treatment!
Prev Article
Next Article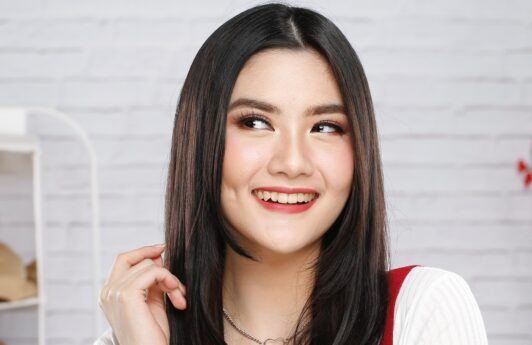 Article
How to Get Shiny Hair: 12 Tips for Pinays
If you're always dealing with dull, frizzy, and lifeless locks, this is for you. We teach you how to get shiny with a few hair tricks.
See article