The 10 Best Itchy Scalp Shampoos You Should Try Right Now
Having to deal with an itchy scalp can be quite annoying. Sometimes, it can be hard to think about anything else when all you want is to get some relief from the itch. If you find yourself experiencing this, you may want to look into possible underlying conditions to find the best way to treat them. Don't worry though, because an itchy scalp doesn't really indicate anything severe. Chances are, you'll be able to find a remedy easily in the form of an itchy scalp shampoo.
But first things first, let's find out what causes an itchy scalp in the first place.
Main Causes of Having an Itchy Scalp
Having an itchy scalp can be caused by several factors. Most often, it's caused by seborrheic dermatitis, or better known as dandruff. Having an itchy scalp and flaking are basically the essence of having dandruff, which can be caused by having a fungus on the scalp called malassezia, seasonal changes, and even hormonal fluctuations or stress. 
You may also have a sensitive scalp that tends to have a reaction to certain hair products, which results in itchiness. Other underlying causes that could contribute to having an itchy scalp also include having head lice, scabies, allergy, scalp psoriasis, scalp ringworm, and so on. For most of these other underlying causes, you may have to seek out professional help to better assist you in treating your condition.
Best Itchy Scalp Treatments
You can treat your itchy scalp by first identifying the main underlying cause. More often than not, it has something to do with having dandruff or an irritated scalp, which you can easily remedy using a specially formulated shampoo. 
When we say "specially formulated," it pretty much means that it has a certain ingredient that provides you relief from the itching or treats the underlying problem in your scalp like dandruff. Looking for products that have these ingredients is vital in determining what kind of itchy scalp shampoo would work best for you.
Let's take a closer look at these ingredients with our top recommendations for the best shampoos to treat itchy scalp.
Top Recommendations for Best Shampoos for Itchy Scalp
If you find yourself experiencing unrelenting itchiness in your scalp, it might be time to make the switch to a shampoo that actually provides you with relief. The key is to find which itchy scalp shampoo would suit your condition the best and use it consistently for more effective results. 
You also have to be mindful of how to wash your already irritated scalp. You have to be more thorough while also being gentle in order for your scalp to properly absorb the nutrients of these shampoos.
So without further ado, here are our recommendations for the best shampoos to treat itchy scalp.
Anti-Dandruff + Itchy Scalp Shampoos
1. CLEAR Complete Soft Care Anti-Dandruff Shampoo
This shampoo by CLEAR is a great preventative itchy scalp shampoo that not only treats dandruff but also protects your hair and scalp to prevent it from coming back. This one contains Nutrium 10 that does the job of providing relief from the two main symptoms of dandruff, which is flaking and an itchy scalp. On top of that, it contains Fresh Sakura Fragrance for that added fresh feeling and scent.
2. CLEAR Ice Cool Menthol Anti-Dandruff Shampoo
Dealing with dandruff and an itchy and oily scalp? This CLEAR Ice Cool Menthol Anti-Dandruff Shampoo is the perfect choice for you. It's specially formulated with Triple Anti-Dandruff Technology that works to activate your scalp's protective barrier to remove and prevent dandruff. If that's not enough, it's also infused with lime and cooling mint, which gives that cooling sensation and refreshing feel all day long.
3. CLEAR Cool Sport Menthol Anti-Dandruff for Men
Here's something for the guys, especially for those who lead a rather active lifestyle. CLEAR Cool Sport Menthol Anti-Dandruff Shampoo for Men is formulated with Bio-Nutrium 10. This special ingredient helps in activating your scalp's natural protective layer to get rid of dandruff and itchiness, plus prevent it from ever coming back.
Gentle & Soothing Itchy Scalp Shampoos
1. Dove Dermacare Scalp Soothing Moisture Shampoo
If you're looking for some gentle and soothing relief from your itchy scalp, then we recommend using Dove Dermacare Scalp Soothing Moisture Shampoo. Infused with Olacare Scalp Actives, this shampoo leaves your scalp nourished and dandruff-free. It's a great shampoo for dry itchy scalp as it's gentle enough for daily use. 
2. CLEAR Botanique Scalp Care Shampoo
Another gentle shampoo that's great for calming your scalp is CLEAR Botanique Scalp Care Shampoo. As its name suggests, it's packed with botanical essential oils such as lavender, rosemary, grapefruit, tea tree, and bergamot, which contain natural anti-microbial properties. This one's great if you're looking for a shampoo that's infused with natural ingredients. It's clear from parabens and colorants and also contains Triple Anti-Dandruff Technology that gets rid of dandruff and relieves an itchy scalp.
Nourishing Shampoo for Dry Itchy Scalp
1. Love Beauty and Planet Sea Salt & Bergamot Deep Restore Shampoo
Looking for a more restorative itchy scalp treatment? Love Beauty and Planet's Sea Salt & bergamot Deep Restore Shampoo is infused with Bali sea salt, which has minerals that keep your hair and scalp balanced and healthy. It also has ethically sourced bergamot that adds an aromatic fragrance to boot.
2. Love Beauty and Planet Radical Refresher Shampoo
If grease and itch is the problem, then you need a shampoo with tea tree oil to remedy that. Love Beauty and Planet Radical Refresher Shampoo is infused with Australian tea tree oil that cleanses and detoxifies your hair and scalp. It also has a fragrant vetiver aroma that's a wonderful pick-me-upper. Use this shampoo to cleanse your oily hair and scalp! This gets rid of all the oil and buildup that may be causing scalp irritation and itchiness.
3. Love Beauty and Planet Coconut Oil & Ylang Ylang Hope and Repair Shampoo
Another highly nourishing shampoo by Love Beauty and Planet is the Coconut Oil & Ylang Ylang Hope and Repair Shampoo. If you're dealing with an itchy scalp plus a bevy of other hair problems like breakage, dryness, and so on, then this one's a great pick! Thanks to its virgin coconut oil component, it deeply moisturizes tresses. Throw in the ylang ylang for fragrance and we've got a true winner!
4. TRESemmé Detox & Nourish Shampoo
TRESemmé's Detox & Nourish Shampoo is also a wonderful contender in treating your itchy scalp with its ginger and green tea components, which both nourish and detoxifies your hair with every wash. This works best if you have a dry itchy scalp because it replenishes lost nutrients as it deeply cleanses your hair from root to tip.
Budget-Friendly Itchy Scalp Shampoo
Sunsilk Naturals Watermelon Freshness Shampoo
High humidity can make your itchy scalp feel so much worse. This budget-friendly option from Sunsilk Naturals can help in keeping you fresh with its watermelon and mint components that cool your scalp and hair. Using this shampoo on a daily can give you that relief from having an itchy scalp, while also making sure hair is properly cleansed.
Say Goodbye to That Itchy Feel with the Best Itchy Scalp Shampoos
Saying goodbye to your itchy scalp can be as easy as one, two, three. It all begins in making the switch starting with your shampoo. By choosing the right shampoo for an itchy scalp, you're on your way to a carefree and fresh feeling day in and day out.
Prev Article
Next Article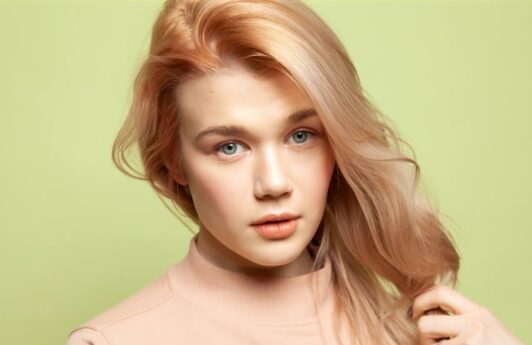 Article
Rose Gold Hair Color Ideas We Love
Has this pretty shade been filling your dreams lately? Let these looks inspire you to get this hair color stat!
See article